Coaches bring friendly rivalry to playoffs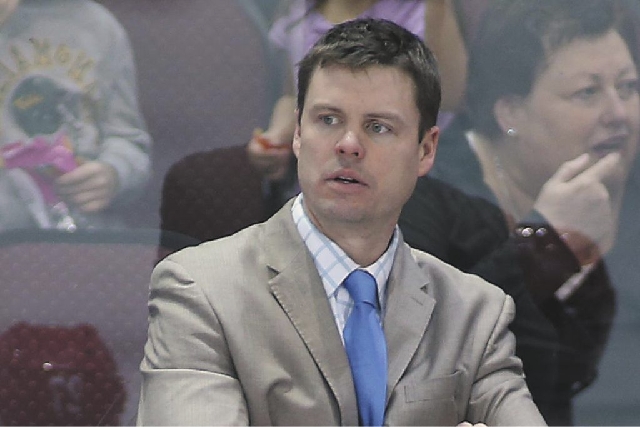 The last time Wranglers coach Ryan Mougenel and Stockton Thunder coach Matt Thomas faced each other in the playoffs was 1990, when their rival Toronto high schools squared off for the city championship.
Mougenel's Del La Salle squad topped Thomas' St. Michael's team in three games, and Mougenel still reminds his close friend about it every chance he gets.
"He still chirps about that game in 1990," said Thomas, whose fourth-seeded Stockton Thunder (36-27-9, 81 points) will host the fifth-seeded Wranglers (37-30-5, 79) at 7:30 p.m. today at Stockton Arena in Game 1 of the best-of-7 ECHL Western Conference quarterfinals. "Maybe this might turn into an epic matchup we never stop talking about."
Although both coaches are 37, Thomas went into coaching after playing in college and Mougenel turned pro after playing junior hockey.
They teamed in 2003 to win an ECHL Kelly Cup title in Atlantic City, where Mougenel closed out his playing career and Thomas was an assistant coach.
"It was a bizarre dynamic, because we're both kind of the same age and he was a coach and I was playing," Mougenel said. "He and I would sneak off for beers."
Thomas helped orchestrate the trade that brought Mougenel to the Boardwalk Bullies from the Jackson (Miss.) Bandits.
"It was not too far off from a bag of pucks," Thomas said jokingly about what he gave up in the deal. "The trade was for all-you-can-eat shrimp for their coach when they came to play Atlantic City at one of the buffets."
Mougenel had Thomas serve as the emcee at his wedding reception and said some of his family members still talk about how funny he was.
"Matty is a personality," Mougenel said. "He's the life of the party."
Thomas said Mougenel only has himself to blame for making him emcee.
"If you give me a microphone and free rein, I'm going to zing him a couple times," he said.
When Thomas — 342-225-80 in nine seasons as an ECHL coach — took the reins of the Fresno Grizzlies in 2005, he convinced Mougenel to become his assistant.
"He was instrumental in getting me into coaching and has had a very positive impact on me as a coach," Mougenel said. "I've got a tremendous amount of respect for Matty, and I'm also thankful for Matty for what he's done for me."
Mougenel coached under Thomas for four seasons for now-defunct Fresno and Stockton before replacing Dallas Stars coach Glen Gulutzan in Las Vegas in 2009.
In four seasons with the Wranglers, Mougenel is 151-111-26. He guided Las Vegas to the Kelly Cup Finals last season, when they lost to the Florida Everblades in five games.
"He's done a very good job," Thomas said. "His run last year alone was very impressive."
With no paid assistants in the ECHL, Mougenel and Thomas typically vent to each other during the season about their teams. "I talk to him more than I talk to my wife," Thomas said.
Said Mougenel: "I talk to Matty the most out of any of my friends. Unfortunately, he probably knows a lot about my team and I know a lot about his team."
The Wranglers split the eight-game season series with Stockton, going 2-1 at home and 2-3 on the road. Seven of the eight games were decided by one goal and three went into overtime.
Both coaches expect the playoff series to be just as close.
"It's two teams that are evenly matched," Thomas said. "It's going to be a tossup."
Said Mougenel: "It's going to be an absolute war. I know how bad Matty wants to win, and Matty knows all I want to do is win, too."
The only certainty is that the losing coach will hear about it from the winning coach for a long time.
"It's a little bittersweet, to tell you the truth," Thomas said. "You never want to beat your friend, but you don't want to lose because you don't want to hear about it all summer."
■ NOTE — Game 2 is set for 7:30 p.m. Saturday in Stockton. The series moves to Orleans Arena for Game 3 at 7:05 p.m. Monday. All games will be shown at echl.com.
Contact reporter Todd Dewey at tdewey@reviewjournal.com or 702-383-0354.