Coffee shop call puts Cummins in UFC spotlight
February 20, 2014 - 6:49 pm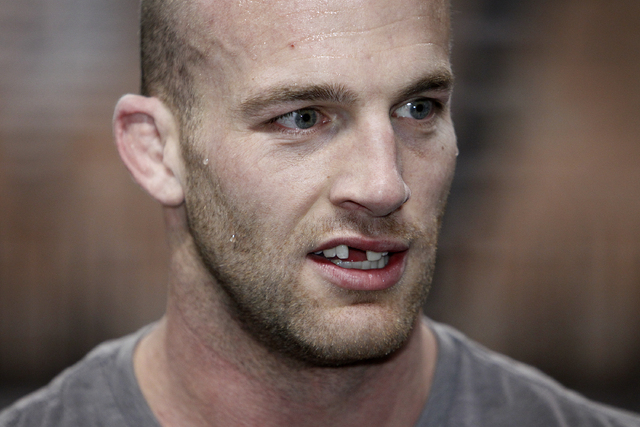 Before leaving for his graveyard shift at an Orange County, Calif., coffee shop last Wednesday, Patrick Cummins read a story online about Rashad Evans pulling out of his fight with Daniel Cormier because of a knee injury.
Cummins, a professional mixed martial arts fighter with a 4-0 record against relatively inferior competition, thought about the news for a moment, then fired off a message on his Twitter account, mentioning the handles of Cormier and Ultimate Fighting Championship president Dana White.
"@dc_mma lost all that weight &the fight got cancelled last minute…I'll step in there @danawhite. We're friends but we're not 'brothers.' "
Then he went to work.
Before his shift was over, Cummins' life was forever changed.
White's original thought was to pull Cormier from the card, but the fighter had other ideas. He was cutting to light heavyweight for the first time and didn't want to do it without the payoff of a fight for his hard work. There were few options with the fight 10 days away.
So White decided to call Cummins' fight manager and see if he was for real. But Ryan Parsons couldn't reach his client, who was nearing the end of his shift at the drive-thru window and wasn't answering his phone.
Parsons decided to go to the coffee shop and talk to Cummins, but the store manager wouldn't let him.
So, according to White, Parsons pulled up to the drive-thru window and handed Cummins the phone with White on the other end.
White wanted to know if Cummins' claim that he dominated Cormier at wrestling practices and even made the Olympian cry during training were true.
"I'm telling you right now, I made Cormier cry every time we wrestled. I broke him every time we wrestled. I'll beat him," White said Cummins told him.
Then, Cummins told White, he definitely would need to take the fight now because he had just been fired from the coffee shop because of all the commotion.
"(I told him to) tell your manager to go (expletive) himself and head to the gym right now. We'll call you in a little while," White said.
Cummins didn't relay that message. In fact, he said he appreciated the chance to work at the coffee shop because he was broke and had no prospects as a fighter.
But that no longer is the case. Cummins got a multifight deal with the UFC and will take on Cormier at UFC 170 on Saturday at Mandalay Bay.
The story could not have played out any better from a promotional standpoint. But Cummins isn't just playing his part in a marketing angle.
He insists he's here to win.
"I'm not coming into this with some 'nothing to lose' mentality," he said. "That's not my mindset at all. It's not a no-lose situation. I'm going in there expecting to get the win, and that's what I want. That's my goal. I would have never called him out and said let's have a fight if I didn't truly believe I could win on Saturday."
It's not like he's just some guy off the street, or more accurately, out of a coffee shop.
Cummins went from walk-on to All-America wrestler at Penn State. His four MMA wins have come against fighters with a combined 10-20-1 record, but it has been difficult for someone with his amateur wrestling background and natural athleticism to get fights against legitimate competition to this point.
Then there is the now infamous training sessions. Cormier was training for the 2004 Olympics, and Cummins was one of several sparring partners. Cormier says he might have teared up, but it was the rigors of preparing for the Olympic Games and emotional issues that got to him, not any sort of so-called domination from Cummins.
When they matched up for real, at the Dave Schultz Memorial International Open in 2007, Cormier won the quarterfinal match.
He plans on repeating that outcome Saturday.
"When I first heard we were going to fight, I was excited for him," Cormier said. "This is a guy I knew from back in the day, and he's finally getting his chance in the UFC. We're just going to go out there and compete against each other. Then he started talking. Then you guys continued to put microphones in front of him, and he hasn't stopped talking since.
"Now it's not, 'Good for little Patrick.' Now I'm going to beat Patrick's ass."
The oddsmakers agree. Cormier is about a minus-1300 favorite.
The underdog thinks he's a good bet, but he won't have a ticket on himself to win.
"I would love to," Cummins said. "I just don't have any money."
Contact reporter Adam Hill at ahill@reviewjournal.com or 702-224-5509. Follow him on Twitter: @adamhilllvrj.