College hockey next? UNLV club team pushes to join NCAA
January 15, 2016 - 6:46 pm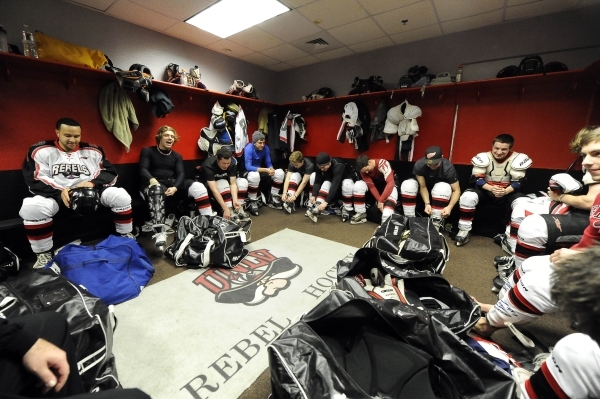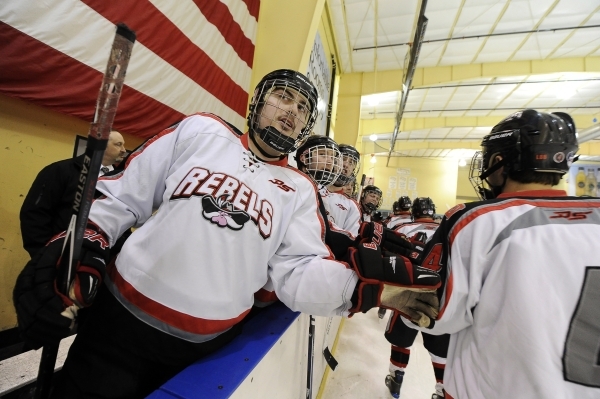 Bill Foley isn't the only person with a vision for hockey in Las Vegas.
The group behind UNLV's club hockey team wants to elevate it to varsity status. And they have presented a plan to the university to pull it off.
UNLV has had a men's ice hockey club since 2005. But with Arizona State's recent move from club to varsity, the current Rebels want to join them in the NCAA.
"We want to be No. 61," said Zee Khan, who is the club's general manager. "ASU is the 60th team in Division I. We want to be next. ASU is the model we're using to get there."
To do it will be a bit tricky. Khan has done a cost analysis on what it will take to transition to Division I, but it isn't cheap. To start, the program will take approximately $18 million, which would include establishing 20 scholarships and coaching staff salaries along with insurance, the purchasing of equipment and uniforms. The annual operating budget will be an additional $1.5 million.
UNLV's club hockey program, which competes in the American Collegiate Hockey Association, has a budget of $250,000. Some of the funding comes from student government. The players, nine of whom are from Las Vegas, pay $2,000 out of their own pocket to play, and the rest comes from donations and fundraisers.
"This would be privately funded," said Khan, who has spoken to a number of potential donors but declined to name them. He has been working with former NHL player Murray Craven, who has been Foley's adviser as the investor attempts to bring an NHL team to Las Vegas. "We believe we can line up the funding to get it done in the next couple of years."
According to Rocky Harris, ASU's chief of staff for athletics, a group of donors contributed $32 million to fund the Sun Devils' varsity hockey venture.
"We see it as a sport that can make money, or, at worse, break even," Harris said of the decision to upgrade to varsity. "We've had a successful club program for some time now and we were able to make a smooth transition.
"We recently played a game in Glendale where the (Arizona) Coyotes play and we drew over 5,000 people. Our students are very much behind the program."
Penn State, which went varsity with its hockey program a few years ago, made the jump thanks to the largess of Buffalo Sabres owner Terry Pegula, who donated $100 million for the program and a rink for the team.
Foley, a billionaire businessman, has said he wants to grow the sport in the community. Conceivably, he could be to UNLV what Pegula is to Penn State. But Khan said there are additional people who are willing to support hockey, and he has spoken to several potential donors.
"The feedback has been so positive," Khan said. "Some of them didn't even realize we already have a team and they love then idea of us going varsity."
However, adding men's ice hockey to UNLV's roster of men's varsity sports won't be as simple as writing a check. There are Title IX issues as well as facility issues to address.
When Khan, head coach Anthony Vignieri Greener and assistant coach Nick Robone met with UNLV athletic director Tina Kunzer-Murphy last month, among her first questions were, "Where will you play?" and "What women's sport or sports would we need to add?"
"You have to match numbers," Kunzer-Murphy said, referring to federal Title IX guidelines that guarantee gender equity. "If someone was to write a check to cover everything and endow scholarships, we'd have to take a long hard look at it."
For UNLV, which last added a men's varsity sport in 1978 when it brought water polo into the fold, two women's sports that make sense are lacrosse and sand volleyball. The Rebels already have a women's volleyball team, and between some players doubling up and adding others, that would help even out the participatory numbers.
Lacrosse could play at Peter Johann Field, home of the Rebel men's and women's soccer programs and, with 20 to 25 players on the roster, it alone could offset men's ice hockey's 20-player roster.
Part of ASU's $32 million investment for hockey also included funding for women's lacrosse and women's triathlon.
As for a rink, the ideal location for UNLV would be the Thomas & Mack Center, which during the 1990s hosted the Las Vegas Thunder of the International Hockey League played. However, the Thunder have been gone for almost 15 years. Despite the Thomas & Mack's recent $72.2 million renovation, there are no ice compressors, no boards or glass to form a rink, no Zamboni and no nets.
"If we wanted to get into doing hockey, it would cost at least $2 million to make ice," said Mike Newcomb, the Thomas & Mack's director. "That's an expenditure that's probably not going to happen."
UNLV's club team plays at the Las Vegas Ice Center on West Flamingo Road near Interstate 215. It also has used the Sobe Ice Arena at the Fiesta Las Vegas on Rancho Drive. A possible solution might be the proposed practice facility Foley will build should he get his NHL team. Foley's plan is to allow community access to the two-sheet center, which would include seating for at least one of the rinks. That's based on Foley's vision, which is modeled after the Chicago Blackhawks' new practice facility.
The Blackhawks' facility has a 2,500-seat spectator area near one of the rinks to accommodate youth hockey tournaments.
"We can also play at the Ice Center temporarily," Khan said. "The perfect solution would be to one day have our own rink on campus. But that's down the road."
Kunzer-Murphy said she was impressed by the club's presentation. She said if the funding is legitimate, she's willing to talk seriously about making a move toward adding hockey. UNLV currently sponsors seven men's varsity sports (football, basketball, baseball, golf, soccer, swimming and diving and tennis).
"Their plan was logical and they were well-organized," she said. "I don't know much about hockey. But I spent two years working for the Thunder and I know it's an exciting sport. I think it's something that might appeal to our students and something they would be willing to support.
"The fact ASU was able to do it is encouraging. The great thing about UNLV is we can be different. We should be different."
Robone said he believes recruiting would not be hard.
"I think it would be very attractive to recruits, especially Canadian kids," Robone said. "I think what (football coach) Tony Sanchez is doing is awesome the way he sells the city and markets the team to recruits. You don't want to shy away from Las Vegas."
Scheduling and conference affiliation would be another issue. The Mountain West does not sponsor men's ice hockey. Air Force, the only MW school that has a varsity team, plays in the Atlantic Hockey Association, an 11-team league that is mostly comprised of East Coast schools.
Arizona State, which is playing as an independent this season in its transitional year of varsity hockey, has options from a few conferences when it is eligible to join in 2016-17. It might join the National Collegiate Hockey Conference, which has eight teams, including Colorado College, the University of Denver and North Dakota.
Harris said the Sun Devils would love to see UNLV join them at the varsity level. He said it helps to have an NHL team in the market to make such a move.
"If UNLV were to go varsity with its program, it would help us," Harris said. "We'd have a potential travel partner. It would provide more credibility for what we're doing.
"I think it can work (at UNLV). The timing is critical with the city wanting the NHL there. If Vegas gets the NHL it would work out well for UNLV."
On the ice, the UNLV club team has a 14-7-3 record this season heading into the weekend road trip in Texas, where the Rebels faced Texas State on Friday, Texas A&M on Saturday and Texas today. The remaining five games of the regular season will be in Las Vegas beginning Jan. 29 against Texas-El Paso at the Sobe Ice Arena.
"We've got a good core group of freshmen who've helped us," said Greener, whose team in ranked No. 9 in the West in the latest ACHA poll. "We've got a good locker room. Everyone gets along and they work hard."
As the 2015-16 season winds down, the off-ice focus is on the future. The team is holding a fundraiser at Bear's Best golf course Feb. 20. Khan said as support builds within the community, he believes UNLV will have varsity hockey sooner than later.
"It's going to come down to finances," he said. "But we have some people who are very interested in getting involved and writing the checks that will be needed."
Contact reporter Steve Carp at scarp@reviewjournal.com or 702-387-2913. Follow him on Twitter: @stevecarprj.