Cormier softened sorrow over lost bout with favorite meal, but prefers to feast on new foe
February 20, 2014 - 11:54 pm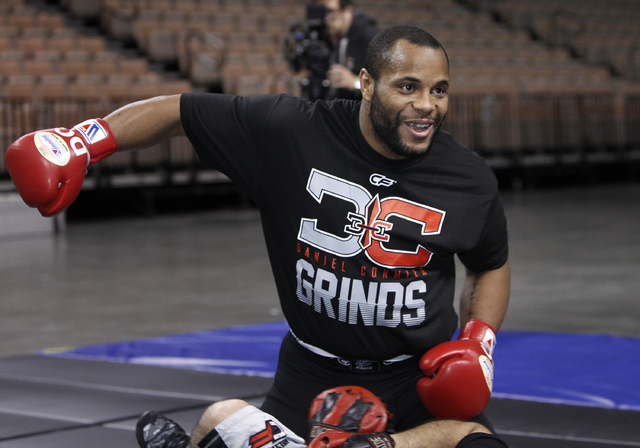 There was only one place Daniel Cormier could go to make himself feel better, and he knew it.
As much as he didn't want to, it was the only way he could deal with the bad news.
After months of eating properly and following his nutritionist's advice, Cormier's efforts to properly cut down to 205 pounds for his light heavyweight debut in the Ultimate Fighting Championship were going to go for naught because his opponent, Rashad Evans, injured his knee just 10 days before their fight.
"I'm going to tell you something," Cormier said. "I heard I wasn't fighting (last) Wednesday, and I was all sad. The only thing that can ever make a Louisiana boy feel better is Popeye's. So I had some."
Perhaps the worst part for Cormier, a 2004 Olympic wrestler and unbeaten professional fighter who missed out on competing in the 2008 games when he suffered kidney problems while attempting to cut weight, was that he didn't even handle the fast-food trip with dignity.
"I just walk in there very sad, and I'm sniffling and wiping tears away as I walk into Popeye's because I don't want them to see me crying," he said. "The girl is like, 'Can I take your order?' and I'm just saying through tears, 'Please just give me some chicken.'"
It proved to be a premature "freak-out."
Cormier had told UFC president Dana White he still wanted to fight, but White said it was too late to find an opponent.
"This guy (White) is never at a loss for words," Cormier said, "and I'm telling him how much I still want to fight, that I don't want to go through this weight cut without a fight at the end, and all he can say is, 'Yep. I know, I know,' because he knows how hard I worked."
White then found Patrick Cummins, a former All-America wrestler at Penn State with a 4-0 record as a professional fighter. He was working at a coffee shop and sent out a tweet expressing his willingness to take the fight.
White loved the bravado and booked the matchup, which will take place at UFC 170 on Saturday at Mandalay Bay.
"I felt horrible," Cormier said. "Dude, I had four pieces of chicken and Cajun rice. It was so good. But I was hurting. I was laying on the ground, like, 'Oh, this is so bad,' because I hadn't eaten anything like that in so long. How could it taste so good but be so bad? I'm sitting there, like, 'Oh, my God, my stomach's killing me.' But it feels so good.
"Then Dana calls me, and I'm back on the card."
That meant Cormier had to get right back on his diet.
He immediately called former UFC fighter Tyson Griffin, who is handling his nutrition, and confessed about his trip to Popeye's. Griffin had him start pounding water to begin flushing out his system, and Cormier is on track to make weight today.
He knows fighting Cummins is a difficult proposition as it essentially is a "no-win" situation. Beat Cummins and the level of competition is the story. Lose and it's a disaster.
But Cormier just wanted to fight someone. Not only had he put in all the work, but he also just enjoys competition.
"I just love it," he said. "If there's an opportunity for me to compete at something, I'm there. Just tell me when. You want to play some Madden? You want to play NCAA Football (video game)? Tell me where. I'll meet you there, and I'll beat you. And I'm cheating to beat you, too, if I have to, because I'm trying to win. To me, this is just an opportunity to compete, and that's what I'm here to do."
He brushes off the notion that he could overlook Cummins. Cormier says he was fully trained for Evans, whose style is similar to Cummins' and who has been the gold standard of boxer-wrestlers in the UFC for a long time.
"People actually think this is like 'Rocky.' It's not 'Rocky,' boys," Cormier said. "I am not underestimating this guy. I know I have a fight on my hands, and because of that I'm so well prepared. Mentally, physically, I'm going to really just kind of run him out of the cage."
Then, he says, he can move on with his plan to become light heavyweight champion. He made the drop largely for business reasons, as his close friend and training partner, Cain Velasquez, is firmly entrenched as the heavyweight champion. Cormier said the move has triggered a general lifestyle change, too.
It has been a fairly dramatic shift.
"I grew up in Louisiana. We have red beans and rice, and there's a Popeye's on every corner," Cormier said. "I didn't have salad in my entire life until this training camp. I'm 34 years old, and I had never touched a salad in my entire life."
Of course, he still will cut loose occasionally. Cormier said there is a barbecue planned back home in San Jose, Calif.
And, of course, another trip to Popeye's.
Contact reporter Adam Hill at ahill@reviewjournal.com or 702-224-5509. Follow him on Twitter: @adamhilllvrj.