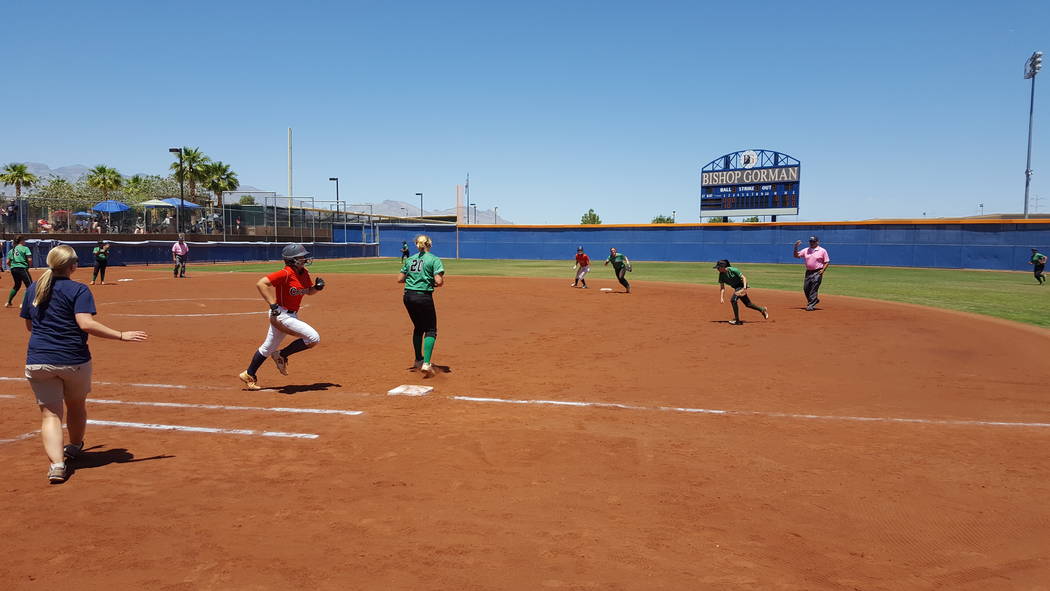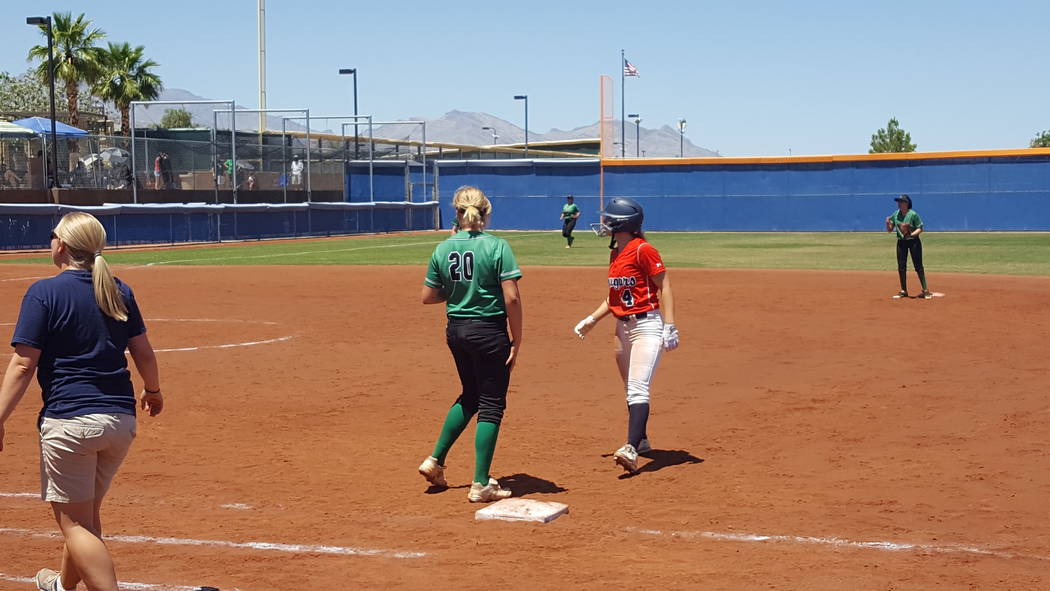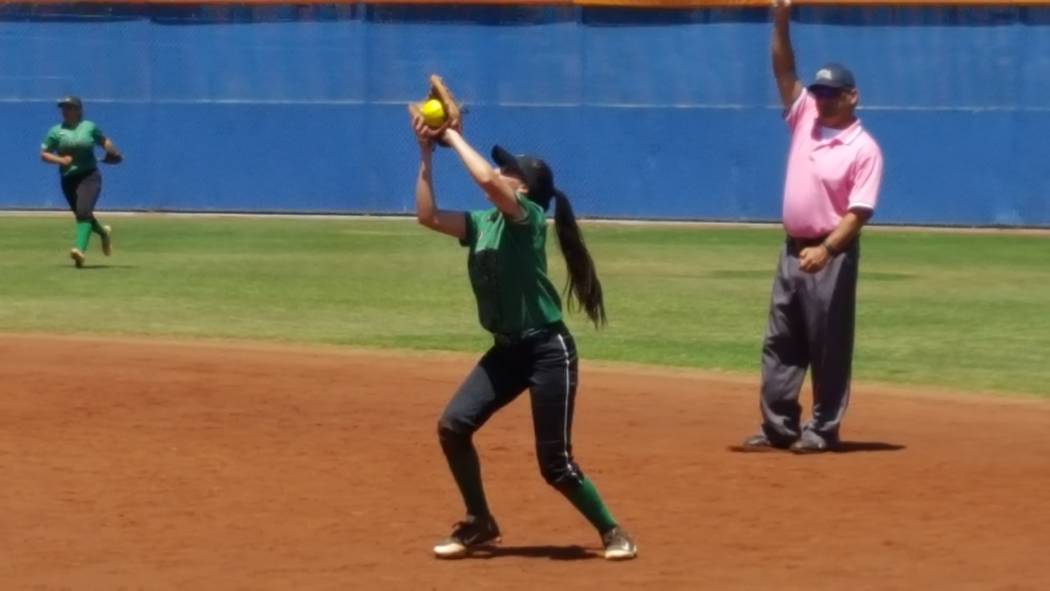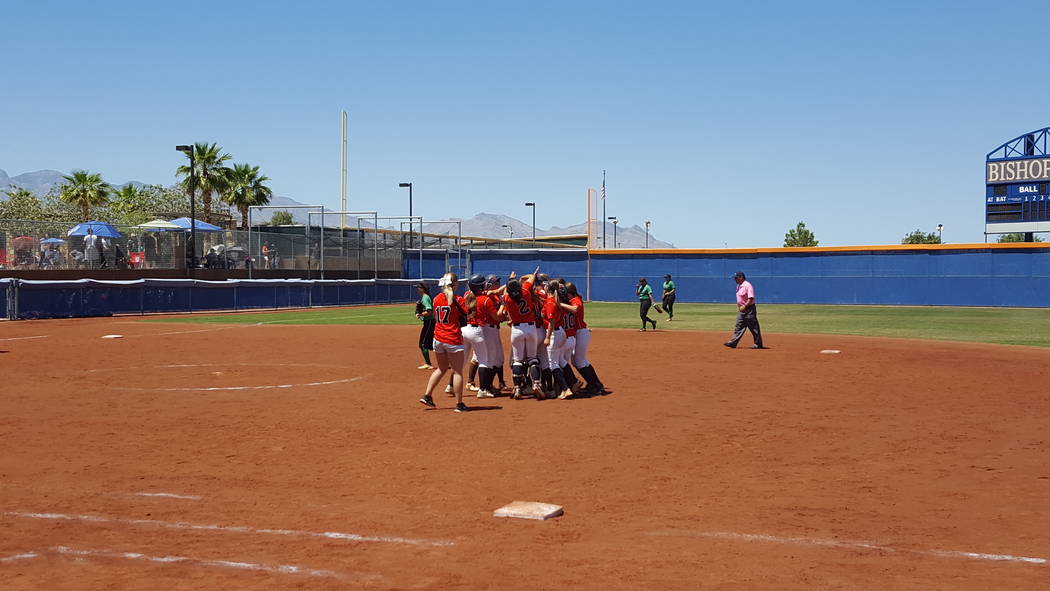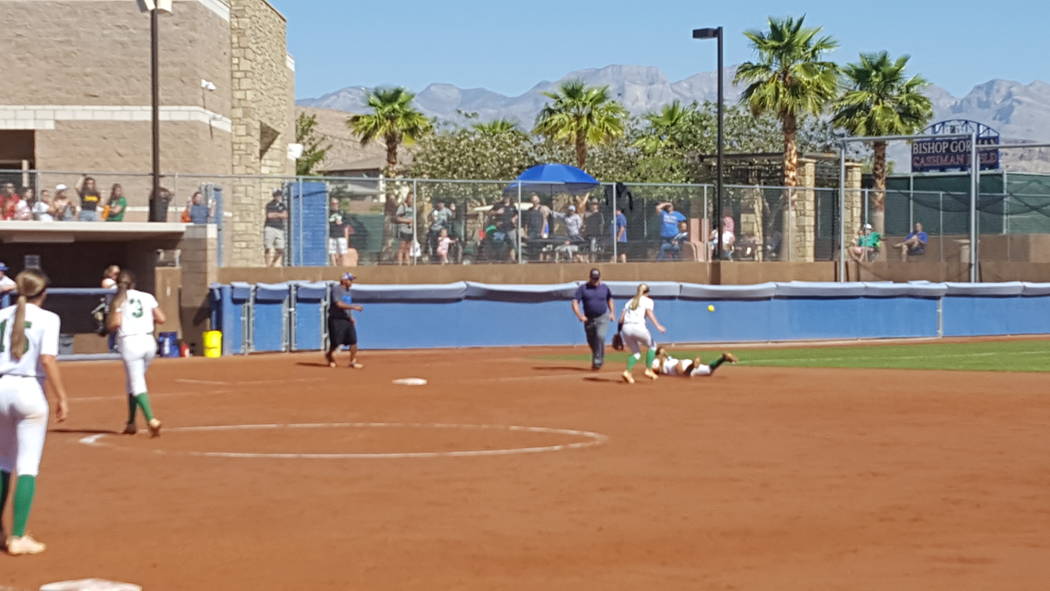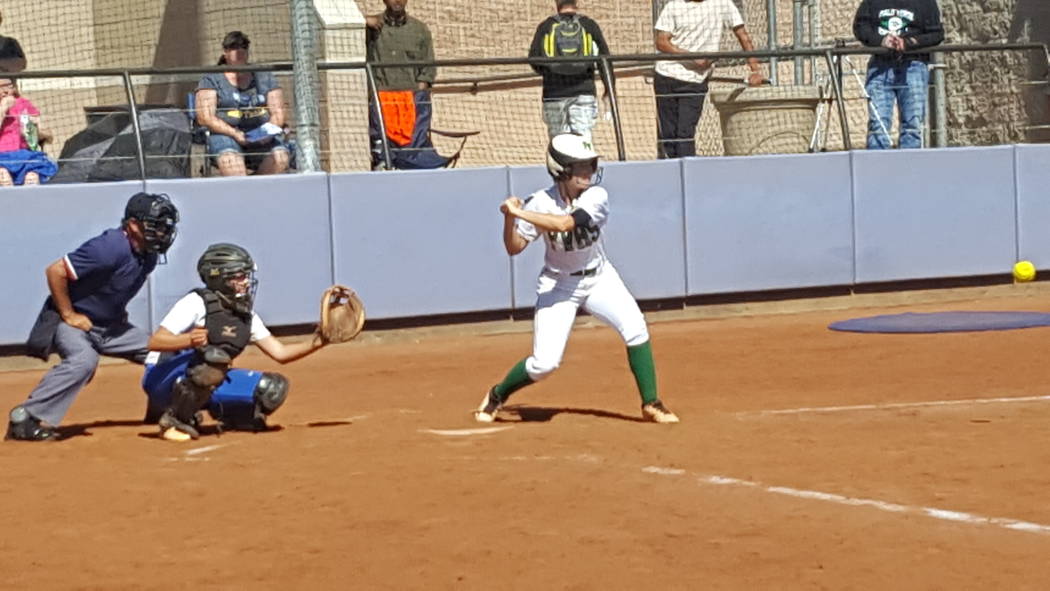 The knock on Coronado's softball team in recent years goes something like this: Great in the regular season, underachievers in the playoffs.
Tatum Spangler put an end to the Cougars' postseason woes Saturday.
Spangler doubled home the winning run in the bottom of the seventh inning and tossed a complete game to lead Coronado to a 3-2 win over Rancho in the Class 4A Sunrise Region final at Bishop Gorman.
Coronado (31-5), which captured its first region title since 2012, advances to the state tournament that begins Thursday at Gorman.
"I've got nine seniors, and it's been a goal of this team for four years to get to this position," Cougars coach Melissa Krueger said. "It feels like we just fell short the last couple years. They had a plan this year. They knew exactly what they wanted to do."
Dylan Underwood went 4-for-4 and led off the bottom of the seventh with a single for the Cougars.
After a sacrifice bunt by Erica Hardy, Spangler drove a pitch from Rancho reliever MacKenzie Perry off the top of the fence in left-center field to score Underwood from second base.
"Tatum's been clutch all year," Krueger said. "I don't think there was any doubt in anyone's mind that Tatum was going to get a hit right there, because that's who she is. She's a gamer."
Rancho, the defending region champion, went ahead 2-1 in the fifth when Perry singled and pinch runner Xocha Grantham scored on an error two batters later.
Coronado answered in the bottom half, as Ashley Ward lined a single to left off Perry to tie the score at 2.
Ward was 2-for-3, including a run-scoring double in the first to put Coronado ahead 1-0.
Spangler retired the first 11 batters in order before Sam Pochop hit a solo homer to right-center in the top of the fourth for the Rams (23-12), who meet Sunset Region runner-up Sierra Vista (26-6) in the state play-in game at 4 p.m. Monday at Foothill.
Sunset Region
Palo Verde needed something — a cup of coffee or maybe an energy drink — to snap out of its morning slumber.
With neither of those available, Cara Beatty provided the Panthers with the necessary pick-me-up.
Beatty hit two home runs, including a grand slam in the fourth inning, and Palo Verde awakened for a 9-2 victory over Sierra Vista in the Class 4A Sunset Region softball championship at Bishop Gorman.
The Panthers (34-5), who won their third region title in four years, advance to the state tournament that starts Thursday.
"It was going to be someone, and it just so happened to be Cara," Palo Verde coach Kelly Glass said. "Her timing was down. She was swinging hard, and that's all I ever ask of her is pick a good pitch to hit and swing hard."
Beatty, a UNLV signee, finished 2-for-4 with six RBIs, and teammate Ally Snelling was 3-for-4 with a double, triple and homer.
Sierra Vista scored both runs in the top of the first.
But Beatty tied the score in the bottom of the inning with a two-run blast to dead center.
In the bottom of the fourth, Palo Verde loaded the bases after a walk and one-out hits from Camden Zahn and Lauryn Barker. Beatty then followed with her ninth homer of the season to give the Panthers an 8-2 advantage.
"I think that when we came out we were confident, and then when they scored their runs, we knew we had to answer back," Beatty said. "Overall, we were just trying to hit the ball hard and back up our pitcher."
Contact David Schoen at dschoen@reviewjournal.com or 702-387-5203. Follow @DavidSchoenLVRJ on Twitter.