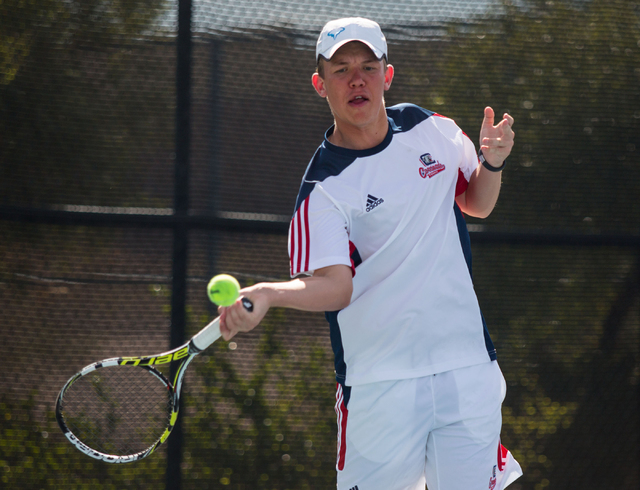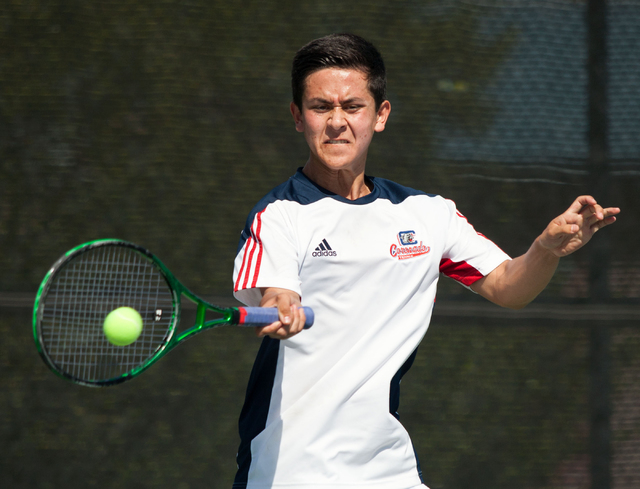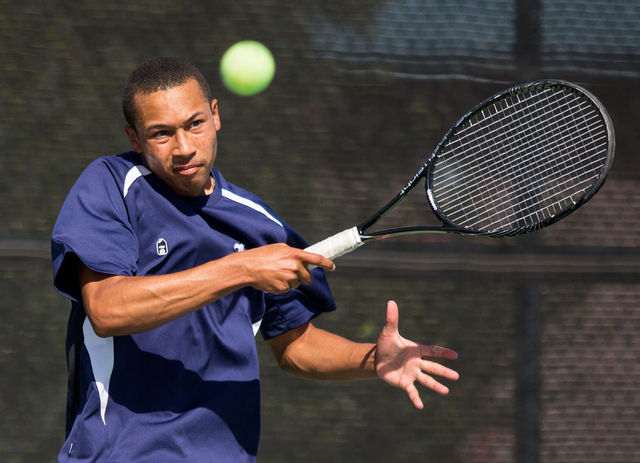 Coronado boys tennis coach Luther Bohanan predicated his winning strategy Friday on keeping Ryland McDermott away from Liberty's No. 1 singles player Dylan Ihmels in the first round of their Sunrise Region title match.
Bohanan juggled his lineup to put McDermott, one of the team's top two players, in the No. 3 singles spot. Liberty coach Kih Gourrier did the same thing with Ihmels, seemingly countering the Cougars' plan.
It didn't matter.
McDermott beat Ihmels, 6-2 in the opening round, giving Coronado a lead it never relinquished en route to a 10-8 win over the Patriots in the Sunrise final at Darling Tennis Center.
Coronado (14-0) won its 10th straight region title and will compete in the state tournament, which begins Oct. 23 in Reno.
"Kih and I know each other very well, and I wanted Ryland to get a match under his belt before he met Dylan," Bohanan said. "I tried to calculate where Kih would put Dylan. I put Ryland at third singles, thinking he would put Dylan at second. When we looked at the lineup, they were playing each other.
"That was a big win."
It helped the Cougars take a 4-2 lead after the first round.
"Getting that lead made it just a matter of winning the matches we were supposed to win," Bohanan said. "We just tried to be the first team to 10. We got to 10, and that's the bottom line."
McDermott finished 3-0 in singles, and Sam Grant and Connor Vermeys each was 2-1 in singles for Coronado.
The Cougars lost the defending state champions in doubles when twins Jack and Jamie Vance opted not to play high school tennis this year, and lost last year's state runner-up in singles when Cassell King graduated, but never missed a beat.
The doubles teams of Tristan Hoyle and Kevin Bloomquist, and Al Gourrier and Matt Drongensen each went 3-0 for the Patriots (12-2). Ihmels was 2-1 in singles.
SUNSET REGION
Rhett Bossung went 3-0 in singles and Conor Safbom and Brandon Sulzberg went 3-0 in doubles to lead Palo Verde to a 12-6 victory over Bishop Gorman in the Sunset Region boys tennis final Friday night at Darling Tennis Center.
Danny Patho went 2-1 in singles and Tiejiro Nishimura and Kota Cook went 2-1 in doubles for the Panthers, who stayed perfect on the season while beating the Gaels in the region final for the second straight year.
Palo Verde lost to Coronado at state the last two seasons and is gunning for its first state title since 2010.
"We've had a little bit of a drought, but maybe this will be the year," Panthers coach Zach Brandt said. "Gorman is one of the toughest teams in town and we get to play them three times, so it gets these guys better prepared."
While Bossung, known as "Boss" to his teammates, delivered his usual strong performance, Brandt said several players came through with key wins Friday, including Ethan Ballard in singles and Sam Soderberg and Davis Waid in doubles.
DIVISION I-A
Clarence Chun still remembers the days when he struggled to field a full tennis team at Clark.
Winning didn't come easy less than a decade ago.
Now the veteran coach has more talented players than spots and three straight region titles to his credit.
Clark picked up its third consecutive Division I-A Southern Region title with a 12-6 win over The Meadows at Darling Tennis Center on Friday. Both teams advance to the state tournament, which begins Oct. 23 in Reno.
"It's all the players," said Chun, whose team won its 49th consecutive match. "They're the ones who make the program, and in a way, they kind of spread the word. That's a big key. You always lead by example."
Clark (14-0) swept the nine doubles sets Friday and increased its lead after each round.
Chaitanya Ingle and Marcus Pasimio dropped just three games en route to a 3-0 mark in doubles. The teams of Christian Ong and Felix Zurhorst, and Justin Ong and Trevor Pearl also went 3-0.
Michael Pasimio was 3-0 in singles for Clark, which is gunning for its third straight state title.
Kevin Chau, Matthew Lamb and Alex Lanzkowsky all went 2-1 in singles for The Meadows (12-3).