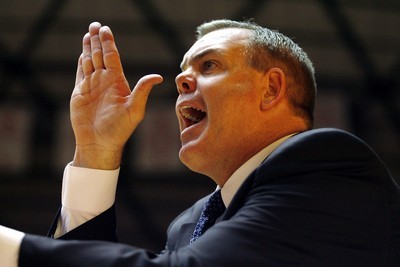 The last time Brigham Young played at Air Force 11 months ago, the Cougars ended the Falcons' 30-game home winning streak with a 62-58 victory.
Air Force was ranked 25th then and probably isn't as strong this season, but BYU coach Dave Rose expects another hard-fought battle when the teams meet at 6 p.m. Wednesday at Clune Arena.
"Preparing for them, it seems like a similar challenge to the Air Force teams we've been preparing for the last couple of years," Rose said of the Falcons (11-7, 3-2 Mountain West Conference). "They have a lot of confidence in their system and great leadership.
"We know what challenge we're up against. It's a great basketball environment and they have very knowledgeable fans who are into the game. We need a real balanced game from the whole team to be successful."
The Cougars (15-5, 4-1 MWC) achieved that sort of balance in Saturday's 83-66 home rout of New Mexico. Four starters — Lee Cummard, Trent Plaisted, Sam Burgess and Bishop Gorman High School product Jonathan Tavernari — scored in double figures.
The Cougars climbed into a tie for the Mountain West lead with UNLV and extended the nation's second-longest home winning streak to 42 games.
BYU made a season-high 13 3-pointers in 16 attempts against the Lobos. Those numbers got the attention of Air Force coach Jeff Reynolds.
"You really have to extend your defense to try to limit their uncontested 3s," Reynolds said. "Their ability to shoot the ball from the perimeter, along with Trent Plaisted inside and their transition game — those three things present our team problems."
BYU, which also edged San Diego State 59-56 on Wednesday at the Marriott Center, will play at 1 p.m. Saturday at Wyoming (7-11, 1-5).
• LOYD LOOKS GOOD — Tavernari isn't the only local product contributing to the Cougars.
Former Palo Verde standout Michael Loyd Jr. — son of Michael Loyd, who played point guard for UNLV from 1978 to 1981 — is averaging 2.2 points and more than an assist per game as a backup point guard.
The 6-foot-2-inch, 170-pound Loyd, a true freshman who is averaging 9.1 minutes over 19 games, is shooting 40 percent (14-for-35) from the field and 35.7 percent (5-for-14) from 3-point range.
"Mike is doing a great job for us. The last three or four weeks he has kind of established his role as our backup point guard," Rose said. "He comes into the game and gives us a great defensive presence. He's really long and has great lateral quickness.
"Offensively, he has a real ability to push the ball in transition and get the ball up. He's getting a lot more confidence in his ability to play within our system and the more experience he gets, the better he gets."
Contact reporter Todd Dewey at tdewey@reviewjournal.com or (702) 383-0254.