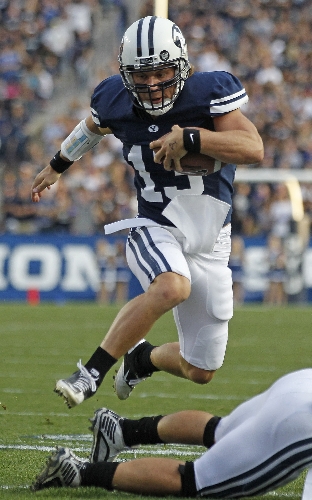 When Brigham Young kicks off tonight against Texas Christian at Cowboys Stadium in Arlington, Texas, the Cougars will look to snap one streak and extend another.
BYU has won five straight games since its 54-10 loss to Utah on Sept. 17. But a three-game losing streak to the Horned Frogs has the Cougars most eager for kickoff. The game will be televised at 5 p.m. on ESPN (30) and broadcast on radio on KSHP-AM (1400).
"They have not only beaten us, they have been killing us the last three years," BYU senior linebacker Jordan Pendleton said. "It does provide extra motivation to go out there and win."
BYU (6-2) and TCU (5-2) are 5-5 in their 10-game series, but the Frogs have won the past three, outscoring the Cougars by a combined 101-17.
"Special teams and turnovers have been the clearest advantages they have had in those games," BYU coach Bronco Mendenhall said.
The Cougars believe they are much improved in those areas this season, but BYU junior quarterback Riley Nelson says that running the ball against TCU will be a must.
"If the run game is effective, the play-action is effective," Nelson said. "If we can get them biting on the run, it opens things up down field. It's extremely important to establish the run."
The Frogs stuffed BYU's running game in the past three meetings, holding the Cougars to a combined 92 yards rushing. But with the help of Nelson's running ability, BYU has gained more than 200 yards on the ground in four straight games this season.
"They are still running a lot of the same stuff, but the difference is the quarterback can run around and make plays," TCU coach Gary Patterson said. "You can have everybody covered, and he runs for 25 yards. They can run the quarterback draw. They can get on the edge. They can run the bootleg."
■ MADE FOR TV — ESPN brokered tonight's game to be staged this late in the year at Cowboys Stadium, and Mendenhall consulted his seniors before committing to play.
"We already had a tough schedule with Ole Miss, Texas and Utah, and Coach called us in to see what we thought," Pendleton said. "There was not one of us that said we didn't want to play in this game. We are the only game on Friday night. Everybody in the country will be watching."
Mendenhall insisted that the game be played at a neutral site.
"I'm not sure Dallas Cowboys Stadium is neutral, but we had a good experience there before, and I thought our players would enjoy it, and it was a good opponent to play toward the end of the schedule," he said.
Added Patterson: "This was the only way that BYU and ourselves could work it out. In the middle of a conference race, you'd rather not do that, but it's just how it worked out."
■ RUNNING QUARTERBACK — Nelson has rushed for 274 yards and a touchdown over the past four games. His love of running with the ball started early in life.
"Barry Sanders was my favorite player growing up," he said. "My dad (Keith) was a running back at (Utah State). I liked players like (former Miami Dolphins star) Larry Csonka."
■ GRAND MEMORY — Senior receiver McKay Jacobson returns to Cowboys Stadium, where he caught the game-winning touchdown in BYU's 14-13 upset of No. 3 Oklahoma in 2009. "The stadium itself is quite a thing," said Jacobson, a native of Southlake, Texas. "But we are going down there to win the game."
Dave McCann is a morning news anchor on KLAS-TV, Channel 8. He hosts "True Blue" at 5 p.m. Monday on BYUtv, is the play-by-play voice for BYUtv and hosts "Cougar Countdown" at noon Wednesday on KSHP-AM (1400) and Sirius XM 143 BYUradio. He can be reached at dmccann@8newsnow.com.