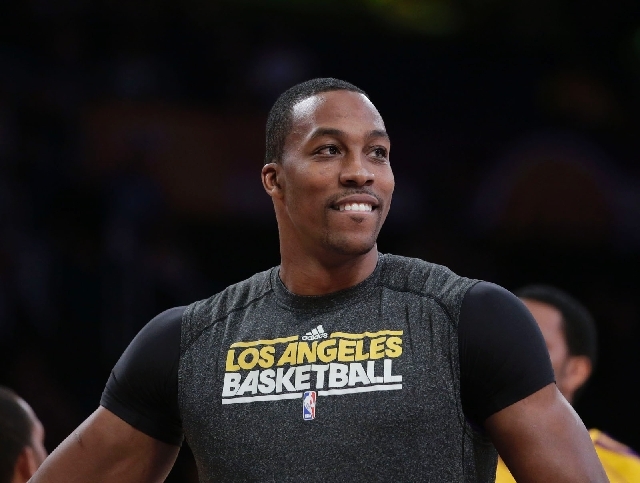 An event that changed the NBA forever happened three years ago. LeBron James, with help from ESPN, staged "The Decision" to announce his dramatic free agency move.
James dumped Cleveland and took his talents to the Miami Heat on July 8, 2010. The spectacle transformed the way free-agent superstars are courted, and now we're watching another big show.
Several teams are desperately chasing the talents of Dwight Howard, who is toying with leaving the Los Angeles Lakers.
Howard's free-throw shooting is a circus sideshow, and his offensive skills are limited mostly to dunks and layups. But he is a great athlete and defender, and that's enough to make him an elite center.
Atlanta, Dallas, Golden State and Houston are showing affection for Howard in a variety of ways. The Lakers put up billboards begging him to stay. They leaned on their Hollywood ties, putting Jack Nicholson on the phone with him.
Myron Medcalf, a basketball writer for ESPN.com, presented an idea on Twitter: "The NBA/Lakers should create 'The Bachelor: Dwight Howard Free Agency' edition with execs. On the last show, he'll need more time to think."
Which team will get the rose?
Similar to most of "The Bachelor" couples, Howard's emotional engagement with his new team (or his old one, the Lakers) undoubtedly will be followed by an unhappy marriage.
■u2007ONE MORE YEAR? — It always sounded like an empty threat when Kobe Bryant said he might play one more year and retire.
For any guy with a huge ego, spending more time at home with the family can be overrated. Ask Michael Jordan, who retired more times (three) than most boxers. Bryant surely would get bored after a few months of lounging around the house and watching cartoons with his daughters.
Now comes word Bryant believes he can remain great for three more years. The Lakers guard blew out his Achilles late in the regular season, but he's determined to come back, and keep coming back.
"I feel pretty damn confident I can be at a high level for at least another three years," Bryant told Lakers.com. "The injury has something to do with it. It really increased the drive."
Bryant has won five NBA championships in 17 years. It's not looking like he can win No. 6 next season, with or without Howard, so don't count on him disappearing to a retirement village anytime soon.
■u2007LIGHTS, CAMERA, ACTION — Albert Pujols of the Los Angeles Angels is described "as a man devoted to his family" and an "international sport superstar" in a film at iamsecond.com.
Pujols shares tales of inspiration about his journey from the Dominican Republic.
The film is titled "20 Seconds" in honor of another journey — how long it now takes Pujols to run from the batter's box to second base.
■u2007'PANDA' EXPRESS — It's time for Nathan's Famous Hot Dog Eating Contest.
There is offshore wagering on the contest, and the over/under for number of hot dogs eaten by the winner is 63½.
The odds-on favorite is Pablo Sandoval, the portly third baseman for the San Francisco Giants. The second choice on the odds board is Joey Chestnut.
COMPILED BY MATT YOUMANS
LAS VEGAS REVIEW-JOURNAL