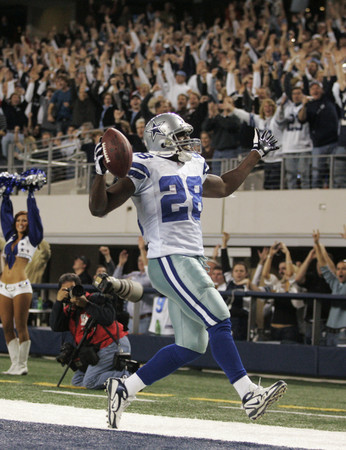 ARLINGTON, Texas — For an entire year, the Dallas Cowboys have had to deal with the fallout from a crushing, season-ending loss to the Philadelphia Eagles.
Now it is the Eagles' turn — for this week, at least.
Tony Romo threw a pair of early touchdown passes, and the defense took over from there, carrying Dallas to a 24-0 victory over Philadelphia on Sunday. The win was filled with milestones for the Cowboys, the most important being that they won the NFC East and will host a rematch in the first round of the playoffs next weekend.
Some of the other good stuff for Dallas: posting consecutive shutouts for the first time in team history; Romo and the entire offense setting all sorts of single-season records; having a winning record after Dec. 1 for the first time since 1996; and ending a nine-game losing streak in season finales.
With all that going their way, perhaps the Cowboys (11-5) can finally win a playoff game for the first time since 1996. Kickoff is at 5 p.m. PST Saturday.
"This ballclub has done a good job of putting its best foot forward when it has to," Romo said. "We haven't arrived and we haven't accomplished anything. This is a step in the process to continue to get to where we want to go. It's a positive one, definitely, but we still need to keep improving. There's hopefully a lot of season left."
The Cowboys won the division two years ago, then opened the playoffs at home against a division rival they'd beaten twice — and lost to the eventual Super Bowl champion Giants.
But this Dallas team seems to be different. Since opening December with consecutive losses, they've won three straight, knocking off the Saints when they were 13-0, then shutting out Washington on the road and blanking the Eagles (11-5).
Philadelphia came in having set the franchise scoring record and riding a six-game winning streak, during which it averaged 31.2 points. The Eagles still had a lot to play for, because a victory would've locked up the No. 2 seed and a first-round bye.
The loss sinks them all the way to the sixth seed, the lower of two wild cards.
"It's kind of embarrassing," said tight end Brent Celek, who led Philadelphia with seven catches for 96 yards. "I didn't expect to come down here and play like this. We're lucky we have another opportunity to play again. That's all we can ask for."
Donovan McNabb threw for 223 yards, and the Eagles gained just 228 overall. The Cowboys had 291 yards by halftime, on their way to gaining 474.
Philadelphia's game-breaking receivers DeSean Jackson and Jeremy Maclin failed to have any plays longer than 32 yards, and that was better than they did in the first matchup. The defense saw Romo go 24 of 34 for 311 yards; he went over 300 in both meetings.
"We're going to go back to the drawing board," Eagles coach Andy Reid said.
The challenge for the Cowboys is coming up with more of the same.
Romo finished this season with the most attempts, completions and yards passing ever by a Cowboys quarterback. His nine interceptions are by far the fewest of his career. Dallas also set a record for single-season yards.
Yet it's the defense — run by coach Wade Phillips — that is carrying this team.
Over the last four games, the Cowboys faced the NFL's three highest-scoring offenses and held all of them to their fewest points of the season. These back-to-back shutouts are quite the capper; that hasn't been done in the NFL since Tennessee did it in 2000, and it's only the third time in 50 seasons that Dallas has posted two shutouts in a year.
DALLAS 24
PHILADELPHIA 0
KEY: Tony Romo threw two touchdown passes.
NEXT: Eagles at Cowboys (-4)