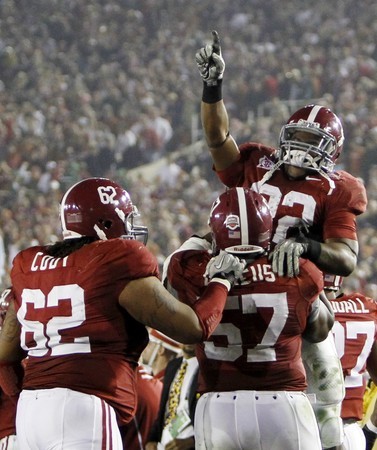 PASADENA, Calif. — The houndstooth hat is a memory — the Snake, Joe Willie and Bart Starr replaced by guys named Julio, Javier and Mount Cody.
Alabama football, though, is alive and well, thanks to a defense that would have made the Bear smile.
That defense knocked Texas quarterback Colt McCoy out of the BCS title game early Thursday night, then made a big play to save the win late and restore glory to Bear Bryant's football factory with a 37-21 victory for the Crimson Tide's first national title since 1992.
The Tide was the unanimous No. 1 in The Associated Press poll.
"We back," said Heisman Trophy winner Mark Ingram, the offensive Most Valuable Player.
With Alabama clinging to a three-point lead and with momentum on the other side, linebacker Eryk Anders preserved the victory, forcing a fumble on his blindside sack of Texas backup quarterback Garrett Gilbert with 3:02 left.
Ingram scored three plays later to give the top-ranked Tide (14-0) breathing room, then Trent Richardson added a late touchdown.
McCoy, hurt on the Texas offense's fifth play, watched most of it from the sideline with an injured throwing shoulder.
"I would have given anything to be out there, because it would have been different," he said.
It wasn't, though, and Nick Saban, in just his third year at Tuscaloosa, helped Alabama earn its eighth title since the polls began in the 1930s, and its seventh AP title.
Tide quarterback Greg McElroy took a knee to end the game, popped up to his feet, raised the ball high in one hand and hugged a teammate. The celebration on the floor of the Rose Bowl — not normally the Tide's territory — was on.
"It feels good going down in history," Terrence Cody said. "It's hard to do, but we won."
It was a tough game dominated by big-play defense.
Marcell Dareus will join Ingram, Cody, receiver Julio Jones, defensive back Javier Arenas and the rest in Crimson Tide lore after knocking McCoy down and out, 4:06 into the game.
"I just heard a thump when I hit him," Dareus said. "I did lay it down pretty hard. I didn't try to, but it felt great."
A bit later, Dareus picked off Gilbert's shovel pass and returned it 28 yards for a TD and a 24-6 lead late in the second quarter.
But this game was far from over.
Gilbert — a highly recruited freshman who was Texas' "quarterback of the future" — had thrown only 26 college passes coming into this game.
But he threw two touchdown passes to All-American Jordan Shipley to trim the deficit to 24-21 with 6:15 left, and after an Alabama punt, he had the ball at the 7-yard line, 93 yards from one of the most improbable comeback stories in the history of the game.
But after an Alabama holding penalty moved the ball to the 17, Gilbert dropped back to pass and got rocked by Anders, a senior who plays in the shadow of Cody and fellow All-American Rolando McClain. The ball went flying, and Courtney Upshaw recovered.
Three plays later, Ingram surged into the end zone from the 1 for a 10-point lead. A few minutes later, after Gilbert's third interception of the night, Richardson scored his second TD to make it 37-21.
ALABAMA — 37 TEXAS — 21
KEY: The Crimson Tide defense forced two turnovers that led to touchdowns after the Longhorns had pulled within 24-21 with 6:15 left.