Criner helps Canyon Springs snare Northeast crown
October 26, 2007 - 9:00 pm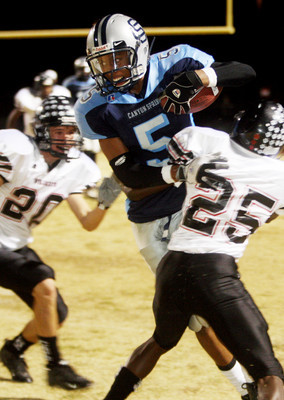 With 12 seconds to play, things were looking bad for Canyon Springs on Thursday night. The Pioneers were at the Las Vegas 48-yard line, trailing by a point.
But no football game is ever out of reach if you have Juron Criner.
Criner made two incredible catches in the waning seconds, including a 4-yard touchdown reception from Devonte Christopher as time expired, to give the third-ranked Pioneers a
48-43 home triumph over the eighth-ranked Wildcats.
The victory gave Canyon Springs (8-1, 6-0 Northeast) the Northeast Division title.
With no kicker consistently able to make extra points, the Pioneers were forced to go for a touchdown from the 4-yard line with five seconds to go. Christopher took the shotgun snap and looked like he was going to try to run for the score, but he pulled up and lofted the ball up for Criner in the front corner of the end zone.
The 6-foot-4-inch Criner jumped over defensive back Sam Achempong, taking the ball away from the defender for the winning score.
"I thought he was going to run it, but like Coach always tells us, stay available and stay a moving target," Criner said. "And I guess he just spotted me, and you've got to go up and get it."
Criner had an equally impressive catch to set up the winner. Christopher lofted the ball down the right sideline, and Criner somehow came down with the ball between three defenders.
"When he made the throw, I didn't see anything else," Criner said. "I didn't see any lights, I didn't see any players, all I saw was the ball floating through the air, and my instincts told me to go get it."
Criner finished with seven catches for 175 yards and two touchdowns, giving him 23 receiving TDs this season.
"If he's not the best player in the state of Nevada, I don't know who is," Canyon Springs coach Matt Jenkins said.
Canyon Springs' lack of a kicking game nearly cost it the victory. The Pioneers scored on a 73-yard pass from Christopher to DeShawn Stewart to make the score 42-36 with 2:16 to play. But Criner was unable to make a circus catch on the 2-point conversion attempt, and the margin remained six points.
"We don't kick them," Jenkins said of extra points. "We haven't kicked them in a while."
Las Vegas promptly drove 94 yards on six plays, capped by a 72-yard scoring pass from Marvin Campbell to Zerrick Pryor, who made a spectacular catch over a Pioneers defender at the 40-yard line before scooting into the end zone for the score.
Trevor Lowe's extra point made it 43-42 with 44 seconds left, and it looked as if the Wildcats (6-4, 4-2) had completed a miracle comeback after trailing 20-0 at halftime.
"In this offense, we always feel like we can move the ball up and down the field," Jenkins said. "Offensively, we performed when we had to. Defensively, we played one half of football."
Christopher passed for 401 yards and six touchdowns. Four of those scoring passes went to Stewart, who caught nine passes for 206 yards. Christopher also had a 54-yard touchdown run.
Robert Hackett (145 yards) and Emery Schexnayder (108 yards) each topped 100 yards on the ground for Las Vegas, which never had lost to Canyon Springs.
"This win against Vegas is like the best thing ever," Criner said. "We've never beat them, so to beat them is like the best feeling you could ever have."
Contact Prep Sports Editor Damon Seiters at dseiters@reviewjournal.com or (702) 380-4587.
Preps Central
CLASS 4A SCORES
Bishop Gorman 34, Sierra Vista 0
Canyon Springs 48, Las Vegas 43
Centennial 34, Shadow Ridge 18
Chaparral 51, Clark 38
Cheyenne 20, Mojave 14 OT
Coronado 27, Green Valley 14
Del Sol 48, Liberty 12
Desert Pines 42, Valley 14
Durango 36, Bonanza 35
Legacy 32, Arbor View 29
Palo Verde 41, Cimarron 0
Rancho 38, Eldorado 14
Silverado 55, Basic 20
Western 28, Spring Valley 14