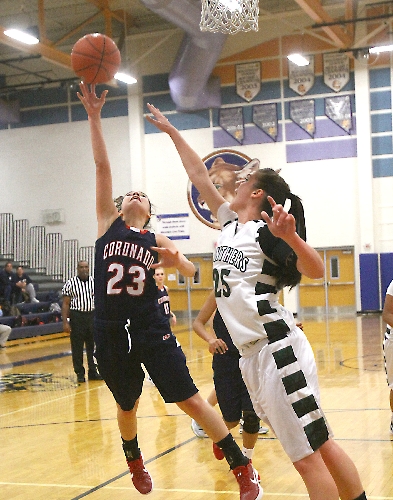 Coronado High's Sofie Cruz took the basketball court with a score to settle on Wednesday, and she wasn't about to blow her opportunity.
The junior guard, whose team suffered a two-point loss to Palo Verde on Monday, got a second chance and made the most of it.
She scored 15 of her team-high 20 points in the first half to help the Cougars roll to a 50-41 victory over the Panthers in the championship game of the Sierra Vista Invitational.
"We all wanted to come back and beat them," said Cruz, whose potential game-winner fell short at the buzzer in the first-round meeting between the teams. "We came out tonight and got a 14-0 lead, and I think that really sparked up our team."
Cruz, who was named the tournament's Most Valuable Player, was responsible for eight of her team's points in that game-opening run, and Coronado led 19-7 at the end of the first quarter.
The Panthers, who had just finished beating Liberty in the semifinals an hour before tipoff, appeared lethargic but finally went on a 6-1 scoring spurt to cut their deficit to 20-13 on two free throws by Jasmin Kiley 43 seconds into the second quarter.
But Cruz had five points in the last two minutes of the second quarter, and the Cougars scored 10 straight points to take a 30-13 lead into halftime.
Coronado coach Bill Crego said he was surprised to see his team make it look so easy.
"I think (the Panthers) were a little more fresh the first time we played," he said. "But we pressured them the whole game tonight, and I think that helped."
That defense, Crego said, led to offensive opportunities.
"We pride ourselves on playing good defense," he said. "That's what we did tonight. We took the passing lanes away and created some turnovers."
Cruz said the offense fed off the quick start. "Everyone on this team works together," she said. "We all feed off each other. I just happened to be hot today."
Palo Verde slowly closed the gap in the second half, making it 42-34 on a driving layup by Kiley with 3:25 left.
But Coronado guard Lexi Melone scored five points in the final four minutes and controlled the pace down the stretch.
Crego said he didn't want to make too much of the title.
"We came in here looking mainly to develop our players," he said. "Of course we wanted to win it, but we really just wanted to play well."
Melone had 10 points, and Kealy Brown added seven points and three steals for Coronado.
Kiley had 24 points to lead the Panthers, and teammate Jenise McKnight added seven points and nine rebounds.
In-depth high school sports coverage