Cruz in right spot in regulation, OT to rescue Cougars
February 1, 2011 - 2:01 am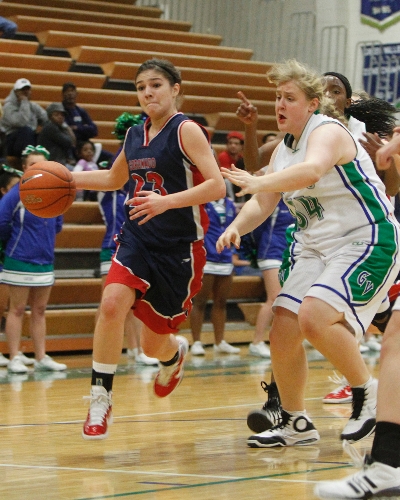 For 31 minutes and 59 seconds Monday, Coronado's girls basketball team couldn't get a key rebound to save its life.
It took Sofie Cruz one second to do both — grab a crucial rebound and save the Cougars.
Cruz rebounded a missed 3-pointer and converted a stick-back basket with less than a second left to force overtime, and the Cougars didn't miss a shot the rest of the way en route to a 70-59 Southeast League victory at Green Valley.
"That's been our weakness all year. We've had problems rebounding," Coronado coach Bill Crego said. "When they make up their mind that they're going to rebound, they can be pretty good."
The Cougars (14-10, 6-4 Southeast) saw an early 21-10 lead slip away and trailed Green Valley 55-52 after the Gators' Mackenzie Butler made two free throws with 25.7 seconds to play in regulation.
Caitlin Trost made 1 of 2 free throws with 13 seconds remaining to cut the deficit to two, and Coronado immediately fouled the Gators' Angelica Mack, who missed both free throws.
Cruz rebounded the second miss, but Coronado staggered bringing the ball up the floor.
Sarah Dexter tried a running 3-pointer from the left wing. The ball fell short, but right into the arms of Cruz who lifted it in with 0.4 seconds remaining.
"We're up and down," Crego said. "You never know what you're going to get. When we decide to play, we're a good team."
The Cougars scored the first seven points of overtime and were never threatened, making all four of their field-goal attempts — including a 3-pointer by Cruz — and all six free-throw attempts.
"In overtime, I just told the girls to run our offense," Crego said. "We moved the ball well."
Nicole Ruffino led Coronado with 21 points. Cruz scored 19, including seven in the overtime, and Trost added 13.
Butler led Green Valley (11-7, 6-4) with 25 points, 13 coming after the third quarter.
Shavon Stevens supplied 13 points and 11 rebounds, and Mack added 10 points and 10 rebounds for the Gators.
Contact reporter Bartt Davis at bdavis@reviewjournal.com or 702-387-5230.
In-depth high school sports coverage
GIRLS BASKETBALL: Coronado vs. Green Valley
MONDAY'S HIGHLIGHTS
BOYS
Spring Valley's Shannon Nolan made a 3-pointer with about five seconds to play, giving the Grizzlies a 72-70 road victory over Durango.
Arbor View's Zach Hammond scored 23 points to fuel an 82-78 overtime victory over host Legacy.
Desert Oasis' Cameron Mich'l scored 31 points in a 55-47 road victory over Clark.
GIRLS
Silverado's Natalie Lainhart compiled 26 points and 17 rebounds in a 67-40 home victory over Del Sol.
Liberty's Jade Washington had 18 points, 10 assists and eight rebounds in an 81-37 home victory over Basic.
Palo Verde's Nicole Ameli had 25 points in a 66-46 road victory over Cimarron-Memorial.