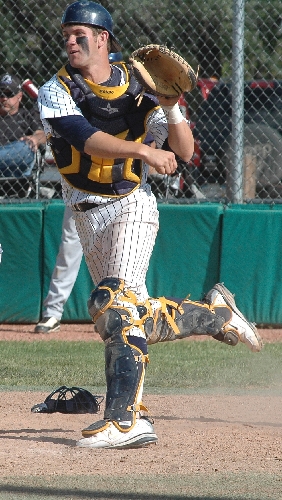 LAMAR, Colo. — A monstrous home run off the aluminum bat of Bryce Harper launched the College of Southern Nevada to an ideal start Thursday.
Harper's two-run, first-inning blast, estimated at a minimum of 500 feet, created a buzz and left some of the locals in awe.
"There were five or six old guys here, and they said they've never seen one go that far," Coyotes coach Tim Chambers said.
A few hours later, CSN was struggling to avoid a potentially ugly loss after an error-filled effort that bordered on awful. But Aaron Kurcz and Scott Dysinger finished what Harper started.
Kurcz pitched out of an eighth-inning jam, and Dysinger delivered a bases-loaded single with two outs in the bottom of the ninth to lift the Coyotes to a 9-8 victory over Western Nebraska in the first round of the NJCAA Western District Tournament.
"That's as bad as we can play," Chambers said. "But we found a way."
CSN (47-13) advanced in the double-elimination tournament to play Lamar Community College (48-10) at 1 p.m. today. Lamar defeated Central Arizona 8-5 in the opener.
Marvin Campbell was hit by a pitch to trigger a ninth-inning rally for the Coyotes, who loaded the bases against left-hander Julio Davila. Western Nebraska right-hander Armani Gonzalez was called in from the bullpen to face the right-handed hitting Dysinger.
"No pressure. I've played in a bunch of big games before," said Dysinger, a sophomore from Bishop Gorman High School. "I knew he couldn't walk me, so he had to come to me. I thought about taking a pitch.
"But I was looking for a first-pitch fastball, and that's what I got right down the middle."
Dysinger lined a shot that took a tricky hop over the glove of shortstop Nelson Quintero. CSN's Matt Medina, pinch running for Campbell, scored easily.
Western Nebraska (24-38) scored five runs in the fourth inning to go ahead 7-2. The Coyotes fought back to take an 8-7 lead on Ryan Thomas' two-run homer in the seventh.
But Bryan Harper, who relieved CSN starter Donn Roach in the seventh, gave up the lead in the eighth by allowing Josh Parker's RBI double. Chambers called on Kurcz, the closer, to keep the score tied with runners on second and third with one out.
"It could have turned into a big inning in a hurry," Chambers said. "Kurcz got us out of it."
Roach, a former Bishop Gorman star and the Coyotes' ace, had to overcome a fourth inning in which he faced 10 batters. A Dysinger error led to a run, and Roach balked in a run.
"We made some errors at inopportune times, and they got a couple cheap hits," said Roach, who allowed seven runs, three earned, in six innings. "It's frustrating, but you've just got to keep pitching and keep going at them.
"We just had an off day. It happens."
CSN committed four errors behind Roach, who threw 120 pitches.
"Donnie pitched his tail off. Unfortunately, we cost him about 40 to 50 extra pitches with the errors we made," Chambers said. "We don't have to make excuses. We just didn't play well."
Bryce Harper, who grounded out with the bases loaded in the fourth, finished 1-for-4 and was hit by a pitch.
Harper homered off Western Nebraska left-hander Tim Beard, who tossed slow curves and sinkers to keep the Coyotes contained. Beard was pulled after allowing Thomas' go-ahead homer.
Contact sports reporter Matt Youmans at
myoumans@reviewjournal.com or 702-387-2907.
CSN — 9
WESTERN NEBRASKA — 8
KEY: The Coyotes' Scott Dysinger hit a bases-loaded single with two outs in the bottom of the ninth inning.
NEXT: CSN vs. Lamar, 1 p.m. today