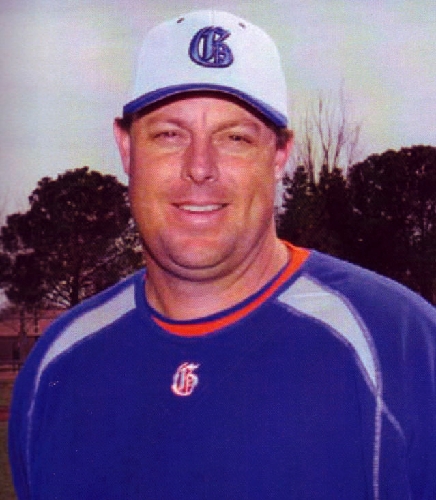 First-year College of Southern Nevada baseball coach Chris Sheff is the subject of an in-house investigation regarding allegations that include whether players were inappropriately charged for a mandatory conditioning program.
The complaints, made to the school by several parents of current and former players, also accuse Sheff and his coaching staff of being verbally abusive to players and bringing drugs into the team's clubhouse.
"CSN administrators are aware of these allegations and are investigating," K.C. Brekken, the school's communications manager, wrote in an e-mail to the Review-Journal on Friday.
Players were charged $125 per month to participate in workouts beginning in early September with personal trainer Corky Field of Live-In Fitness in Henderson. The workouts were mandatory, according to multiple unnamed sources.
Mandatory team activities that players are required to pay for would be considered a violation of National Junior College Athletic Association rules.
"Conditioning programs in college level athletics are a fact of life and have been a part of the CSN program well before this coach," Brekken wrote in the e-mail. "What CSN is investigating is whether there are any irregularities in these conditioning programs."
Sheff previously coached for seven years at Bishop Gorman, leading the Gaels to five consecutive Class 4A state championships. Sheff was hired as the baseball coach and athletic director at CSN on July 9 to replace Tim Chambers, who left in June to become the baseball coach at UNLV.
Sheff said the players were "encouraged" to enroll in Field's program, but that it was not mandatory.
"We want the kids to stay together and work out as a group," Sheff said. "We think there's an upside to that in terms of building team unity.
"Our facilities are not equipped to handle 30 guys. … With the cost that was thrown out, I thought it was a great opportunity for our kids."
Field is listed on the Bishop Gorman website as an assistant wrestling coach and his nephew Johnny played baseball for Sheff at Gorman before signing a national letter of intent with the University of Arizona last November.
Corky Field said the CSN players were required to pay the $125 only for the first two months of his program.
"He came to me and I felt honored and wanted to do everything I can to help them out," Corky Field said. "The kids are getting an advantage of being put through a process like this and being able to reach goals physically as well as mentally."
Sheff confirmed that at least six players were not comfortable with or could not afford to pay for the workouts and stopped participating. Sheff said since the players were going to Field on their own, they were allowed to work with other trainers or at a local gym.
An unnamed source said many of the workouts with Field were held on a tennis court in Tuscany Village rather than at a gym.
"Guys were getting hurt from it, their shoulders, backs," an unnamed source said. "It wasn't worth $125. I don't know where all the money was going to, but it doesn't cost $125 to work out like that."
According to several unnamed sources, the coaching staff also charged players $25 a week for food that was delivered after practice, which would also be a violation of NJCAA rules.
"It was pizza and wings," the source said. "It wasn't nutritious food."
Former major league player David Segui, whose son was recruited to play at CSN out of Kansas City, Kan., by Chambers, said his son brought his own food and refused to pay.
"The money isn't the issue, the principle is," Segui said. "I'm more concerned for the other kids. They flat-out robbed kids of money they don't even have."
Parents also accused Sheff and his staff of verbal abuse. An unnamed source said Sheff berated several returning players in front of the entire team after the first fall scrimmage and disciplines players with excessive running, which Segui confirmed.
"Obviously with any new program there's going to be change," Sheff said. "We started off with 50, 55 kids and are down to 25. It's hard not to have some strife when you have 25 kids leaving the program."
An unnamed source also said a member of the coaching staff had marijuana in the team's clubhouse. CSN said it is investigating the allegation.
In addition, Sheff was reprimanded by the school after beer was found in the coach's office shortly after he was hired. Sheff said the beer was a gift and was not consumed.
"CSN and Henderson police were involved in a sweep of the clubhouse. Nothing was found," Brekken wrote. "Upon notification that it is against college policy to have alcohol on campus, the beer was removed and we are aware of no other incident involving alcohol at the clubhouse.
"At this time, there is no evidence that drugs were used, or had been present or that alcoholic beverages were consumed on the college campus."
Assistant coach Chris Latham informed Sheff on Thursday he was resigning, although he said Friday that his decision was not related to CSN's investigation into the program.
Segui said he flew to Las Vegas when he heard the allegations and does not plan to leave until the coaching situation at CSN is resolved.
"My son plays. This isn't about playing time or a bitter parent nagging because their son isn't hitting cleanup," Segui said. "I'm concerned with some of the things my kid is being exposed to in this program. As a parent it's my responsibility to find out if the stuff I'm hearing is true. It would be irresponsible as a parent if I didn't."
Contact reporter David Schoen at dschoen@reviewjournal.com or 702-383-0294.