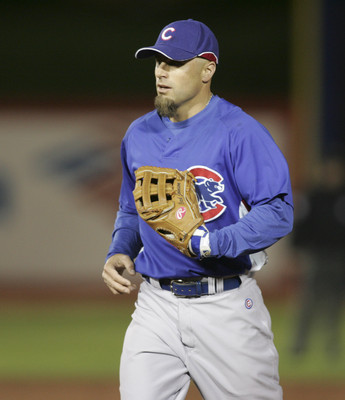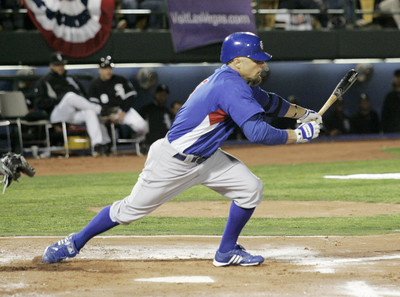 Reed Johnson didn't work out at 4:30 a.m. each day and deprive himself of his favorite foods this offseason just so he could sit on the bench this year for the Chicago Cubs.
The 32-year-old Johnson, who has shed 14 pounds since last season, is on a mission to become the team's starting center fielder.
"That's my goal, for sure," Johnson said Wednesday before the Cubs' 7-6 loss to the Chicago White Sox at Cashman Field. "I wanted to try to prepare my body to play every day and make myself lighter.
"When I'm working out in the offseason, all I'm thinking about is playing on an everyday basis."
Johnson, who has lived in Las Vegas for five years, endures grueling offseason workouts here with San Francisco Giants outfielder Aaron Rowand — his former teammate at Cal State Fullerton — and several other professional athletes.
But this past offseason, Johnson added a strict diet to his regimen, and it has paid dividends.
"I'm in the best shape of my life," the 5-foot-10-inch Johnson said. "I haven't weighed 180 pounds since I was in college, and I haven't been this strong.
"It's going to be easier on my body over the long baseball season."
Johnson, batting .267 (4-for-15) this spring, started in center field for the Cubs on Wednesday and went 1-for-4.
A career .284 hitter in 719 games in the past six seasons, Johnson joined the Cubs late last spring, two days after the Toronto Blue Jays released him. In his first spring game with Chicago, he hit Jarrod Washburn's second pitch for a leadoff home run in the Cubs' 4-2 victory over the Seattle Mariners at Cashman Field on March 29.
A year removed from back surgery, Johnson hit .303 with six home runs and 50 RBIs in 109 games in 2008, and his hard-nosed style of play earned him the admiration of Cubs manager Lou Piniella.
"He knows how to play the game, and he plays with enthusiasm. I love the kid, I really do," Piniella said. "He lets it all go on the baseball field and gives it 100 percent.
"He likes to win, and I'm pleased to have him here."
Although Piniella said Johnson is better suited to be a fourth outfielder at this stage of his career, he knows he has his sights set on starting.
"He wants to compete for that center-field job, and we're going to let him do that," Piniella said.
A 17th-round draft pick of Toronto in 1999, Johnson hit a career-high .319 for the Blue Jays in 2006.
Slowed by back surgery in April 2007, Johnson hit .236 in 79 games that season.
"I'm kind of stubborn," he said. "I wanted to come back sooner than I should have, and my leg was not as strong as it should (have been)."
Johnson said he suffered nerve damage in his left leg, and it took awhile for him to regain strength in it. But last spring, as he was rounding back into form, the Blue Jays signed outfielder Shannon Stewart and released Johnson.
"I kind of knew something might happen … but it was surprising," Johnson said.
Regardless of whether he earns a starting job, the versatile Johnson should see plenty of action for the Cubs this season.
"He's a little stronger this year than he was last, and I think that bodes well for him," Piniella said. "We've got (Alfonso) Soriano, Milton Bradley and (Kosuke) Fukudome. We've got some good outfielders here.
"With (Johnson), he can play some center, right and left (field), so he'll get plenty of playing time."
Johnson, who started in center over Rowand at Cal State Fullerton, envisions himself and the left-handed-hitting Fukudome forming a potent combination for the Cubs.
"Hopefully Kosuke comes in and plays really well," Johnson said. "For the two of us to be healthy is really a huge thing for this team, to have a tandem of center fielders really putting up good numbers offensively and defensively."
Contact reporter Todd Dewey at tdewey@ reviewjournal.com or 702-383-0354.
WHITE SOX — 7 CUBS — 6
KEY: Ben Broussard hit an RBI single in the bottom of the ninth inning for the White Sox, who got home runs from Michael Restovich, Paul Konerko and Wilson Betemit.
NEXT: White Sox (RHP Jeff Marquez) vs. Cubs (RHP Aaron Heilman), 1:05 p.m. today, Cashman Field, WGN (16)