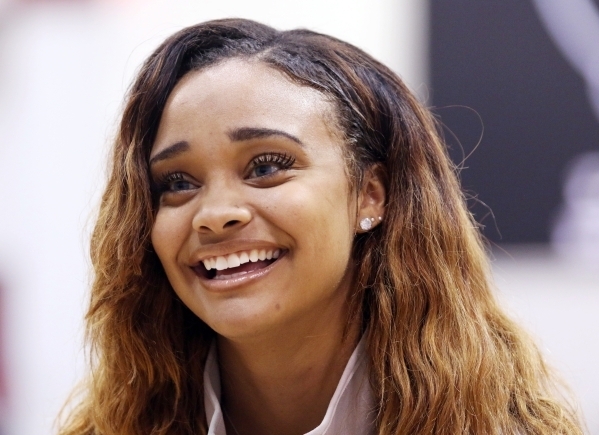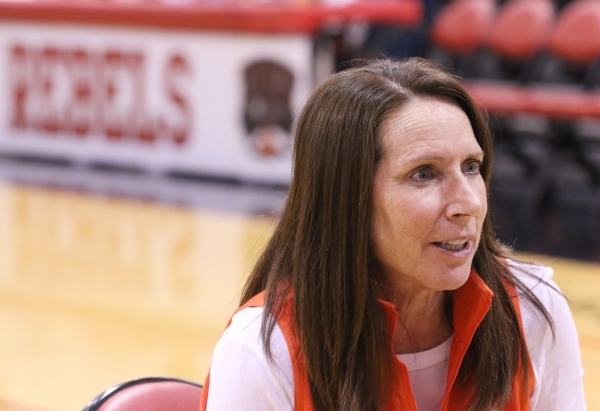 Dakota Gonzalez put on a show in her UNLV women's basketball debut Saturday before 1,622 fans at the Thomas & Mack Center.
That's a small crowd compared with the 12,201 the men's squad drew Friday night, but one prominent bystander took notice of Gonzalez's dazzling 21-point performance.
Superstar rapper Drake was in attendance to witness the Lady Rebels' 79-44 season-opening win against Southern Utah.
Drake is friends with Dakota and her twin sister, Dylan Gonzalez, who are redshirt sophomore guards for UNLV after transferring from Kansas, and showed up unannounced.
"He kinda just popped up on me," Dakota Gonzalez said of Drake, who befriended the Lady Rebels through social media. "I didn't know he was coming. He was like, 'I might be out there,' and I was, 'OK, cool. We play.' He never texted me back after that."
Drake and his entourage cheered from the empty 103 section and congratulated the Gonzalez twins on the court after the game.
Dakota Gonzalez didn't disappoint Drizzy and the fans in attendance. After sitting out the 2014-15 season, she drained her first shot — a 3-pointer — to give UNLV a 3-0 lead. The Lady Rebels went on to lead by as many as 41 points.
UNLV's size and athleticism were too much for the Thunderbirds, who were outrebounded 57-41. UNLV had 21 offensive rebounds and scored 40 points in the paint.
"It was nice to start the season with a convincing win," senior forward Amie Callaway said. "It wasn't a close one. We played defense very well. We showed everyone we were hustling and going after rebounds and loose balls.
"This type of play will attract more fans, and it will get us going more."
Callaway had 13 points and nine rebounds. Freshman forward Paris Strawther added 12 points, and 5-foot-5-inch sophomore guard Nikki Wheatley grabbed 10 rebounds.
The Lady Rebels took control early, leading 23-8 after the first quarter, with Dakota Gonzalez scoring 10 points.
Dakota Gonzalez started the game camping at the 3-point line, but she displayed her full offensive arsenal, handling the ball at times to create plays for teammates inside.
She also was tenacious on defense and had a cat-like swipe to steal the ball from Southern Utah guard Breanu Reid at the end of the first half.
"It feels amazing to finally get back on the court," said Dakota Gonzalez, who made 5 of 7 3-pointers. "I was hungry and have been anticipating my first game for a long time. I couldn't have asked for a better home opener."
Dylan Gonzalez had five points and nine rebounds off the bench in her UNLV debut.
UNLV has won its past nine season openers, eight under the watch of coach Kathy Olivier.
"We did a good job maintaining the lead and not giving in," Olivier said. "Defensively, we're giving that extra effort. We want our defense to be disruptive."
Southern Utah shot 25.8 percent from the field and managed only 10 points in the paint. Reid scored a team-high 18.
The Lady Rebels will host Pepperdine at 7 p.m. Tuesday at Cox Pavilion.
— Gilbert Manzano can be reached at gmanzano@reviewjournal.com. Follow him on Twitter: @gmanzano24.