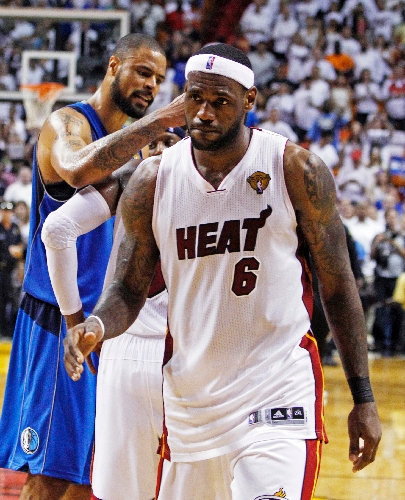 An intriguing script was written for the NBA Finals, with the Miami Heat filling the role of favorites as LeBron James chased his first championship.
But there was a twist in the end, and the superstar took a fall.
Before the Las Vegas sports books go quiet for the summer, the basketball season ended with a bang Sunday. The Dallas Mavericks upset the Heat 105-95 and won the championship for the underdogs and so-called Heat haters.
"It was no Super Bowl Sunday, but the ticket count was good, and the handle was good. The people showed up, and they bet," said Jimmy Vaccaro, director of operations for Lucky's sports books.
"Some people didn't like the Heat because of the celebration thing. There was definitely a love-hate relationship."
Last summer, when James ditched Cleveland to form a star-studded team in Miami, the Heat players partied and predicted they would win numerous titles.
Their celebration ignited a negative public reaction, but it all boosted interest in the NBA and the wagering aspect of it.
All along, the Mavericks flew under the radar. Dallas was posted as high as 32-1 odds to win the title two months into the season.
Miami was a minus-180 series favorite in the Finals and a 5-point favorite in Sunday's Game 6.
"I know there were a lot of people rooting against the Heat," Las Vegas Hilton sports book director Jay Kornegay said. "It's really good to see those four guys for the Mavericks win a championship."
Dirk Nowitzki, the Most Valuable Player of the Finals, won the first championship of his career, as did veterans Jason Kidd, Shawn Marion and Jason Terry.
Vaccaro said he was pulling for the Mavericks because of their strong UNLV connections. Marion starred for the Rebels in the 1998-99 season, and Dallas assistant Tim Grgurich was a UNLV assistant coach from 1981 to 1992 and the Rebels' head coach for seven games of the 1994-95 season.
"Not being a big NBA fan, I watched the entire game and enjoyed it," Vaccaro said. "It was a good ending."
Contact reporter Matt Youmans at
myoumans@reviewjournal.com or 702-387-2907.