Dallas police investigating domestic violence assault complaint against Johnny Manziel
February 5, 2016 - 11:17 am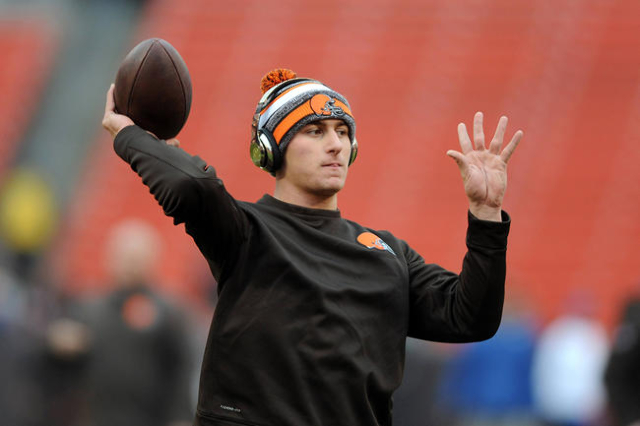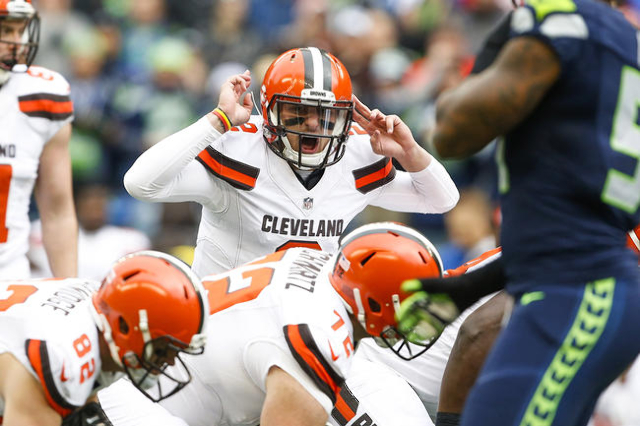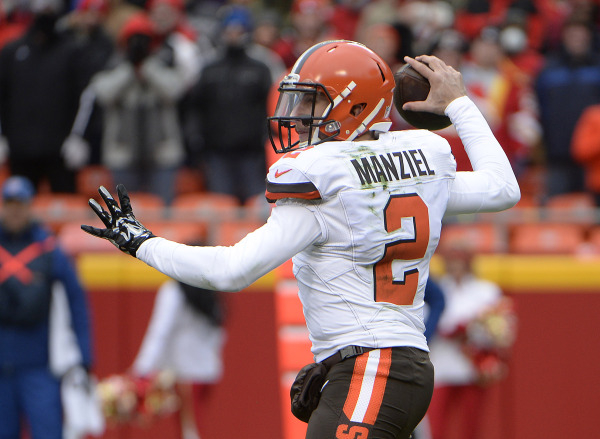 Dallas police announced Friday that they will investigate a domestic-violence assault complaint against embattled Cleveland Browns quarterback Johnny Manziel.
A day earlier, the Dallas police said that its investigation into allegations that Manziel hit his girlfriend Jan. 30 was complete and that no charges would be filed.
However, Manziel's now former girlfriend, Colleen Crowley, gave a statement to police Friday and asked the district attorney to pursue charges, according to WFAA-TV in Dallas.
The police department released a statement Friday that read in part: "As there are many emotional factors involved, it is not uncommon for a victim of domestic violence to question or delay reporting an assault. This is an on-going investigation and updates will be made as information becomes available."
WFAA-TV also reported that a Tarrant County (Texas) judge signed a protective order to keep Manziel away from Crowley for two years and order him to pay $12,000 in legal fees. The judge stated, "The court finds there is reason to believe that family violence occurred."
Meanwhile, Manziel's agent parted ways with the quarterback in the wake of the latest news, and Manziel's family is concerned for his well-being. His father, Paul, told the Dallas Morning News his son won't "live to see his 24th birthday" if he doesn't get help.
In a statement released Friday, agent Erik Burkhardt said he made the decision after discussions with Manziel, his family and his doctors.
"It is with deep regret that, after several emotional and very personal discussions with his family, his doctors and my client himself, I have made the decision to terminate my professional relationship with Johnny Manziel," Burkhardt said.
"Though I will remain a friend and Johnny supporter, and he knows I have worked tirelessly to arrange a number of professional options for him to continue to pursue, it has become painfully obvious that his future rests solely in his own hands. His family and I have gone to great lengths to outline the steps we feel he must take to get his life in order. Accountability is the foundation of any relationship, and without it, the function of my work is counterproductive.
"I truly wish the best for Johnny and sincerely hope he can, and will, find the kind of peace and happiness he deserves."
Paul Manziel told the Dallas Morning News his son has refused to enter area rehab facilities twice in the last week. He said the family tried to get Manziel, who turned 23 in December, to enter a local addiction facility on Saturday, but Manziel refused to stay. Paul Manziel said he tried to have his son admitted to a psychiatric and chemical dependency hospital on Tuesday but Manziel was allowed to leave, despite his father telling officers that he believed Manziel was suicidal.
"I truly believe if they can't get him help, he won't live to see his 24th birthday," Paul Manziel told the newspaper.
WFAA reported Thursday that Colleen Crowley, who dated Manziel for two years before a December breakup, told police that the 2012 Heisman Trophy winner ordered her to "shut up or I'll kill us both" before dragging her into his car, pulling her by the hair and driving back to her Fort Worth apartment while striking her several more times.
She also told police that Manziel appeared to be under the influence of drugs but said he was not drunk.
Manziel, who is from Tyler and Kerrville, Texas, later told TMZ Sports that "it didn't happen. I'm completely stable. I'm safe and secure."
Multiple reports indicate that Manziel will be waived by the Browns on March 9 when the new league year begins.
WFAA reported details of the alleged assault that started in Manziel's hotel room in Dallas and escalated early Saturday morning.
Crowley had spent last Friday evening with friends before meeting Manziel in his hotel room. The two then argued over another girl and Manziel wouldn't let Crowley leave on her own when she tried. Manziel led her down a back stairway to a valet area.
"I was crying and begged the valet, 'Please don't let him take me. I'm scared for my life!'" she told police.
According to WFAA, Manziel drove Crowley to her car, and she said she jumped out, but he found her hiding in some bushes.
"He grabbed me by my hair and threw me back into the car and got back in himself," she told police. "He hit me with his open hand on my left ear for jumping out of the car. I realized immediately that I could not hear out of that ear, and I still cannot today, two days later."
Crowley said she hit Manziel while trying to escape from the car, but he drove her back to her apartment in Fort Worth. She claims he told her that he was going to drop her off and then "go kill himself." Crowley also said at one point he yelled, "Shut up or I'll kill us both."
After arriving at the apartment, the two allegedly continued to argue. Crowley said she tried to contact her parents via computer when Manziel went outside, but he came back in and discovered what she was trying to do.
"I was in my kitchen, so out of fear for my life, I pulled a knife out of my knife block and advanced toward him," Crowley told police. "He ran out of the apartment."
According to the report, Crowley went to a nearby home to seek help and Manziel fled the scene on foot.
NFL spokesman Greg Aiello said the league is aware of the report and will continue the investigation that began last Saturday.
The Browns selected Manziel with the No. 22 pick in the 2014 draft. Cleveland has the No. 2 overall pick in the upcoming NFL Draft.
Manziel reportedly was in Las Vegas on the Saturday night before the Browns' final regular-season game despite being in the NFL's concussion protocol that sidelined him for the game against the Pittsburgh Steelers. He missed his mandatory concussion treatment on game day at the team's facility and was fined.
NFL Media's Michael Silver said on NFL Network on Friday that a Browns player told him Manziel showed up drunk to a practice and the team lied and said he was in concussion protocol.
However, the Browns' then-head coach Mike Pettine denied Manziel was drunk when asked about it after the final regular-season game.
Manziel was videotaped drinking, including on Christmas Eve, during the season. He spent 73 days in inpatient addiction-rehab center in the offseason.
Less than a week after being named the Browns' starter in mid-November, another video surfaced online of Manziel holding a bottle at an Austin, Texas, club during the team's bye week. Manziel was demoted to the third string for the next game.
Manziel finished his second season with 1,500 passing yards, seven touchdowns and five interceptions in nine appearances (six starts) and a passer rating of 79.4. He rushed for 230 yards.
Like Sports News on Facebook: