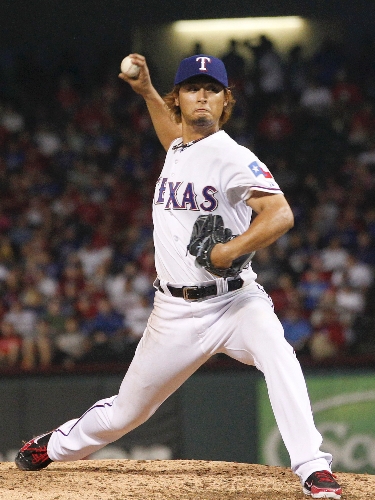 ARLINGTON, Texas — Yu Darvish had a feeling of calmness when he took the mound for his much-anticipated major league debut for the Texas Rangers.
Once he settled down his big right arm, and weathered a wobbly start with some help from Texas' powerful offense, Darvish was a winner for the two-time defending American League champions in an 11-5 victory over the Seattle Mariners on Monday.
"Mentally, I was very calm, but my body felt like it wanted to go and go and go," the 25-year-old right-hander said through his translator. "At the beginning of the game, my mind and my body kind of weren't on the same page."
After giving up four runs while throwing 42 pitches in the first inning, then allowing another run in the second, Darvish (1-0) later retired 10 in a row while pitching into the sixth.
"It was pretty much a battle all night," he said. "Just knowing my offense, if I could string those zeroes together, they would answer for me."
Nelson Cruz hit a three-run homer in the third for Texas to tie the game at 5, then Mitch Moreland and Josh Hamilton both went deep in the fourth to give Darvish an 8-5 lead.
Ian Kinsler added a three-run blast in the eighth, his second of the season, then said after the game he has agreed to a new $75 million, five-year contract.
Darvish was Japan's top pitcher before the Rangers committed $107 million to acquire him — his guaranteed $56 million, six-year contract and a $51 million posting fee to his former team.
"Going through warmups and everything, he felt fine," said catcher Mike Napoli, sporting a "Yu is my Homeboy" T-shirt after the game. "He got out there and was over-amped. I don't think he was scared, he was excited to be out there."
Darvish walked leadoff hitter Chone Figgins on four pitches to start the game before striking out Dustin Ackley.
Later in the first, Darvish threw a wild pitch so hard that it ricocheted off the brick backstop right back to Napoli.
AROUND THE MAJORS
AMERICAN LEAGUE
■ Yankees 6, Orioles 2 — At Baltimore, New York finally got its first win, using four hits by Derek Jeter and an effective pitching performance by Ivan Nova to beat the Orioles. Andruw Jones homered for the Yankees, who averted the franchise's first 0-4 start since 1973. New York began the season with three straight losses to Tampa Bay.
■ Red Sox 4, Blue Jays 2 — At Toronto, Ryan Sweeney singled in the go-ahead run in the ninth as Boston rallied to spoil the Blue Jays' home opener and avoid the first back-to-back 0-4 starts in team history. Dustin Pedroia homered and scored the tying run as Boston handed new Toronto closer Sergio Santos his second blown save in three appearances.
■ Angels 5, Twins 1 — At Minneapolis, C.J. Wilson won his debut for Los Angeles with seven smooth innings to beat Minnesota in its home opener. Wilson allowed three hits while striking out five. Albert Pujols did not get a ball out of the infield in four at-bats for the Angels.
■ Athletics 1, Royals 0 — At Oakland, Calif., Tommy Milone allowed three hits over a career-high eight innings in an impressive debut for the A's.
■ White Sox 4, Indians 2 — At Cleveland, Chris Sale won his first career start, limiting the Indians to one run in 6 2/3 innings.
NATIONAL LEAGUE
■ Giants 7, Rockies 0 — At Denver, Barry Zito threw a four-hitter for his first shutout in nine years and Pablo Sandoval hit a two-run homer to lead San Francisco. Zito allowed three singles and a double in his first shutout since April 18, 2003.
■ Cardinals 7, Reds 1 — At Cincinnati, Matt Holliday, David Freese and Yadier Molina homered during St. Louis' four-run first inning, and Jake Westbrook found his control after a rough start. The defending World Series champions improved to 4-1 with an offense that hasn't missed Albert Pujols so far.
■ Marlins 6, Phillies 2 — At Philadelphia, Anibal Sanchez carried a three-hitter into the seventh, Omar Infante hit a pair of solo homers, and Miami spoiled Philadelphia's home opener. Sanchez allowed two runs and six hits in 6 1/3 innings, outpitching two-time All-Star Cole Hamels.
■ Mets 4, Nationals 3 — At New York, Daniel Murphy singled home the winning run in the ninth, and the Mets (4-0) exploited a throwing error by Washington reliever Henry Rodriguez.
■ Astros 8, Braves 3 — At Houston, Travis Buck drove in two runs, Justin Maxwell homered, and the Astros bounced back from an early 3-0 deficit thanks to sloppy defensive play by Atlanta.
■ Brewers 7, Cubs 5 — At Chicago, Aramis Ramirez drove in two runs in his return to Wrigley Field, sparking Milwaukee.