De La Hoya seeks return to his peak
November 30, 2008 - 10:00 pm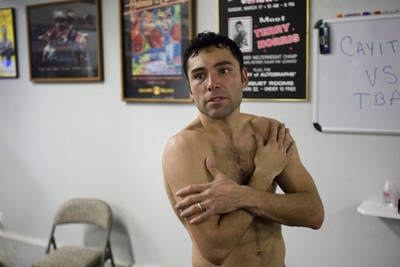 BIG BEAR CITY, Calif. — Even as he endured one of the many rigors of training camp — pounding the speed bag — a smiling, relaxed-looking Oscar De La Hoya appeared to be enjoying himself.
He spied his 3-year-old son, Oscar Jr., watching the workout and stopped to play with him, pretending to be knocked out by the toddler as HBO's cameras followed every move for its reality show.
De La Hoya indeed was happy. He was home.
On a crisp mid-November morning, the smell of Ponderosa pines filled the air, which at 6,750 feet is intoxicating and invigorating and, well, clean. Nestled in the San Bernardino Mountains, Big Bear is 93 miles — and light years away — from smog-ridden Los Angeles.
De La Hoya, a full-time businessman and now part-time boxer, has returned to this serene environment for the first time in six years to prepare for his next great challenge inside the ring.
The former 10-time world champion meets Manny Pacquiao, considered by many to be boxing's best pound for pound, on Saturday at the MGM Grand Garden.
De La Hoya's training camp has been rugged and physical. He has run mountain trails where the elevation climbs to an oxygen-deprived 9,000 feet. He has sparred with hard-punching fighters, including Edwin Valero and Victor Diaz. One day early in camp, in fact, Diaz blackened the Golden Boy's right eye.
He has trained, in his words, "like a maniac." He sees contemporaries such as 43-year-old Bernard Hopkins giving world-class performances, and De La Hoya, 35, believes he can do the same against a younger, highly skilled opponent such as the 29-year-old Pacquiao.
"Being here brings back great memories," De La Hoya said of his return to Big Bear. "This is where I trained for some of my biggest fights, and it has rekindled me in a lot of ways.
"I remember the trails I used to run, and it feels good to be back where I'm so comfortable. It's been a great camp. I am definitely ready to go 12 rounds, though I don't think it'll last that long."
De La Hoya knows his time in the ring is winding down. Yet he's not ready to walk away. He was prepared to fight three times this year, after defeating Steve Forbes on May 3. But his Sept. 20 rematch with Floyd Mayweather Jr. fell through when Mayweather retired.
Saturday's fight was to be his swan song, but not now.
"At first, it really bothered me," De La Hoya said of Mayweather's decision. "But once I talked to Floyd Sr. and he gave me his input as to why Floyd Jr. pulled out, I had a better understanding.
"He's scared to lose. Floyd Jr. is afraid of losing. He's afraid of failure. He's afraid to take risks. In life, you have to take risks, inside and outside the ring. That's the one thing that will always set us apart. I'm a fighter who was never afraid to take risks. He's a great fighter who never took the risks.
"I was never afraid to engage with anybody. Whether I won or whether I lost, I was never afraid to take the risk. And now you see these great fighters at the end of their careers, they are willing to fight anybody. They should have done that in their prime. I fought everyone they put in front of me."
De La Hoya said he intends to fight into 2009. Perhaps Mayweather will come out of retirement. Maybe there will be a match with Ricky Hatton somewhere in the United Kingdom. Maybe he fights Antonio Margarito on a Cinco de Mayo card.
De La Hoya isn't saying what the next move is. But he said he'll know when it's time to leave the ring for good.
"When my body tells me to stop, that's when I'll stop," he said. "My heart will always tell me I want to fight so I can't listen to my heart."
Right now, his body is telling De La Hoya to go for it. He will fight Pacquiao at 147 pounds, the lightest De La Hoya has fought since 2001 when he stopped Arturo Gatti at 146. Yet, on this day, 23 days before the fight, De La Hoya already was at 147, having actually gained a couple of pounds from the day before when he tipped the scales at 145.
"Let's go right now," he said jokingly after stepping off a scale.
But De La Hoya hardly is taking Pacquiao lightly. He said he is in phenomenal shape because he knows Pacquiao will force him to fight every minute of every round.
"I expect Pacquiao to come right after me from the opening bell, but I'm ready to handle his pressure," De La Hoya said.
De La Hoya's signature left hook, which has helped him compile a 39-5 record with 30 knockouts, looks as devastating as ever. He credits trainer Nacho Beristain with getting him to hit harder.
"Nacho didn't change me, but he tweaked a couple of things and had me throw the hook at a slightly different angle. It's made all the difference in the world," De La Hoya said. "I can feel more power when I throw the hook. It's like I have more force behind my punches.
"I expect to knock him out, and I'll be extremely, extremely disappointed if this fight doesn't end in a knockout. It will be a total disaster for me."
Never mind De La Hoya is 3-3 in his last six fights and that two of the wins, against Forbes and Felix Sturm in 2004, were hardly overwhelming. Then there's the fact he hasn't stopped an opponent since 2000 when he dropped Derrell Coley in the seventh round.
None of that matters to him. He is focused on the present and Pacquiao.
"The more I train for this fight, the more excited I get," said De La Hoya, who is a 2-1 favorite over Pacquiao. "I see the difference every day in the gym. I haven't felt this good in years."
De La Hoya said he and Pacquiao intended to be partners, not adversaries. He never expected to be in the ring with Pacquiao.
"Not in a million years," De La Hoya said. "But that's why this fight is being called 'The Dream Match.' As big as my fight with Mayweather was, this is bigger because unlike the Mayweather fight, where I wasn't sure whether he'd box me or try to fight me, with Pacquiao, everyone knows we're going to fight. And that's what makes it exciting."
De La Hoya also admits this fight is personal. His Golden Boy Promotions thought it had a deal to represent Pacquiao in 2006, only to see Pacquiao land with rival promoter Bob Arum of Top Rank. Golden Boy sued for breach of contract, and the two sides settled out of court. Still, De La Hoya has some hard feelings over what transpired, and he's using it as motivation.
"I respect Manny Pacquiao as a fighter, but not as a man," De La Hoya said. "We had a deal. We shook hands on it. Where I come from, you don't do that. Your word is your bond. So I don't want to hear it when he talks about honor and this and that. He turned his back on me, and he's going to have to pay come (Saturday)."
Contact reporter Steve Carp at scarp@reviewjournal.com or 702-387-2913.
Video