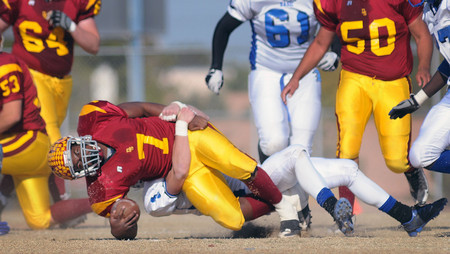 Del Sol's football team looked to have little life as it left the field at halftime Saturday.
The body language showed a beaten team as Basic took a 19-7 lead at the break.
But the Dragons came out a new team in the second half, rallying for a pair of touchdowns en route to a 20-19 home win for the Sunrise Region title.
Del Sol (12-1) will play Bishop Gorman (14-0) in the Class 4A state title game at 12:07 p.m. Saturday at Sam Boyd Stadium.
"We just seem to have some memorable games in this place," Del Sol coach Preston Goroff said. "It's just our little bit — I don't know if you believe in it — but our little bit of magic here."
The Dragons limited Basic (11-2) to 71 yards of offense in the second half. After Troy Miller hit Ashton Cacho with a 27-yard touchdown pass with 7:31 to play, Jose Dominguez hit the extra point to give Del Sol its first lead at 20-19.
It was Miller's second TD pass of the game to Cacho, who also caught a 38-yard TD strike in the second quarter.
"I give it all to them," Miller said of his receivers. "They know how to get open and how to catch the ball."
After the go-ahead score, Basic drove to the Del Sol 12 after a leaping catch by Travis Tatiano on a 31-yard pass from Tyler Dobbins.
But the Wolves were called for delay of game on the next play, and a pair of incomplete passes set up a 38-yard field-goal attempt by Francisco Casalas.
The kick had plenty of distance but was ruled wide.
"We gave it all we had," Basic coach Jeff Cahill said. "I don't know what happened with the field goal. It looked like it was in from where I was at, but I guess it was off a little bit."
Basic was in control early as Dobbins had a 45-yard TD pass to Quinn Richardson and a 5-yard scoring strike to Seth Campbell in the first half. Edward Villaros added a 15-yard TD run as the Wolves took the lead and momentum into the break.
"We were doing pretty well at halftime, and then in the second half they just made more plays than we did," Cahill said. "That was the bottom line."
The Dragons mounted the comeback without star running back Dezerick Reed, who injured his right ankle on the fourth play of the game and didn't return.
"The whole team, of course, was scared when Dezerick hurt his ankle," Miller said. "But we pulled together and worked as a team and showed that we are a team and not just one player or two players."
Miller was 9 of 19 for 146 yards, giving the traditionally run-oriented Dragons a little balance.
"Troy's been a lifesaver for us the second half of the season, really giving our running game a little room to breathe," Goroff said.
With Reed spending his afternoon on the training table, sophomore Chris Marshall stepped up to lead the ground game. He had 32 carries for 142 yards, including a 1-yard TD run.
"He's a diamond in the rough," Goroff said of Marshall. "No one really knows about him. That kid's going to be one of the best backs in town the next couple years."
It was Del Sol's fourth straight appearance in the Sunrise championship game, but the school's first title.
"No one even thought we'd make it to the playoffs," Miller said. "This is just overwhelming. I don't even know how to explain it."
Contact Prep Sports Editor Damon Seiters at dseiters@reviewjournal.com or 702-380-4587.
In-depth high school sports coverage
View the slide show