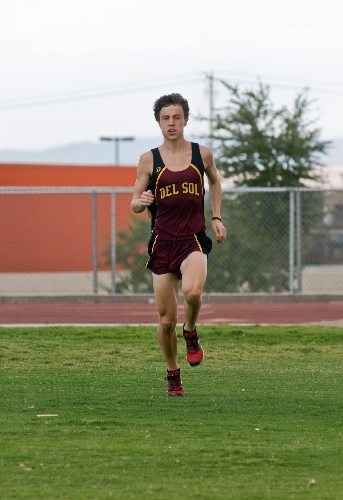 Del Sol senior Colin Smith was 9 years old the last time a boy from Southern Nevada won an individual Class 4A state cross country title.
Smith remembers watching older brother Galen, then a senior at Chaparral, at the state meet that year. Galen Smith's teammate, Patrick Swick, nipped Centennial's Blake Schlotzhauer at the finish line to win the title by a second.
Eight years later, Colin Smith starts the season as the No. 1 returning runner in the Sunrise Region and with one clear focus for the cross country season.
"My goal is to win state," he said.
The influence of his older brother is clear. Galen Smith, who by his own admission was a "mediocre runner in high school," went on to become a good college runner at Occidental College in Los Angeles.
He has followed Colin's high school career closely.
In cross country, Colin qualified for state as a sophomore and finished 46th out of 71 runners. In track in the spring of 2008, he failed to qualify for state in either of the two distance events.
"I was mediocre, at best," said Colin Smith, who turned to his brother for advice. "I talked to Galen on the phone at the end of the track season. He suggested I come to Denver (to train with him).
"My brother has had a huge influence on me."
Colin Smith trained that summer, increasing his mileage and adding more tempo and situational training.
It paid off.
Last fall as a junior, Colin Smith finished third at the Sunrise Region meet, behind Green Valley's Julius Kim and Liberty's Al Galen, who have both graduated. But the state meet was a disappointment, as Smith finished 22nd.
"He did not have one of his better races at state cross country last year," Del Sol coach John Dixon said. "He had no excuses, just one of those days."
Smith, who admittedly prefers track to cross country, fared better last spring. He improved his time in the 3,200 meters from 10 minutes, 11 seconds as a sophomore to 9:25.56 as a junior and a second-place finish at state. He also finished third at state in the 1,600, shaving about 13 seconds off his time in that event.
He started preparing for this cross country season in July, after recovering from some nagging injuries from track.
"I increased my mileage to 65 miles a week, and at the end of July spent a week in New Mexico training with Galen," Smith said.
At the Las Vegas Track Club's Legends Run on Aug. 8, he ran a 3.1-mile personal-best time of 16:28.7 and was the first high school finisher.
Smith, along with Centennial junior Nick Hartle, who was third at state last season, will try to end the North's stranglehold on the boys individual title. Galena's Bryan Jordan, who finished second at state last season, is the North's top returning runner.
In-depth high school sports coverage
ATHLETES TO WATCH
BOYS
• Arbor View: Conor Gallagher (Sr.), Greg Marschik (Sr.)
• Basic: Dennis Coughlin (Jr.), Kaleb Stumbaugh (Jr.)
• Centennial: Bryce Fessler (Sr.), Billy Gravley (Jr.), Nick Hartle (Jr.), Kyle Merritt (Sr.)
• Cimarron-Memorial: Samuel Mayo (Sr.)
• Coronado: Cameron Neal (Sr.)
• Del Sol: Colin Smith (Sr.), Casey Walter (Sr.)
• Durango: Matt Shelton (Sr.)
• Faith Lutheran: Anthony Ponticello (Sr.)
• Foothill: Kyler Campbell (Jr.), Arie Dennis (So.), Carl Greene (Sr.)
• Green Valley: Alex Bylina (Jr.), Christian Fortner (Jr.)
• Moapa Valley: Josh Thompson (Sr.)
• Palo Verde: Andrew Jacobson (Sr.), Thomas Johnson (Sr.)
• Shadow Ridge: Kyle Wilson (Sr.)
• Spring Valley: Aleks Samardzija (Jr.)
• Tech: Zach Zimdars (So.)
GIRLS
• Arbor View: Andrea Gonzalez (Jr.), Amberly Halstead (So.), Kourtney Willey (Sr.), Randi Withoft (So.)
• Basic: Alexandra Acosta (So.), Jessica Raymond (So.)
• Coronado: Casey Almeida (Sr.), Shannon Donohue (Sr.), Kristal Hosaka (Sr.), Erin Smith (Jr.)
• Desert Pines: Marisa Denton (Sr.)
• Foothill: Cheyanne Jones (Sr.), Sage Long (Jr.), Jessica Mendoza (Jr.), Steffani Stokes (So.), Alyssa Vanek (Fr.)
• Green Valley: Marley Delgado (Sr.), Alison Leedham (Sr.), Alyssa Rapovy (Sr.), Denisse Vallejo (Sr.)
• Las Vegas: Shelby Nelson (Sr.)
• Liberty: Joslyn Evans (Sr.)
• Palo Verde: Katie Gorczycz (Fr.), Kelsi Koch (Sr.)
• Tech: Taylor Coss (So.)
• Valley: Anne Marie Underwood (Sr.)