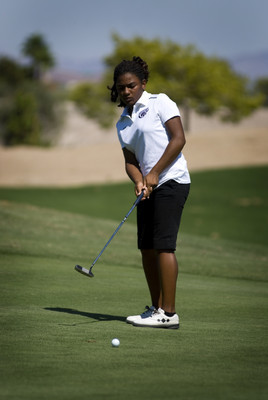 Silverado junior Tameka Demps will attend College of Southern Nevada High School this year to get a head start on becoming a pharmacist.
Demps was part of the Skyhawks' prescription for success last season when she helped Silverado win its first state girls golf championship.
Her remedy for a repeat? Rise daily before dawn. Take golf in large doses starting at 6 a.m. Hone skills with personal coach. Repeat.
"I'm more consistent now. I'm putting better and hitting more solid shots," said Demps, who finished fourth in the Sunrise Region (84) last season and tied for fourth in the state (83-80-163) after losing a scorecard playoff for third to teammate Stephanie Whatley, who graduated.
Silverado's top returnee, Demps was one of three Skyhawks to shoot 83 or better in the final round at state. Her 80 helped fuel their comeback from a six-stroke, first-round deficit to Douglas.
"We couldn't have done it without her," said Tari Hawks, who coached Silverado's girls last season and will guide Desert Oasis this year. "She was the solid one, the most consistent player.
"I don't know if it was her maturity, but she didn't get emotional. She kept her cool."
The even-keeled Demps has continued to sharpen her skills the past two months under local golf coach Frank Shaw, and the work has helped her cut her handicap to 9 or 10. She played several junior events this summer and shot in the 70s in her last tournament.
"I think I've improved a lot," said Demps, whose strength is her short game. "My mental game is a lot better than it used to be and my scores are a little more consistent."
Silverado first-year coach Kevin Schwallie witnessed Demps' tireless work ethic firsthand while playing at Legacy Golf Club on a recent sizzling summer afternoon.
"She was out there by herself putting and it was like 200 degrees out," he said. "She's very dedicated and she really loves golf. She's going to be our leader this year and hopefully she can come through."
A solid student with a 3.3 grade-point average, Demps is driven to succeed on and off the course. She eagerly signed up for CSN High School, a cooperative program between the college and the Clark County School District in which students earn high school and college credits simultaneously.
"I just wanted to get an early start on college," she said.
By taking classes at CSN, Demps expects to slice two years off the six it takes to become a pharmacist. But since she'll finish her school day more than an hour after her teammates, Demps will miss most practices at Silverado.
"But I'll be able to practice in the morning before school," she said.
Schwallie isn't worried that the soft-spoken, self-motivated Demps will be ready to lead the Skyhawks on the course.
"She doesn't say much, but when she does say something, she means it," he said. "She's pretty gung ho about what she's doing. She's got her priorities straight."
Demps, who also plans to volunteer at a hospital this year, hopes to help Silverado by repeating her performance from last season.
If she does, the Skyhawks should have a shot to repeat at state. They return four starters and replace Whatley with her sister, promising freshman Brittany Whatley.
"I have high hopes for this year," Schwallie said. "I think (Brittany Whatley) can take care of what we're missing from (Stephanie Whatley) from last year. Hopefully she can fill some of those shoes. They're really excited."
Contact reporter Todd Dewey at tdewey@ reviewjournal.com or 702-383-0354.
PLAYERS TO WATCH
Alyssa Ballew, So., Arbor View; Sonja Pejak, Sr., Palo Verde; Kaylee Snyder, Jr., Palo Verde; Nicole Corpus-Massucci, Jr., Bishop Gorman; Nicolette Rivera, So., Bishop Gorman; Alanna McLaughlin, Sr., Centennial; Megan Scharf, Sr., Basic; Jordan Sala, Sr., Green Valley; Jennifer Hahn, So., Green Valley; Tameka Demps, Jr., Silverado; Brittany Rizzete, Sr., Silverado; Melanie Chambers, Fr., Coronado; Emily Stephens, Fr., Coronado; Julia Graham, Fr., Spring Valley; Charlee Kapiioho, Jr., Western; Ashley Manhnieo, So., Las Vegas
TEAMS TO WATCH
Bishop Gorman, Palo Verde, Centennial, Green Valley, Coronado, Silverado