Despite PCL-leading numbers, 51s' T.J. Rivera can't get a major-league break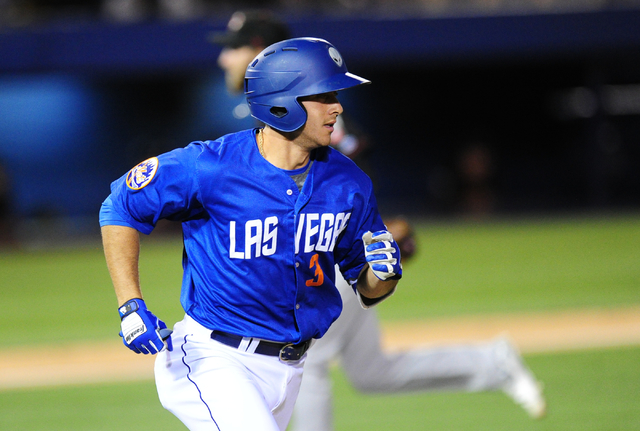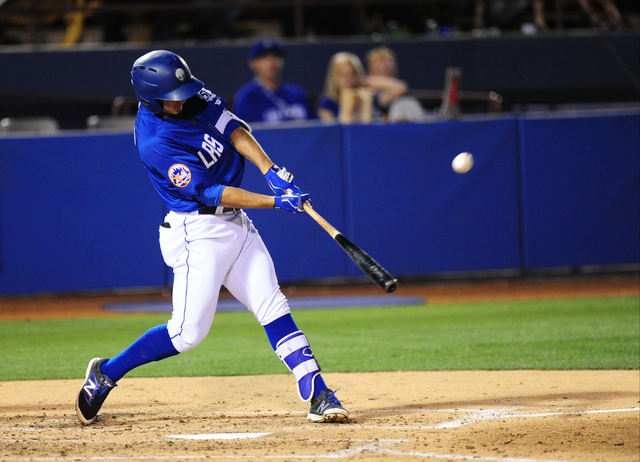 T.J. Rivera winds up hearing his statistics by accident.
Sometimes he's tagged in posts on social media, other times he hears them during interviews, but he doesn't seek them out and certainly doesn't like to focus on them.
"I focus on just playing to the best of my ability and the numbers will come," Rivera said.
So far, they have. Entering Friday's four-game series with Memphis at Cashman Field, Rivera, who has primarily played third for the 51s, was first in the Pacific Coast League among active players with a .366 batting average, 42 RBIs and 60 hits.
Yet, when the Mets made the call down to the farm for two infielders in less than a week, Rivera wasn't one of them.
It's not the first time Rivera has been passed over — for one, he went undrafted out of Troy University in Alabama — and it likely won't be the last.
But the Bronx native has continuously proven himself throughout his minor league career and this year is no different.
Manager Wally Backman said part of the reason he's had to do so is because he doesn't fit the prototypical hitter that the Mets look for, mostly because of a low walk rate.
Through the first 41 games of the season, Rivera had just seven walks. But while he's not walking, he's hitting.
"When he gets a pitch to hit, he hits it. He doesn't foul it off. And that's going to create less walks," Backman said. "If you can hit, you can hit. T.J. can hit."
If anything, his minor league career, which began in 2011, reflects that. Rivera has never hit lower than .289 at any level and boasts a career minor league batting average north of .320.
"You can't teach a kid to hit .320," 51s hitting coach Jack Voigt said. "You can improve a kid's offense but not to that extent. That's why I really believe when he's given a real opportunity to play, that he's going to impress some people in the big leagues."
For now, that opportunity hasn't come.
Rivera's been moved slowly through the minors, despite his success.
Last year, though he was hitting .306 at Las Vegas, the Mets sent him back to Double-A Binghamton in the middle of the season in a move that's still a head scratcher for both Backman and Rivera.
"I've tried to put a finger on it forever now. I try to put a finger on everything that happens in this business (over) these last couple years. I truly have no clue," Rivera said. "These kinds of things can frustrate you at first, but I try to ignore them."
That's the same attitude he has currently after watching two other infielders get called up before him.
Matt Reynolds was promoted on May 17. Ty Kelly on May 23.
Reynolds, a second-round draft pick in 2012, was a logical choice because he was already on the 40-man roster. Despite that fact, he was scuffling at the plate at the time of his call-up.
Kelly was a Mets minor league free agent signing this off season who landed a deserved promotion after leading the PCL in hitting at .391.
Backman said there were conversations about calling Rivera up, but the Mets opted for Kelly instead.
"I'm going to say the difference is I think when T.J. goes to the big leagues, he's going to go as a regular player," Backman said. "He's not going to be a guy that they're going to send up there and send back."
The Mets have Wilmer Flores eligible to come off the disabled list on Friday, and Kelly could soon find his way back to Las Vegas.
While his teammates were on the move, Rivera had one of the best weeks of his life at the plate.
From May 16-22, Rivera went 17-for-28 (.607) with 12 runs driven in and was named the league's Player of the Week.
"Sometimes the person who deserves the phone call doesn't get the phone call because of external circumstances or other reasons so you've just got to keep going out and doing what you're doing," Voigt said. "Sometimes if you try harder to prove that maybe they didn't make the decision you think they should have made.
"Sometimes you can turn yourself and go backward so you just keep doing what you're doing and show the consistency and your opportunities going to come."
So that's exactly what Rivera's trying to do. Aided by a support system of his wife and family, he's staying positive and not letting things like statistics and other players' promotions affect how he plays.
"I believe in myself. Unfortunately other people, I don't know if they don't see it or whatever the case may be, but I have belief in myself so I'm not really worried about those kinds of things," Rivera said. "I still have a goal in mind and I know what I'm capable of doing."
Betsy Helfand can be reached at bhelfand@reviewjournal.com. Follow on Twitter: @BetsyHelfand