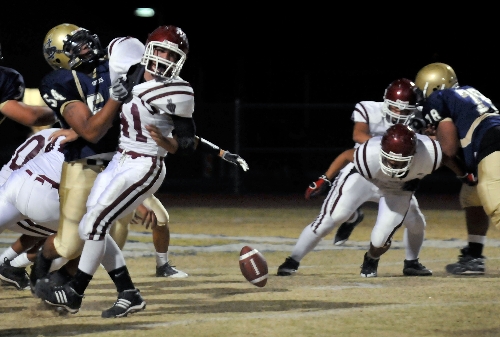 For a moment Friday, Desert Oasis football coach Faron Seibel thought his team might squander a hard week of practice.
But the Diamondbacks' slow start was a false alarm. Desert Oasis awoke in the second quarter and rolled to a 35-6 victory at Spring Valley.
Running back Devin Fortenberry rushed 20 times for 120 yards and two touchdowns, but Seibel was more impressed with his defense.
"I think our defense improved from last week," Seibel said. "We worked really hard on that this week. We wanted to stop the big plays because we gave up several of them last week, and our goal was not to do that again."
Things didn't go quite as planned in the game's early minutes. Jordan Cox connected with Brandon Lopez for a 72-yard touchdown pass to give the Grizzlies a 6-0 lead with 1:01 remaining in the first quarter.
But the Diamondbacks' defense stepped up the pressure, and Canyon Springs began to self-destruct.
Fortenberry tied it with a 5-yard TD run early in the second quarter, and Desert Oasis took advantage of a Grizzlies fumble minutes later by scoring on a 4-yard Fortenberry run.
Spring Valley, which turned the ball over five times while committing 13 penalties, had a field goal blocked late in the first half. Trevon Barnes converted the opportunity by connecting with Jordyn Compehas for a 24-yard TD pass to give the Diamondbacks a 21-6 lead just before halftime.
"We put in a new offense with the option this year," said Seibel, whose team improved to 4-1, 3-0 Southwest. "Every game that goes by, the kids are getting more confidence in what they're doing."
Angelo Bianco rushed for touchdowns of 1 yard and 20 yards in the second half to help the Diamondbacks put the game away.
Cox completed 16 of 30 passes for 230 yards, but the Grizzlies (2-2, 1-1) were unable to find the end zone again despite getting into the red zone four times after the first quarter.
"We worked on the goal line this week," Seibel said. "We knew that in order to have success, we'd have to shut them down inside."
Jewone Rollin carried the ball seven times for 90 yards to help the Diamondbacks, and Compehas caught two passes for 43 yards.
■ Palo Verde 34, Cimarron-Memorial 7 — At Cimarron, Brandon Wright rushed for 227 yards and four touchdowns on 22 carries to power the No. 2-ranked Panthers (5-0, 3-0 Northwest) past the Spartans.
Wright, who moved past 1,000 yards rushing on the season, scored on three of his first four carries. The touchdowns covered 56, 5 and 43 yards to give Palo Verde a 21-0 lead with 4:24 left in the first quarter.
Wright added a 20-yard TD run in the third quarter for his area-leading 15th touchdown of the season.
Palo Verde's defense limited Cimarron (2-2. 2-1) to 161 yards and held Spartans running back Christian Brown — who rushed for 323 yards last week — to 24 yards on 12 carries.
Joshua Symonette had two sacks and Doug Stultz added another for the Panthers' defense. Chaisson Prescott recovered a fumble and Dylan Shanteau grabbed an interception for Palo Verde.
Cimarron's Gerard Martinez threw for 118 yards, including a 38-yard TD pass to Brown.
— Tim Guesman
■ Cheyenne 38, Faith Lutheran 29 — At Cheyenne, Kenneth Counts rushed for three first-half touchdowns as the Desert Shields (2-1, 1-1 Northwest) grabbed a 24-0 halftime lead and then held off a late rally to defeat the Crusaders (2-2, 1-2).
Tyler Spight rushed for 224 yards on 16 carries and scored on a 6-yard run to give Cheyenne a 32-7 lead with 1:31 left in the third quarter.
Faith Lutheran answered quickly when Joe Portaro hit Don Pearson on a 32-yard TD pass, then cut the lead to 10 on a Portaro 5-yard touchdown run with 1:09 left in the game.
The Crusaders recovered an onside kick, and Portaro connected with Tanner Dupree on a 5-yard TD pass to trim the lead to three with 35 seconds left.
After a penalty, Counts recovered an onside kick and returned it 35 yards for his fourth touchdown of the game.
Counts finished with 100 yards on 15 carries and had scoring runs of 5, 7 and 5 yards.
Portaro completed 22 of 61 passes for 285 yards and two scores and also rushed for two touchdowns
— Adam Berchin
■ Centennial 17, Shadow Ridge 14 — At Shadow Ridge, Jacobi Owens' 4-yard touchdown plunge with 1:11 remaining lifted the Bulldogs (3-2, 1-2 Northwest) over the Mustangs (2-2, 0-2).
Centennial took a 10-0 halftime lead on Matthew Kane's 29-yard field goal and a 3-yard TD run by Coby Newton.
Shadow Ridge rallied with two touchdowns in a span of 13 seconds.
Quarterback Nick McDearmon snuck in from 2 yards out on the final play of the third quarter. Mustangs cornerback Jordan Brown then returned an interception 15 yards for a touchdown.
— Brian Danise
■ Foothill 58, Boulder City 0 — At Foothill, Connor Afoa ran for touchdowns of 65 and 15 yards on his first two carries to spark the fifth-ranked Falcons (5-0) to a rout of the Class 3A Eagles (3-2).
Afoa rushed for 134 yards and two TDs on eight attempts, all in the first half, including the 65-yarder on the second play from scrimmage.
Foothill's Keegan Buck returned a fumble 54 yards for a score before teammate Darius Gates caught a 4-yard TD pass from Parker Riggin to give the Falcons a 28-0 lead less than seven minutes into the game.
Riggin passed for 184 yards and three TDs, including scoring strikes of 4 and 15 yards to Gates and 30 yards to Mikie Charlton. Gates had five receptions for 100 yards for Foothill, which outgained Boulder City 414-62.
Thomas Shelley passed for 42 yards to lead the Eagles.
— Tristan Aird
■ Las Vegas 35, Valley 3 — At Las Vegas, Hasaan Henderson threw a 34-yard touchdown pass to Cameron Rogers and scored on two 1-yard plunges to lead the Wildcats past the Vikings.
Farrell Victor rushed 15 times for 113 yards and a touchdown and had an interception on defense for Las Vegas (4-1, 2-0 Northeast). Mike Melanson added a 19-yard touchdown run in the fourth quarter to ice the game.
Valley (0-5, 0-2 Northeast) took an early lead on Erik Edmonds' 23-yard field goal on the first drive of the game.
— Sean Walker
■ Canyon Springs 54, Sunrise Mountain 12 — At Canyon Springs, Trey Evans caught an 80-yard touchdown from Jamaal Martin on the Pioneers' first play from scrimmage, helping Canyon Springs (2-2, 2-0 Northeast) to a 28-0 halftime lead in a rout of the Miners.
Evans also scored on a 21-yard toss from D'vante Howard in the second quarter.
Malik Brown rushed 14 times for 161 yards and three touchdowns to ignite the Canyon Springs ground game. Brown also scored on a 77-yard kickoff return in the third quarter. Donnel Pumphrey added 139 yards on 12 carries, including an 82-yard TD.
The Pioneers gained 378 yards on the ground and took advantage of four Sunrise Mountain turnovers that led to three Canyon Springs scores.
Tyree Mays had 11 carries for 121 yards, including TD runs of 52 and 23 yards, to pace the Miners (0-4, 0-2 Northeast).
— Chris Randolph
■ Clark 32, Sierra Vista 14 — At Sierra Vista, the Chargers (1-3, 1-2 Southwest) scored the final 25 points of the game to knock off the Mountain Lions (1-4, 1-2).
Clark limited Sierra Vista to two first downs in the second half.
Chris Jackson rushed for 98 yards, including touchdowns of 1 yard, 3 yards and 31 yards, and teammate Derrick West ran for 168 yards and a touchdown on 16 carries.
Clark's Andrew Arjana recovered a fumble to kill Sierra Vista's first offensive drive, and West broke through a hole inside the left tackle for a 53-yard TD scamper to open the scoring.
Sierra Vista took advantage of four Clark turnovers in the second quarter and took a 14-7 lead into halftime on TD runs of 46 and 71 yards by Gene Germaine, who finished with 217 yards on 19 carries.
Clark opened the third quarter with a 10-play, 71-yard drive, capped by Jackson's 1-yard TD run, but the extra-point kick failed as the Mountain Lions held a 14-13 lead.
Marquise McKinney gave the Chargers a 19-14 lead on Sierra Vista's ensuing possession, scoring on a 52-yard tipped-ball interception return.
— Brennan Karle
■ Bonanza 49, Western 12 — At Bonanza, Dasean Martin rushed for a touchdown and caught three TD passes to lead the Bengals to their first win.
Martin had a 68-yard TD run on Bonanza's first offensive play and caught an 83-yard TD pass from Sterling Sprau two minutes later.
Sprau also connected with Martin on a 35-yard strike early in the second quarter.
Tyler Farkas dashed in from the 10 to give Bonanza a 28-6 halftime lead.
Martin finished with 103 yards on eight carries. Sprau led the offense with 308 yards on 10-of-18 passing.
Farkas added TDs of 4 and 15 yards in the fourth quarter.
Western quarterback Nicholas Taliman ended the shutout by connecting on a 50-yard TD to Allen Davis in the second quarter.
— Vincent Hernandez
■ Rancho 41, Chaparral 13 — At Rancho, Will Gosse-Gardet threw for two touchdowns and Shamel David ran for three scores, leading the Rams (4-2, 3-0 Northeast) over the Cowboys (0-5, 0-3).
David finished with 133 yards of total offense.
Chaparral was led by Toure Williams, who had three catches for 69 yards. Antonio Thomas had an 84-yard kickoff return for a touchdown late in the first half.
— Matthew Hagan
■ Green Valley 26, Coronado 6 — At Coronado, the Gators forced four turnovers, including a fumble that Ryan Lopez returned 22 yards for a touchdown, and rolled past the Cougars.
Green Valley (2-3, 1-1 Southeast) intercepted three passes in the second half and held Coronado (2-2, 1-1) to minus-20 yards rushing on the night.
Gators quarterback Paul McKay threw for 163 yards, including a 41-yard touchdown pass to Austin Gibson.
Green Valley's James Durbin added a 16-yard touchdown pass to Zachary Vergieis on a fake field goal.
The Cougars' Austin Iannucci threw for 115 yards and a touchdown.
— Sean Jaramillo
■ Durango 48, Pahrump Valley 6 — At Durango, Julio Mora had 170 yards rushing and four touchdowns to help the Trailblazers (4-1, 3-0 Southwest) rout the Trojans (0-4, 0-2).
Mora, who played only the first half, rushed for touchdowns of 1 yard, 37 yards, 13 yards and 54 yards.
Durango's Chase Roberts threw a 27-yard touchdown pass to running back Brandon Pena early in the game for the Trailblazers' other score. Roberts finished with 66 yards passing.
The Trailblazers' defense held the Trojans to 108 yards.
— Nolan Lister
■ Desert Pines 36, Eldorado 6 — At Eldorado, running back Leon Hayes rushed for 118 yards, including a 20-yard touchdown, and also threw for a score as the Jaguars (1-3, 1-1 Northeast) routed the Sundevils (2-2, 1-1).
Trey Robello passed for 120 yards and two touchdowns, and Chancellor Davis also topped 100 yards rushing and had a touchdown.
— William Terrill
■ Virgin Valley 33, Mojave 0 — At Mojave, the Bulldogs (4-1) held the Rattlers (0-3) to 148 yards of offense on their way to a lopsided win.
Junior quarterback Humberto Urias led the way with 190 yards passing and two touchdowns.
Richard Vidal ran for a 10-yard touchdown and Colton Jensen had a 2-yard touchdown run in the second quarter as Virgin Valley took a 14-0 halftime lead.
Urias had a 24-yard TD pass to Daniel Gleave and a 30-yard scoring strike to Nolan Tanner in the second half. Jimmy Cannon had a 3-yard TD run to cap the scoring for Virgin Valley.
The Rattlers fumbled the first play of the game and never could get anything going, turning the ball over four times.
— Jonathan Pulliam
■ Indian Springs 50, Tonopah 6 — At Tonopah, Adam Reinke rushed for three touchdowns and threw for three more, and the Thunderbirds (3-1, 2-0 1A Southern) scored the final 50 points of the game to rout the Muckers (2-2, 0-1).
Reinke rushed 16 times for 135 yards and completed 7 of 17 passes for 211 yards.
He threw scoring strikes of 45 and 20 yards to Xavier Pena and added a 70-yard TD pass to Brock Roadhouse. Pena caught four passes for 106 yards, and Roadhouse had three catches for 105 yards.
Reinke also scored on runs of 1 yard, 5 yards and 43 yards.
■ Needles 43, Laughlin 0 — At Laughlin, Austin Baldwin ran for three touchdowns to lead the Mustangs (2-2, 2-0 2A Southern) past the Cougars (2-2, 0-2).
Needles rolled after leading 37-0 at halftime.
In-depth high school sports coverage