Dice-K not getting too comfy in Vegas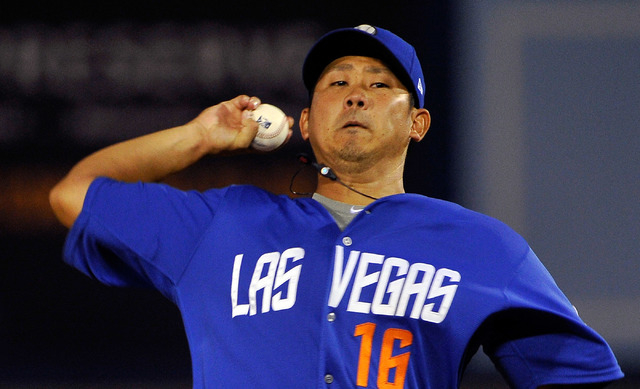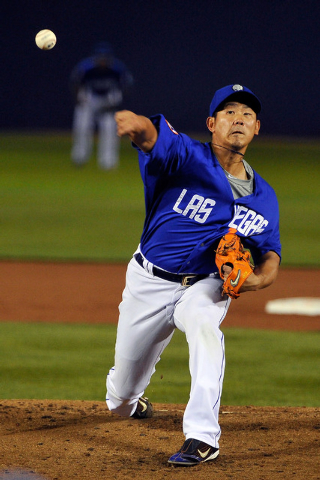 Shocked when he lost a spring training battle for the No. 5 spot in the Mets' starting rotation, Daisuke Matsuzaka instead made his season debut as the 51s' fifth starter Monday night at Cashman Field.
"I was confident that I had pitched well enough to be in New York for Opening Day, but that's in the past now," the Japanese right-hander said through an interpreter. "I'm here now, so I just have to accept it and do what I can do to make sure I continue pitching well."
Matsuzaka, 33, compiled a 3.04 ERA in six spring starts for New York, with 25 strikeouts and four walks in 23 2/3 innings.
Known as "Dice-K" — which is how his first name is pronounced — Matsuzaka had eight strikeouts in five scoreless innings against the Blue Jays in his final spring start March 29 to seemingly cement the No. 5 spot in the rotation. But he was sent to Las Vegas after the game and Jenrry Mejia was named the fifth starter.
"He shouldn't be happy. He better not be," Mets manager Terry Collins said at the time. "I'm sure he feels that it was the wrong decision, and I certainly understand it because of the way he threw the baseball."
51s manager Wally Backman was impressed by Matsuzaka in spring training.
"He had good command of his fastball; he threw all of his pitches for strikes, and his tempo was way better than it was when he had some issues with other teams," he said.
Matsuzaka signed a one-year minor league contract with New York that allows the Mets to keep him in the minors until the end of May before he can request his release, but Backman doesn't expect him to be down that long.
"He's insurance for the major league club," he said. "He didn't really deserve to be sent down, but nobody else did, either, and he was on a minor league deal.
"It's kind of unfortunate for him but fortunate for us in Las Vegas. I don't know if his time will be very long here, especially if he pitches like he did in spring training."
Matsuzaka struggled with his control in his Pacific Coast League debut, walking four and allowing three runs on five hits, with four strikeouts in five innings of a 7-6 win over Sacramento.
"I believe I'm getting an opportunity sooner or later and have to make sure I'm prepared when the time comes," he said after joining the 51s.
Dice-K was one of the hottest commodities in baseball in 2007, when the Red Sox won a bidding war with the Mets and other teams for his services. Boston paid $51.1 million for his rights before giving him a $52 million, six-year contract.
Matsuzaka won 15 games and helped the Red Sox win the 2007 World Series in his rookie year, then went 18-3 with a 2.90 ERA in 2008.
Things went downhill from there as injuries limited him to 12 starts in 2009, and he missed most of the 2011 and 2012 seasons due to Tommy John surgery.
Fully recovered from the elbow ligament-replacement surgery, Matsuzaka said he's healthier now than when he first arrived in the U.S.
"Injuries started to affect me from my third year on, lingering injuries," he said. "But after the Tommy John surgery and right now, physically I feel better than I did back in 2007 and 2008."
Matsuzaka, who touched 91 mph Monday, spent most of last season in Triple A with the Columbus Indians (5-8, 3.92 ERA) before finishing the year with the Mets, going 3-3 with a 4.42 ERA in seven starts.
After arriving in the majors with great expectations, he said he doesn't feel he has anything to prove.
"I don't know if 'prove' is the right word, but I believe I can still pitch at the major league level, so I want to go out there and do it," he said.
A two-time World Baseball Classic Most Valuable Player, Matsuzaka went 6-0 with a 1.95 ERA while leading Japan to WBC titles in 2006 and 2009.
During his high school squad's run to the 1998 national title, he submitted a 17-inning, 250-pitch complete game in the playoffs.
He likes Las Vegas but doesn't want to stay too much longer.
"It's a nice place here, but I'd rather not be here," he said. "The sooner I get out of here, the better."
Contact reporter Todd Dewey at tdewey@reviewjournal.com or 702-383-0354. Follow him on Twitter @tdewey33.