Disk surgery puts Helton back in form for Rockies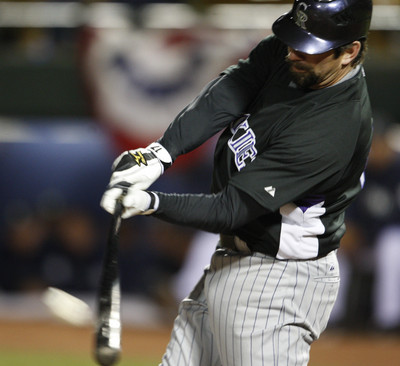 Todd Helton's back has bothered him for years, but the Colorado Rockies first baseman always has been able to play through the pain.
After all, Helton played football at the University of Tennessee — starting ahead of quarterback Peyton Manning for a few games — and he brought that warrior mentality with him to the majors.
"Every baseball player plays through pain. That's not a big deal," Helton, 35, said Friday before going 3-for-3 with an RBI double to help the Rockies gain a 6-3 win over the Seattle Mariners at Cashman Field.
But after a bulging disk began to cause numbness in his left leg last season — when Helton hit a career-low .264 in 83 games — he decided to have back surgery in the offseason.
"I was able to deal with (the injury) and never realized there was anything major wrong with (my back)," he said. "But when I started losing feeling in my legs, I put two and two together and realized I better get something done."
It didn't take long this spring for the five-time All-Star and former batting champion (.372 in 2000) to flash his old form. About five months after surgery, the left-handed-hitting Helton crushed a 450-foot home run to center field in his first spring at-bat.
A career .328 hitter, Helton has been on a tear all spring, hitting .525 (21-for-40) with four homers and 16 RBIs in 14 games.
"He's hitting almost like he's a rookie again," said Rockies batting coach Don Baylor, who managed Colorado from 1993 to 1998, Helton's rookie year. "I just think he's going to be one of the sleepers this year, that he's going to have a fantastic year."
Entering his 13th season, Helton said his back is "good," but stopped short of saying he was 100 percent.
"I still have some problems, but compared to previous years, it's 100 times better," he said. "I feel like I'm ready to go into the season. When you get a little bit older, a lot of work goes in just to be able to get out on the field. But it's all worth it.
"I'm excited to go out there and have the battle not be just to get out there and play, but for the battle to be against the actual opponent, to feel like I have a chance against him."
Baylor said the team plans to give Helton "a break every now and then."
"I always say you can't ride Secretariat every day, you've got to give him a break," Baylor said. "When you have a back injury and surgery when you are 22 years old compared to (35), that's a different story."
Helton, who has 1,957 career hits, lined opposite-field singles in the first and second innings Friday and delivered an opposite-field RBI double in the fourth before being replaced by a pinch runner.
"He hits the ball to the opposite field and doesn't try to pull the ball. He's done that from day one," Baylor said. "He's like Rod Carew — he can get a base hit to left field on Christmas Day. He doesn't have to be in spring (training). That shows you he's a natural hitter."
Before being hampered by injuries, Helton's play was historic. He is the only major league player to hit at least .315 with 25 homers and 95 RBIs in his first seven full seasons. He is one of five players — joining Lou Gehrig, Babe Ruth, Ted Williams and Albert Pujols — with a career .325 average, .400 on-base percentage (.428) and .570 slugging percentage (.574).
"The only thing he needs now is longevity," Baylor said. "He'll get his 3,000 hits if he plays long enough."
Contact reporter Todd Dewey at tdewey@ reviewjournal.com or (702) 383-0354.
COLORADO — 6 SEATTLE — 3
KEY: Todd Helton was 3-for-3 with an RBI double and Ryan Spilborghs belted a two-run homer among the Rockies' 15 hits.
NEXT: Mariners (LHP Ryan Rowland-Smith) vs. Rockies (RHP Jason Marquis), 12:10 p.m. today, Cashman Field
ICHIRO GOES ON DL BECAUSE OF BLEEDING ULCER
SEATTLE — Mariners star Ichiro Suzuki is being treated for a bleeding ulcer and was placed on the disabled list Friday, sending Seattle into Opening Day minus one of baseball's best players.
The Mariners said the ulcer no longer is bleeding. Doctors have restricted the 35-year-old outfielder's activity, but are optimistic he'll be able to come off the DL at his earliest eligibility, April 15.
Suzuki played for Japan in the World Baseball Classic. He complained of severe fatigue this week and missed Seattle's final three spring training games in Arizona. He was diagnosed with the ulcer after seeing doctors Thursday.
"I know how much (Ichiro) cares. This is the first time in eight years he's been on the DL," Mariners manager Don Wakamatsu said Friday before the team opened a two-game weekend series against Colorado at Cashman Field. "Every indication is that it will be 15 days. We'll see how he is after that."
THE ASSOCIATED PRESS