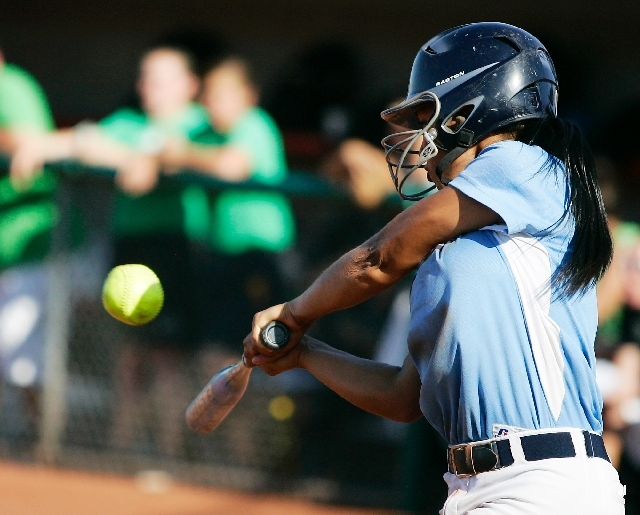 Centennial's softball team didn't play its best game of the season Thursday in its Division I state tournament opener.
On Friday, the Bulldogs picked on an opponent that played one of its shakier defensive games of the season.
Centennial took advantage of nearly every mistake Palo Verde made to post an 11-2 win in the winners' bracket final of the tournament at UNLV's Eller Media Stadium.
The Bulldogs (35-6) will meet Palo Verde (29-8) again at 1 p.m. Saturday for the title. Palo Verde, which rallied to beat Reed in the losers' bracket final, must win to force a second title game.
"We capitalized on some mistakes and got a lot of momentum going our way," Centennial coach Mike Livreri said. "It's part of the game, and sometimes you make it hurt."
Centennial committed four errors in a win over Reed on Thursday but took advantage of five Palo Verde errors and a lost fly ball in the sun to move into the state title game for the third straight year.
"I wish I had the answer," Palo Verde coach Kelly Glass said. "(Our girls) have the answer, but they have to realize that they do."
The tone was set in the first inning when, with Mia Acuna on first, Heather Bowen hit a fly ball that Panthers right fielder Dayana Gage lost in the sun. Gage turned around in self defense, and the ball hit her in the back of the head and rolled away as Acuna and Bowen circled the bases.
Gage left the game but played in the nightcap in a pinch-hitting role.
Centennial scored an unearned run in the third and three more in the fourth before unleashing its big bats in the sixth inning.
Savannah Horvath drilled a three-run homer to left-center, and Taylor Huntly followed with a blast to left that cleared the back fence of the property.
"They were sitting on their pitch, and they got aggressive," Livreri said.
Horvath's homer was her 16th of the season.
"Hitting behind Savannah is hard because there's a home run every other at bat," Huntly said. "Our whole team just really woke up today."
Kate Rauskin tossed a three-hitter, striking out two, for Centennial, which split one-run games with Palo Verde in the regular season but routed the Panthers 13-3 in the Sunset Region final.
Centennial was the winners' bracket champion in the Class 4A tournament two years ago and lost twice to the Panthers on championship day. Last season, Centennial was the losers' bracket winner and beat Coronado twice to earn the title.
"We've been in every kind of situation, and anything can happen," Livreri said. "We just have to stay hungry."
Palo Verde earned its way back to the final by gutting out a 4-1 win over Reed (27-7-3) in the day's final game.
"I told them they had to go down fighting or fight and win, and they chose to fight and win," Glass said.
Rachael Turner, who was moved from the No. 5 spot in the order to the leadoff spot after Glass shuffled her lineup, ripped a two-out, two-run double to right-center to break a 1-1 tie in the fourth inning.
"It's not any different than any other batting position," Turner said. "I just wanted to get a hit for my team and get us started. I knew if the pitch was there, I was going to hit it, but only if it was my pitch. It was there, and I just took a hack."
Turner finished 3-for-3 and was intentionally walked in the sixth inning to load the bases for pinch hitter Mackenzie McBride, who walked to force in a run.
"Rachael is hot right now, and she did a great job," Glass said. "She just loves to hit."
Melissa Lacro tossed a six-hitter and struck out only one.
■ Reed 2, Green Valley 0 — Jackie Sertic tossed a three-hitter and struck out 10 as the Raiders silenced the Gators (23-11) in an elimination game earlier in the day.
Sertic's two-out RBI single in the fourth broke a scoreless tie.