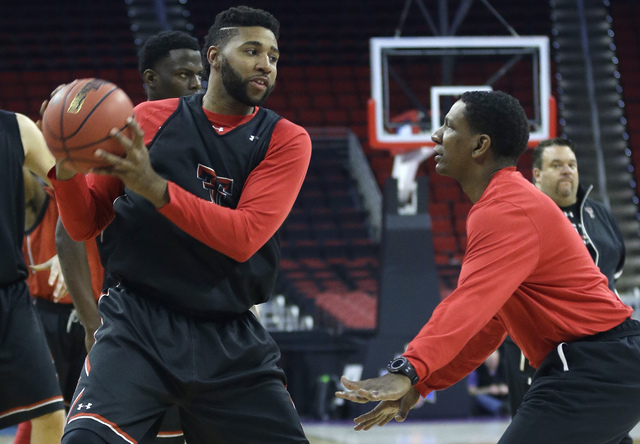 Everyone is on upset alert in March. As an underdog player, I hunt for 'dogs with money-line value in the first round of the NCAA Tournament.
Is there a No. 5 seed that appears vulnerable against a 12 seed? I especially like one of the 3-14 matchups. Let's look at the 'dogs with the most potential to pull upsets:
■Texas Tech (+4, +160) vs. Butler, today, Raleigh, North Carolina
This is the Red Raiders' first NCAA bid in nine years, so they need to make it count. Texas Tech coach Tubby Smith has seven playmakers, including three regulars who shoot better than 50 percent from the field. The Bulldogs are an up-tempo team, but they are not great on the defensive end.
Normally I'm a fan of betting the favorite with the worse seed, and Butler is the No. 9 seed, but I think the oddsmakers have this one wrong.
■Yale (+5½, +200) vs. Baylor, today, Providence, Rhode Island
This is the Bulldogs' first appearance in the tournament since 1962. The Ivy League champs are plus-11.1 in rebound margin — No. 2 in the nation behind Michigan State — and that's an important factor in a game against the athletic Bears. Yale has talented forwards with size, notably 6-foot-8-inch Justin Sears and 6-6 Brandon Sherrod.
This line looks low, and I think that's a strong indication 12th-seeded Yale will give inconsistent Baylor a run for its money.
■Hawaii (+7, +250) vs. California, Friday, Spokane, Washington
Pressure defense has been a key to success for the Warriors, who rank 39th in turnovers forced (14.7). Senior guard Roderick Bobbitt averages 2.2 steals, and he will be a lock-down defender against the Golden Bears' perimeter shooters. Hawaii is a No. 13 seed with a shot to upset Cal, which is 5-10 on road and neutral courts this season. The Warriors fared unusually well on the road in the Big West Conference.
■Pittsburgh (+1½, +105) vs. Wisconsin, Friday, St. Louis
The 10th-seeded Panthers are a physical team, and one of their strengths is cashing in at the foul line. Pittsburgh makes 75.4 percent of its free throws. The Badgers are led in the low post by Nigel Hayes and Ethan Happ, but the Panthers counter with two tough forwards — Jamel Artis and Michael Young.
■Stephen F. Austin (+7½, +275) vs. West Virginia, Friday, Brooklyn, New York
The 14th-seeded Lumberjacks swept 18 games in the Southland Conference and rolled through the league tournament, winning by 22 points per game. Brad Underwood is a hot coaching commodity, and he's in the discussion for the UNLV job.
The "Press Virginia" defense earned its nickname by forcing opponents to make mistakes. But all of that pressure might backfire if the Lumberjacks are able to handle the ball and find open shots. Stephen F. Austin ranks No. 2 nationally in assists per game (18.9) and No. 1 in turnover percentage, a metric used to measure ball security. Senior swingman Thomas Walkup is the team leader in scoring, rebounding and assists, and he's one of several players who can handle West Virginia's pressure.
Kelly Stewart of Kellyinvegas.com is a sports betting columnist for the Las Vegas Review-Journal. Follow on Twitter: @kellyinvegas