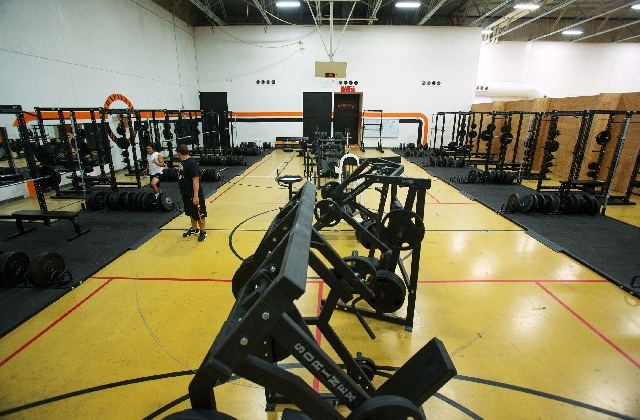 When Bill Froman took over as Chaparral football coach in 2011, he found shoulder pads that were close to 25 years old and helmets so beat up they were better suited for an art project.
"We made lamps out of some of them," Froman said. "They're pretty cool."
On Thursday, the first official day of noncontact football practice, Froman saw a program that has been transformed. A Cowboys 2.0, if you will.
Chaparral was one of two Las Vegas schools, along with Western, to receive a sizable donation from the same unnamed benefactor during the offseason. The blank checks allowed Froman and Western counterpart Donnie Davis to modernize their football programs from top to bottom and provided a much-needed shot in the arm for two of the city's oldest and most economically challenged schools.
"This is definitely a turning point," Davis said. "That donation coming in definitely is a changer for us because we can, as far as equipment goes, compete with any school. … That donation makes us feel and look like a football team. Without that, we don't have the ability to have those things."
After the Cowboys finished 4-5 last season, Froman said he was contacted by a representative from Level 1 Athletics, which sells apparel to local football programs, and informed of the potential donor. A meeting was arranged for late November, and Froman laid out his wish list.
Equipment started arriving soon after.
"I never had control of the money, so it was never an exact amount," Froman said, "but I'm sure Chaparral's portion was over half a million. I can just do some quick math in my head and get there."
One of Froman's first requests was to refurbish the weight room at Chaparral, at a cost of about $170,000, and the Cowboys also received $40,000 worth of new field equipment, including high-end blocking sleds, tackling machines and blocking pads.
The team's Nike game jerseys are identical to the ones worn by Oklahoma State — the schools have the same mascot and colors — and Chaparral will have an alternate gray uniform to go with its all-black (home) and white and orange (away) ones. More importantly, Chaparral purchased top-of-the-line shoulder pads and helmets that won't be illuminating Froman's office anytime soon.
"There's a lot more people that like to say they go to Chap now," junior quarterback/free safety Jerome Williamson said.
Froman noted the new gear, which included black Nike workout shirts and shorts and cleats, had to be earned by the players through regularly attending classes and boosting their GPA. Froman saw marked improvement in those areas during the spring and said attendance for summer football workouts never dipped below 60 players while exceeding 80 most days.
"It gives us motivation," Cowboys senior left tackle Mark Jones said. "I want the sophomores and the incoming freshman in (future) years to keep the winning program on. I just want the energy to carry on. We started a legacy. We started the new Chap."
Western, which forfeited its final three games in 2011 because of a shortage of players after an on-campus hazing incident, also saw a small increase in numbers after receiving its donation in the late spring. Davis said participation is still not where he would like it to be, though the second-year coach thinks the gift will be an even more valuable recruiting tool in the future.
"Next year, kids that see these guys playing on the field, they're going to want to be a part of it. They're going to want to see themselves in this new stuff," Davis said. "This is going to help us next year, the year after that, to where kids are going to want to feel good about playing for Western.
"All this stuff still doesn't change our situations at home, the lack of money. We still have those same problems, but that's why we're here as coaches. At least out here, they have no worries."
Davis doesn't know why he was approached in mid-March regarding the donation — "I was told the donor loves to help the high school communities" — but the new equipment began arriving at the school in time for the Warriors' spring football practices in May.
Davis made it a priority to upgrade the school's weight room, and the football program also received hundreds of thousands of dollars worth of new equipment that ensures it will be on solid footing for the near future.
Most of the Warriors were decked out in a red Nike T-shirt, red shorts and black cleats during Thursday's morning practice. New blocking sleds were stationed at the opposite end of the field.
"It made us think people had faith in us," Western senior running back/free safety Xerexes Tachiquin said. "They believed in us, so I don't want to let them down."
Froman and Davis subscribe to the "look good, feel good; feel good, play good" philsophy and are hoping the donations translate into a few more victories. Western's only win last season came via forfeit, and it hasn't won a game on the field since 2010. Chaparral hasn't reached the playoffs in eight years, but Froman said this will be the fastest team he has had.
"If we didn't have all this, we'd still work hard," Davis said. "But with this donation, the weight room and all this equipment, it can now allow us to work a little bit harder and get better."
Contact reporter David Schoen at dschoen@review journal.com or 702-387-5203. Follow him on Twitter: @DavidSchoenLVRJ.