Doug Polk cashes in as the face of poker's 'Evil Empire'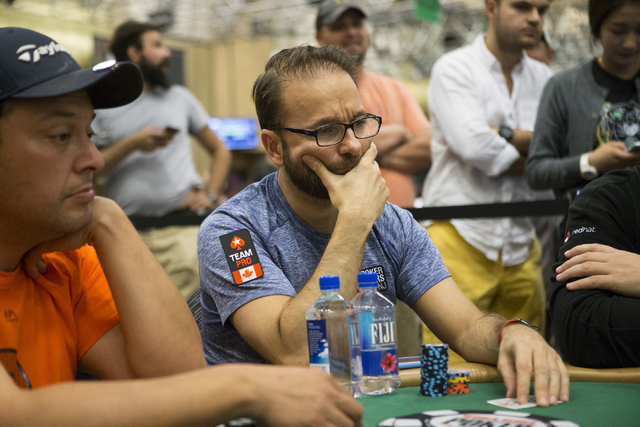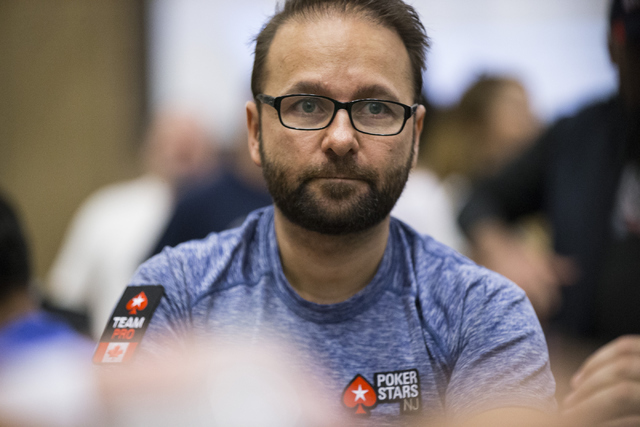 In the parlance of professional wrestling, Doug Polk is a heel.
It's a role the 27-year-old Las Vegas resident embraces as the face of poker's "Evil Empire."
"We're definitely known as the bad boys of poker," Polk said. "The thing is this: Heads-up No-limit (Hold 'em) is a very competitive game. And when people get called out, big matches go down, and at the start it was kind of more to get action.
"But then we kind of beat everyone, so it kind of turned into a general attitude."
Polk is regarded as one of the world's top online heads-up players and cyber trash talkers, unafraid to call out some of poker's best-known professionals.
Polk nearly doubled his 110,100-chip starting stack by the post-dinner break Wednesday on Day 2C of the World Series of Poker's $10,000 buy-in No-limit Texas Hold 'em World Championship. Brazilian Gustavo Lopes was the unofficial leader when action paused at 9:45 p.m. with one level of play remaining.
The Main Event continues Thursday at the Rio Convention Center with Day 3, as all the remaining players are combined into one field.
Polk, who spent part of his childhood in Boulder City, was one of the top "Warcraft III" video game players in the U.S. as a teenager before turning to poker nine years ago.
Playing under the screen name "WCGRider," a reference to the World Cyber Games he formerly competed in, Polk slowly rose to the highest stakes. In 2013, he won $740,000 in a highly publicized match against fellow pro Ben Sulsky.
Last year, Polk was chosen as one of four players to compete heads-up against Claudico, a computer program designed by Carnegie Mellon professor Tuomas Sandholm. Polk said he was contacted Tuesday by Sandholm about a possible rematch.
"I think that was really cool, getting to be kind of the head of the human team in a way, leading the human existence, if you will, against the bots," Polk said. "It was definitely an honor, and I'm glad we won. Victory for mankind."
Polk has clashed with several members of the poker community over the years. In addition to sparring with Daniel Negreanu, he had a notable Twitter beef with Jason Mercier before the start of the WSOP after Polk labeled the five-time bracelet winner a "bad reg." (Reg is short for a regular on the poker circuit.)
"I'm really trying to move away from that just because it's kind of become one-dimensional," Polk said. "Jason's a nice guy, and I have no problem with him at all. I'm just trying to be real, be who I am, and not just be nice to everyone just because they're well-known. I'm just trying to say how it is."
Polk won two major online tournaments this spring, including an event in PokerStars' Mountain Series in April for $162,952. The prize was the largest ever won on the live-streaming platform Twitch.
Polk, who started to focus on live tournaments in 2014, has more than $5 million in live winnings, according to Global Poker Index's HendonMob Poker Database. He earned his second WSOP bracelet Friday when he joined forces with Ryan Fee, another member of the "Evil Empire," to take down the $1,000 buy-in Tag Team No-limit Hold 'em event.
Polk, Fee and Matt Colletta, another poker pro, founded Upswing Poker in 2015 after previously opposing training sites. Polk said he eventually hopes to leave behind his online identity and build his personal brand.
"I'm also kind of moving out of playing poker a little bit," Polk said. "It's interesting, because when I look at a lot of coaches, a lot of times they can't beat the games anymore, and that's why they get out of it. Whereas for me, I can't find the games anymore, and that's why I'm getting out of it."
Contact reporter David Schoen at dschoen@reviewjournal.com or 702-387-5203. Follow him on Twitter: @DavidSchoenLVRJ