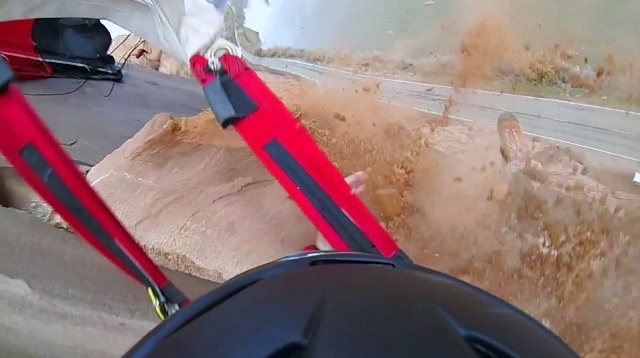 An Ohio BASE jumper is recovering after a poor parachute opening left him spinning out of control into a cliff wall in Utah.
Thayer Healy posted a video of the Nov. 24 incident on Vimeo, where it had been played nearly 900,000 times as of Friday afternoon.
The video shows Healy crashing into a jagged rock jutting out of the side of the famous Wall Street climbing area outside of Moab, Utah. Healy claws at the rock as he plummets to the ground, completely out of control.
He survived with a "compression fracture of the T12 Vertebra, five stitches to the eye, six stitches to the chin, a severely sprained back, wrist and hand, (and) multiple bruised areas," according to the video's description.
Healy wrote on Facebook that he spent a little more than 24 hours in the hospital. He also thanked his friends and strangers who helped him out after the accident.
"It is so much appreciated," he said. "I really lucked out on that one."
The video shows the incident in slow motion and at full speed. Watch it below.
Contact Stephanie Grimes at sgrimes@reviewjournal.com. Find her on Twitter: @steph_grimes