Dressler, Panthers roll past Wolves from start
December 19, 2014 - 11:55 pm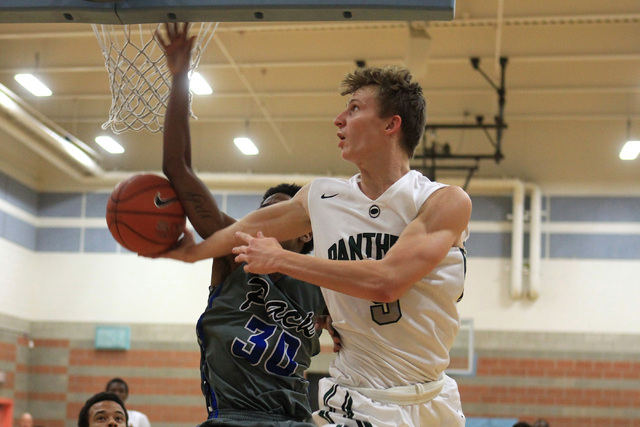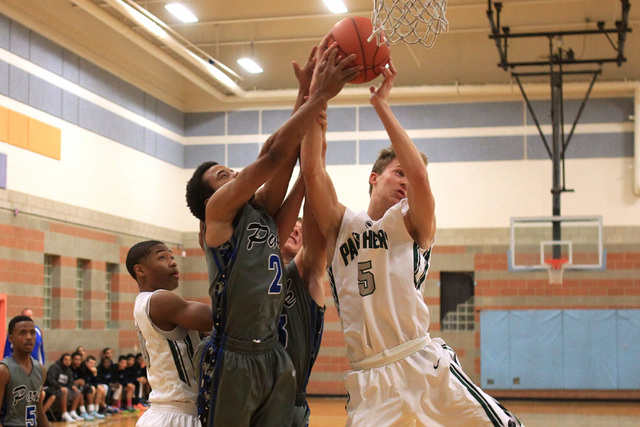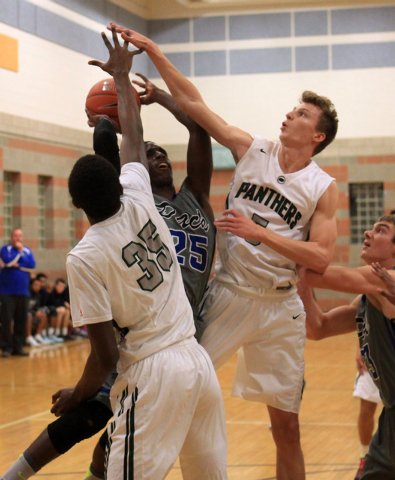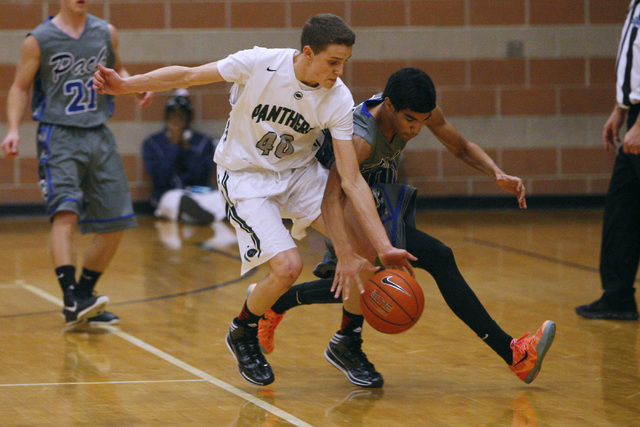 Palo Verde's boys basketball team already had played two games this week, so coach Paul Sanchez was a bit apprehensive about his team heading into its opener in the Foothill Holiday Classic on Friday.
He needn't have worried.
The Panthers opened the game on an 8-0 run and rolled to a 78-37 win over Basic in the tournament's Gold Division.
"I was concerned; this was our third game of the week," Sanchez said. "So I was concerned about our legs and energy. Once we got warmed up and started doing what we're supposed to do. … I was real pleased we were able to get out, run and do what we're supposed to do."
The Panthers forced 16 first-half turnovers and turned them into 16 points as they raced to a 44-16 halftime lead.
Grant Dressler, a 6-foot-7-inch senior forward, scored 16 of his game-high 22 points in the first half for the Panthers.
He finished with 22 points and seven rebounds before heading to the bench for good with 11:29 remaining. Dressler has become one of the team's go-to scorers after spending his junior year more as a role player.
"He had a great summer," Sanchez said. "I think he really realizes how good he can be. He can still get better, but it's nice to see him take advantage of his skills and use them and not be bashful about it. He's working hard, and he's working harder to get better."
Sanchez said one of the main areas Dressler has improved is in the energy he brings to the court.
"His work ethic has gotten better," Sanchez said. "We always knew he had the offensive skills, but his defensive skills have picked up and he's excited about playing."
Dressler shot 6-for-11 from the field and 3-for-5 on 3-pointers. He made 7 of 8 free throws.
Ja Morgan added 15 points, six rebounds, four assists and four steals for Palo Verde, and teammate Taylor Miller scored 11.
Sanchez said he thinks his team is beginning to play to its potential. The Panthers, who lost 87-85 to second-ranked Centennial on Tuesday, improved their record to 7-4. He said the team's fall practice was hindered by injuries and because three key players were on the football team.
"We are coming together," Sanchez said. "We've got a nice group of kids. They play well with each other, they like each other, and it's fun to watch them."
Robert Sutton scored 11 points to lead Basic, which struggled offensively for the second consecutive night. The Wolves, who scored 90 points earlier this season against Legacy, were held to 19 on Thursday against Valley.
Contact prep sports editor Damon Seiters at dseiters@reviewjournal.com or 702-380-4587. Follow him on Twitter: @DamonSeiters.