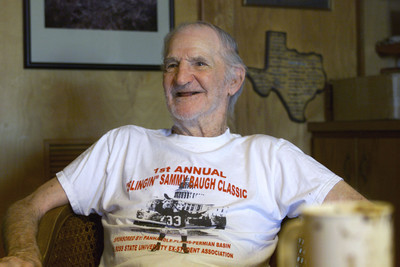 As Shaquille O'Neal closes in on a rarefied career milestone — 5,000 missed free throws — John Hollinger of ESPN.com tried to put that feat in its proper historical context.
Hollinger noted only one man in NBA history has missed more free throws — Wilt Chamberlain, with 5,805 — and that you could assemble an impressive all-time all-star team from players who did not even attempt 5,000 free throws in their careers:
Point guard: Walt Frazier (4,226 attempts).
Shooting guard: Scottie Pippen (4,437).
Small forward: Larry Bird (4,471).
Power forward: Kevin McHale (4,554).
Center: George Mikan (3,924).
Only 68 players in the combined NBA-American Basketball Association history have attempted as many as 5,000 foul shots. Dikembe Mutombo played 17 seasons and fell 51 attempts short.
• MOVING VIOLATION — The movable couch potato has been ruled illegal outside Cleveland Browns Stadium.
For three seasons, Browns fan Mike Meredith has driven the "Go-Kouch," a combination couch and riding lawn mower, around the stadium parking lot, transporting friends from one tailgate party to another. At a recent game, however, a police officer ticketed Meredith for driving an unregistered vehicle and having expired plates.
On Tuesday, a Cleveland Municipal Court judge found Meredith guilty and sentenced him to 10 hours of community service.
"He upheld the law," Meredith told the Plain Dealer newspaper in Cleveland.
• OF TAXES AND TEXAS — Hall of Fame quarterback Sammy Baugh, who died Wednesday at age 94, once had this to say about the estimated $300,000 he made in the NFL from 1937 to 1952: "Half went to taxes. The other half went to Texas."
• ALL OF THE ABOVE — Multiple-choice question from Chris Ferrell of the San Antonio Express-News:
"The Dallas Cowboys have offered evidence over the past few weeks that:
"a) They have a very dysfunctional locker room.
"b) The team seems as likely to win the Super Bowl as miss the playoffs altogether.
"c) Wade Phillips is going to be a heck of a defensive coordinator for some team next season."
• TASTY SCENT — If People for the Ethical Treatment of Animals gives convicted dog-abuser Michael Vick any cologne for Christmas, it won't be Old Spice.
The London Daily Telegraph reported Burger King is out with a barbecue-enhanced cologne for men described as "the scent of seduction with a hint of flame-broiled meat."
And in a related story, Sports Interactive, makers of a football video game, has come out with "Scent of Success," a fragrance that smells like a locker room. Though marketers wonder why they didn't call it "Brute."
• ONE AND DONE — Comedy writer Jerry Perisho, on the prospects of below-freezing temperatures when the Chicago Blackhawks and Detroit Red Wings play an outdoor game at Wrigley Field: "Even Ernie Banks would say, 'Let's just play one!' "
LAS VEGAS REVIEW-JOURNAL WIRE SERVICES