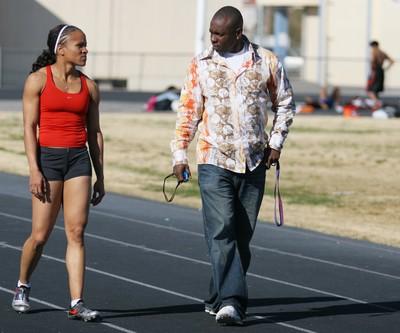 Rodney Martin was born and raised in Las Vegas.
He was a track star at Western High School, went on to great success at South Carolina and then took third in the 200-meter dash at the U.S. Outdoor Track and Field Championships last summer.
Hasani Roseby grew up on the Central California coast, had a great prep career at Monterey (Calif.) High but admittedly struggled in college at UCLA. Yet now her career is taking off, too, coming off winning the 60-meter dash at the U.S. Indoor Championships in February.
Martin's career began taking shape under his coach at Western, Freddy Morrison. So when Roseby moved to Henderson last year and needed a coach, Martin — through a mutual friend of both sprinters — was quick to recommend Morrison.
"His name is not as big, but he's as good a coach as there is," Martin said. "I told her, 'If you have any talent, and you go and train with Coach Freddy, you'll be one of the top sprinters in the world.' "
Later this week in Indianapolis, Martin — under Los Angeles-based coach John Smith — and Roseby hope to prove themselves world-worthy. Both will compete in the U.S. Outdoor Championships, aiming for a berth on the U.S. team for the World Outdoor Championships next month in Osaka, Japan.
Roseby began working with Morrison in August, and although she said the two still are trying to meld, the results have been strong. She won the 60-meter indoor title in 7.16 seconds, and last month, competing against a world-class field at the Home Depot Championships in Carson, Calif., she took sixth in the 100 in a career-best 11.16.
"Right now, we're both learning each other — I'm learning his coaching style, and he's learning what works for me," said Roseby, 25. "He's a great coach. He knows his stuff. He eats, drinks and sleeps track and field."
Roseby's success has been a pleasant surprise for Morrison, a former star sprinter in Jamaica who is a relative newcomer to elite coaching. Roseby was the first athlete to join him after he launched ISF Performance, his venture for coaching sprinters.
"When we started out, I said this would be a two-year project," said Morrison, who has coached at Western since 2000. "But this first year went so well, it was unbelievable. Hasani has been an inspiration. She let me know I could do this professionally."
Now Roseby just needs to digest all that Morrison has given her. A top-three finish in the 100 would secure a berth on the world team, and as long as she makes the finals, she'd be a sure bet to run in at least the preliminary rounds of the 4×100 relay at worlds.
"I just want to, first off, execute what we've been practicing, because not once have I executed an entire race properly," said Roseby, who also likely will run the 200 at the U.S. championships. "Sometimes, the gun goes off, and everything just goes out the window, and you just run. So my goal here is to actually think about what I'm doing while I'm running the race."
Martin seems to be in focus, having found a safe place to land after a difficult few months after placing third in the 200 last summer.
Shortly after that, world and Olympic champion sprinter Justin Gatlin tested positive for steroids — and Martin was in Gatlin's camp, training under Trevor Graham. Subsequently, Gatlin drew an eight-year ban from track and field, Graham was forced out of coaching U.S. athletes, and Martin had no coach — and no one interested in coaching him.
"After the whole thing came down, I was on my own," he said. "I had to leave my house in Charlotte (N.C.). I was just stuck, trying to figure it out.
"At first, no one wanted to coach me because I was affiliated with Justin and Trevor. … It was tough, but it made me stronger."
Martin went the rest of the outdoor season without a coach. In October, with a successful-turned-turbulent season behind him, he got back on board with HSI Sports Management in Los Angeles, working under Smith.
Smith has developed several renowned sprinters, including former world record-holder and Olympic champion Maurice Greene.
"I pretty much just called HSI," said Martin, who first had to convince agent and attorney Emmanuel Hudson — who co-owns HSI with Smith — in order to get his foot in the door.
"I called Emmanuel every day. I flew down to California a couple times," Martin said. "Finally, I just stayed in Los Angeles for a week. Then they said, 'It's obvious you want to be here,' and they let me in to meet with John."
Fortunately for Martin, Smith was sympathetic toward the position Graham and Gatlin put him in.
"John has been in the sport for a lot of years. He's not naive to a lot of the things that are going on," said Martin, 24. "He understood I was young, and there was no way I could have been affiliated with that."
Smith's investment has been rewarded, most recently with a fifth-place finish in the Prefontaine Classic earlier this month against a top-shelf field that included Americans Xavier Carter and Wallace Spearmon — who finished first and second — and third-place finisher Asafa Powell of Jamaica, who holds the world record in the 100.
In addition, Martin has found out he's still pretty good in the 100, an event on which he hasn't focused in years. So he could end up in both events this week.
Martin's resilience impressed his former coach but didn't surprise him.
"I'm not surprised at all," Morrison said. "One thing has stayed the same between me and Rodney: No matter where he is, he'll call me and get my advice. Then he'll sit down and make a decision that's best for him."
Both runners hope Morrison's advice pays off this week. The preliminary rounds begin Thursday, with the 100-meter finals Friday and the 200 finals Sunday.
"I'm very excited," Martin said. "In one race, my entire life could change. And I'm ready. It's been a long time waiting."
Said Roseby: "I want to make the 100 finals, and the ultimate goal is to finish in the top three and make the world championship team. If I make the finals, I'm sure I'll be picked for the (4×100) relay. But nobody wants to go to worlds to just run a relay."