Durango advances as Jones snaps tie
February 18, 2009 - 10:00 pm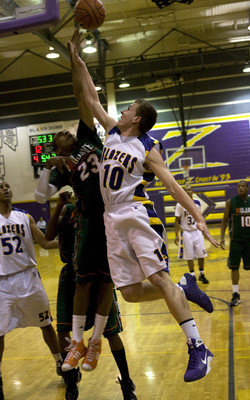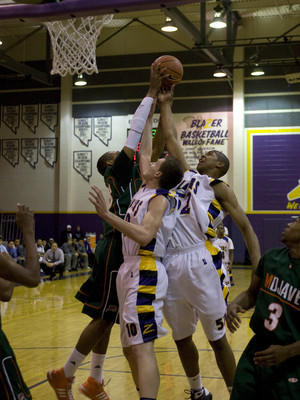 It shouldn't have been a surprise that Shawn Jones was in the right place at the right time in the closing seconds Tuesday.
After all, that's where the Durango junior had been all night.
Jones took a pass from Marcus Falley and scored with four seconds remaining to break a 56-56 tie, and the Trailblazers (20-7) held on for the 58-56 victory over visiting Mojave (17-9) in the Sunset Region quarterfinals.
"Shawn was in the right place at the right time," said Falley, who had 20 points, seven rebounds and four assists. "I just gave him a good pass and he finished it."
The Trailblazers will play Palo Verde (21-4) in the semifinals at 4:40 p.m. Thursday at Palo Verde.
Durango had tied the game at 56 when Jones found Falley for a layup with 1:35 to go. Mojave missed a quick 3-point attempt at the other end, and the Trailblazers ended up holding for one shot.
As Mojave attempted to extend its 1-3-1 zone, Falley found a seam and penetrated before passing to Jones for the winner.
"Defensively they were trying to step it up and get in the passing lanes and get some steals and deflections," Durango coach DeShawn Henry said. "And that kind of opened it up for us a little bit."
After calling timeout with 3.4 seconds to play, Mojave was able to inbound to star senior Anthony Marshall. But he stepped on the sideline, and Durango ran out the clock.
Mojave led 37-28 at halftime, but Jones scored 12 of his 17 points in the second half to lead Durango's rally.
"(Jones) has been really coming on the last couple games," Henry said. "Around the boards he tries to get everything. We just encourage him to go hard down there, and it's paying off for us."
Said Falley: "Shawn's goofy. Sometimes you have to get in his head, but he got rebounds and scored and did exactly what he was supposed to do."
Jones had eight rebounds for Durango, which scored 14 second-chance points in the second half and 22 overall. The Trailblazers outrebounded Mojave 20-12 in the second half.
"We didn't do a very good job on the boards," Mojave coach Tony Hopkins said. "We allowed too many second shots. The second shots are what killed us."
Dario Jokic had a team-high 10 rebounds for Durango and made a go-ahead 3-pointer with 3:14 remaining.
Marshall led Mojave with 20 points, 12 rebounds, five assists and two blocked shots. Kevin James supplied 17 points, seven rebounds and two blocks.
• Cheyenne 84, Sierra Vista 79 — At Cheyenne, the Desert Shields led by 25 with four minutes to play, then held off the Mountain Lions, who put on a 27-7 closing run.
Demetric Williams had 30 points and six assists to lead Cheyenne. He shot 4-for-8 on 3-pointers. Chris McCall added 21 points and nine rebounds.
Quinten Chow led Sierra Vista with 21 points.
• Palo Verde 64, Western 47 — At Palo Verde, the Panthers took control with a 13-4 run to begin the second half and beat the Warriors.
Drew Topham triggered the spurt by scoring six points in the first three minutes of the half. He finished with 14 points and 10 rebounds.
Moses Morgan had 16 points for Palo Verde, and Davion Pearson added 14 points and nine assists. Ehbert Talice led Western with 14 points.
• Bishop Gorman 74, Centennial 56 — At Gorman, Czar Robotham made five 3-pointers and scored 19 points as the Gaels routed the Bulldogs.
Kylel Coleman (15 points), Johnathan Loyd (11) and Anson Winder (10) also scored in double figures for Gorman.
Matt Holley led Centennial with 16 points. Ben Vozzola had 15 and Anil Kundanani 10.
CLASS 1A BOYS
• Lake Mead 70, Round Mountain 21 — At Lake Mead, Landon Littlefield set a school record by making nine 3-pointers, and the top-seeded Eagles rolled past Round Mountain in the 1A Southern Region quarterfinals.
Littlefield hit five 3-pointers in the first quarter, finished 9-for-11 and had 27 points. Alex Mayorga added 10 points and 12 rebounds for Lake Mead.
• Henderson International 60, Tonopah 42 — At Henderson International, Robert Sampson had 16 points and 18 rebounds as the second-seeded Wolverines beat the Muckers.
Danny Moerman added 14 points and six rebounds for Henderson International, which led 39-16 at halftime.
• Pahranagat Valley 73, Trinity 67 — At Alamo, Cody Hoiser scored 32 points and Brady Whipple had 23 as the Panthers erased a 28-20 halftime deficit to beat the Thunder.
Budweiser Hawkins scored 32 points to spark Trinity.
• Beatty 44, Spring Mountain 43 — At Beatty, the visiting Eagles missed two free throws with 0.4 seconds left, and the Hornets got off the hook.
Jacob Sumpter had 13 points for Beatty. Davonte Sandifer had 16 for Spring Mountain.
CLASS 1A GIRLS
• Lund 53, Henderson International 23 — At Lund, Keisha Stewart had 19 points and seven assists as the Mustangs rolled in the 1A Southern Region quarterfinals.
Brittany Huff had 12 points for Henderson International.
• Pahranagat Valley 61, Trinity 18 — At Alamo, Halie Lewis had 13 points and Mary Higbee 11 as the Panthers coasted.
In-depth high school sports coverage
Slideshow