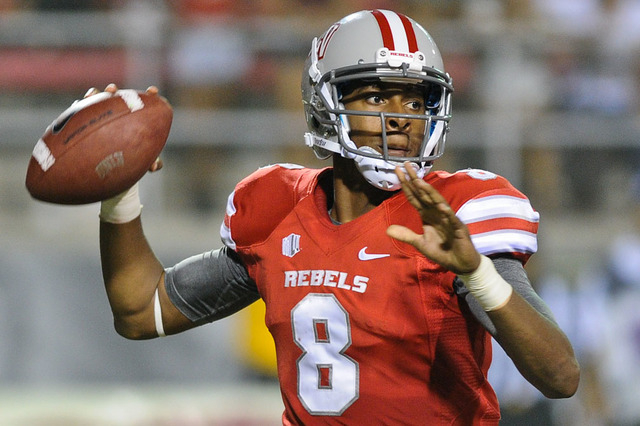 Maybe UNLV coach Bobby Hauck would have met with reporters before Wednesday's practice anyway to discuss his new three-year contract, and perhaps his team would soon begin preparing for a bowl game regardless.
But maybe not.
The most successful Rebels football team in 13 years could be ending the season the way so many others have if not for a key play Sept. 14 at Sam Boyd Stadium against Central Michigan.
UNLV was blown out in the first two games and fell into a 21-0 hole in the second quarter when everything changed with a 50-yard pass from Caleb Herring to Devante Davis. That set up a touchdown just before halftime, and another TD to open the second half changed the momentum not only in that game but also for the rest of the season.
"It probably was the defining moment in our season," Herring said.
UNLV (6-5, 4-3 Mountain West) plays San Diego State (7-4, 6-1) at 7:30 p.m. Saturday at Sam Boyd on a rare late-season upswing.
The Rebels didn't appear as if they would be in this situation early in the season. They opened with losses of 51-23 at Minnesota and 58-13 at home to Arizona. Both defeats were expected, but not the margin of each defeat.
UNLV appeared tight when the game against Central Michigan began, and the Rebels did little right in falling behind by three touchdowns. The only questions seemed to be what the final margin of defeat would be and how long before Hauck — who won six games in his first three seasons — would be fired.
Hauck, however, had made the key decision in the first quarter by replacing Nick Sherry with Herring. The move paid off late in the second quarter when Herring saw the opportunity to throw deep to Davis, who was running a post pattern with Central Michigan cornerback Brandon Greer in coverage.
"I remember knowing I was going to have Devante in a one-on-one matchup if they came out in the right look, and I remember them coming out in the right look," Herring said. "I was kind of licking my chops a little bit, trying to make sure I gave him a good ball. Seeing Devante win was probably one of the big moments of that game."
The 50-yard completion moved the ball to the Chippewas' 25-yard line.
That pass alone wouldn't be enough to turn around the game. The Rebels still needed to get into the end zone.
They did with 54 seconds left in the half on Herring's 12-yard pass to Davis.
"After that, we knew that we should come out here and win," Davis said. "The touchdown really showed that we could play and move the ball down the field. That first play really helped us move the ball down the field because we weren't really getting much movement before then."
Scoring was just the lift the Rebels needed before halftime.
"You could definitely see during the game that there was kind of a feeling of emptiness, of despair, that things weren't going to go right in this game," Herring said. "But after that drive, coming into the locker room with something positive to hang our hats on and knowing there's a full 30-minute half coming up, you could see in the guys' faces that the attitude started to turn around."
But if the 50-yard pass on its own wouldn't be enough, neither would that touchdown. UNLV needed to follow up, and did by scoring another TD on the first drive of the second half on Tim Cornett's 12-yard run to make it a one-possession game.
Momentum truly had shifted, with the Rebels taking charge offensively as their defense flew around the ball.
UNLV ended the night by scoring the final 31 points to win 31-21, tying the largest comeback victory in school history.
That night is widely viewed as the key game to UNLV's turnaround, the game that not only put the Rebels on the way to a probable bowl berth, but also saved Hauck's job.
And even if one play by itself wasn't responsible for that turnaround, without the 50-yard play, the other dominoes probably don't fall.
No new contract.
No potential bowl game.
"It was a big play that helped us end up winning that game," Davis said. "There were more plays that we made throughout the season. You never know what play will turn a whole season around. You've got to focus on making every play that comes your way."
Contact reporter Mark Anderson at manderson@reviewjournal.com or 702-387-2914. Follow him on Twitter: @markanderson65.