ECHL's Wranglers fold after 11 seasons in Las Vegas
January 30, 2015 - 11:25 pm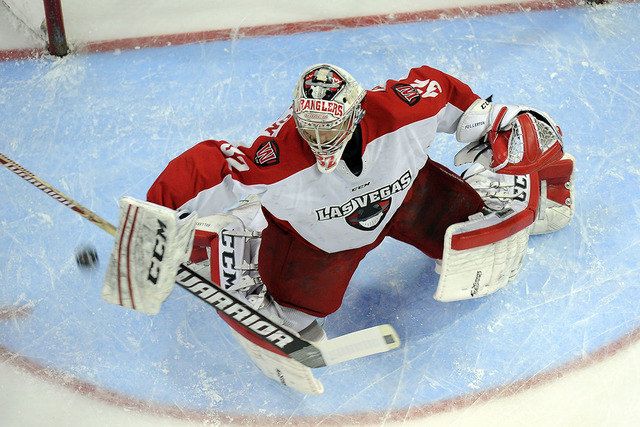 The clock has struck midnight on the team that brought midnight hockey games to Las Vegas.
Wranglers owner Gary Jacobs said Friday that the city's ECHL franchise is calling it quits after failing to find a new facility to play in next season.
"Unfortunately, that wasn't really what I wanted to happen," Jacobs told the Review-Journal on Friday morning. "We worked hard to try to keep it going, but at the end of the day, you need a piece of ice to play hockey on.
"A lot of different places expressed interest, but at the end of the day, there didn't seem to be anything moving forward. I thought it was time to pull the plug. I'm sorry it didn't work out."
The Wranglers were notified by Boyd Gaming in 2013 that their Orleans Arena lease would not be renewed after the 2013-14 season, their 11th there. In February, the team announced an agreement with the Plaza to play its home games in a new facility there starting this season, but in May the Wranglers canceled the plan because it cost too much and suspended operations for the 2014-15 season.
With no prospects for a new home for the 2015-16 season heading into the ECHL's recent midseason meeting, Jacobs informed league commissioner Brian McKenna that the Wranglers were voluntarily withdrawing their membership in the ECHL.
"There just aren't that many hockey rinks (in Las Vegas)," Jacobs said. "The Orleans is designed for playing hockey, but there really isn't anything else in the area that makes financial sense to do it.
"The Thomas &Mack Center would have to keep putting ice in and out, and they didn't have dates available. It was the same thing at the MGM (Grand Garden) and Mandalay Bay. There were other places thinking about building a new facility, but they haven't moved forward on it."
Jacobs, a San Diego businessman whose father, Irwin, founded Qualcomm, posted a message on Facebook on Friday thanking fans in Las Vegas for their support.
"It was a lot of fun," Jacobs said. "I really enjoyed meeting a lot of people in Las Vegas who came out to the games, and I'm sorry we were not able to keep it going."
The Wranglers advanced to the ECHL Kelly Cup Finals in 2008 and 2012 and helped develop several NHL players, as well as former Dallas Stars coach Glen Gulutzan.
Despite finishing with a franchise-worst record of 20-44-8 last season under first-year coach Mike Madill, the team averaged 4,581 per game.
Jacobs, who has owned the team since 2010, said he lost money on the Wranglers — the second-longest running pro sports franchise ever in Las Vegas behind the 51s, who are entering their 33rd season of Triple-A baseball this year.
"Somebody once asked me if I wanted to win a championship or make money. I said, 'I'd like to make a dollar and win a championship,'" Jacobs said. "We got close on one and not so close on the other."
Gulutzan, an assistant coach for the Vancouver Canucks, guided Las Vegas in its first six seasons (2003 to 2009), leading it to three straight 100-point seasons and a league-record 18-game winning streak. The Wranglers lost to Cincinnati in six games in the 2008 Finals.
Ryan Mougenel, who replaced Gulutzan, coached Las Vegas for four seasons (2009 to 2013), losing the 2012 Finals in five games to Florida.
"For me and I know for Gully, too, it's sad," Mougenel, an assistant coach for Worcester of the American Hockey League, said of the news that the Wranglers have folded. "Selfishly, we put a lot of time into building the program there, and it hurts to hear because the fans and the city were awesome.
"My daughter was born there, we have really close friends there, and I know the fans are really disappointed. I feel for them, too, because a lot of my growing as a coach was done there and (the Wranglers) hold a special place in my heart, for sure."
The Wranglers held annual midnight games and other popular promotions — spearheaded by former team president Billy Johnson — such as the "Indoor Winter Classic" and "Dick Cheney Hunting Vest Night."
"We are disappointed that the Wranglers will not play in the 2015-16 season," McKenna said Friday in a statement released by the ECHL. "The team had developed a strong following over the past decade at the Orleans Arena, which is an outstanding facility.
"We would like to thank the fans for their support and thank Gary Jacobs for his efforts on behalf of the Wranglers and the ECHL."
Las Vegas won't be the only team leaving the ECHL next season, as a major minor league hockey shake-up is underway. Bakersfield, Stockton and Ontario are moving up to the AHL, which announced Thursday that five of its teams are relocating to California next season to be closer to their NHL parent clubs.
The Los Angeles Kings are moving their AHL affiliate from Manchester, N.H., to Ontario; the Calgary Flames are shifting theirs from Glen Falls, N.Y. to Stockton; and the Edmonton Oilers are moving theirs from Oklahoma City to Bakersfield.
The San Jose Sharks are moving the aforementioned Worcester (Mass.) Sharks to San Jose — where both teams will play their home games at the SAP Center — and the Anaheim Ducks bought Norfolk of the AHL and will shift the team to San Diego.
Jacobs, who said he's not involved with any AHL team, said there was some interest in Las Vegas as an AHL franchise.
"One of the (NHL) teams had looked at putting an AHL team in Las Vegas," he said. "But at the end of the day, they decided not to because of the NHL plans to put a team here."
Contact reporter Todd Dewey at tdewey@reviewjournal.com or 702-383-0354. Follow him on Twitter: @tdewey33.