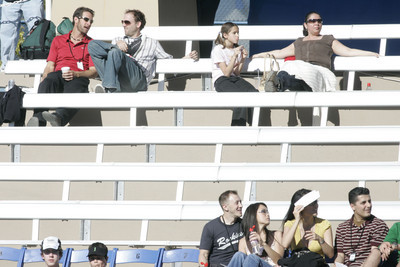 Sam Querrey began to celebrate after sending a 127-mph serve up the middle that was out of Kevin Anderson's reach.
Querrey's ace in his 4-6, 6-3, 6-4 victory was the final point in what could be the final Tennis Channel Open in Las Vegas.
The future of the event is clouded. Whether the tournament's three-year run at the Darling Tennis Center indeed is over probably will come down to economics.
The Tennis Channel's four-year contract with the city of Las Vegas has an opt-out clause for either side to exercise that is renewable each year. The city has to let the tournament know by June 1 that it wants to be involved for 2009. The Tennis Channel has until Oct. 1 to let the city know it is returning.
If The Tennis Channel decides not to come back in 2009, it could be from a lack of ticket sales and losing money. If the city backs out, it will be because it can't justify subsidizing a professional sporting event when it is laying off employees.
The tournament had not made money in either of its first two years. Tournament officials refused to release attendance figures or ticket sales for this year's event following Sunday's final.
The city was contracted to supply $600,000 in cash to help supplement the event. In addition, Las Vegas Events was supporting the tournament with $500,000. But with staff being eliminated and 41/2 percent in cuts to the current budget to offset a $21 million shortfall, and more cuts expected for the upcoming fiscal year, it might not be possible for the city to live up to its financial obligations.
"It's going to be a very difficult decision," said City Councilman Larry Brown, who helped negotiate the original and current deals with The Tennis Channel and in whose Ward 4 the Darling Tennis Center resides. "If we can't do it, we can't do it. But I'd be remiss if we didn't try to keep it going.
"You have to be patient. But the bottom line is, can the city afford to be patient?"
In the three years the tournament has been in Las Vegas, the city has invested approximately $2.6 million in cash and services. Brown thinks the money has been well spent.
"I'd say it's been a good run," Brown said. "I think it's been great for the community. But The Tennis Channel has to look at it from their numbers. Can it afford to stay in Las Vegas?"
Ken Solomon, the president and chief executive officer of The Tennis Channel, said he's in no rush to make a commitment for 2009 or beyond.
"The fact of the matter is this year is no different from last year," Solomon said. "The time schedule is the same. … Last year at this time, we were being asked about next year, (and) we said the same thing then that we're saying now.
"At the end, we're going to look at everything, we'll sit down with the city and figure out how we go forward."
Rumors have indicated the tournament might move elsewhere or be sold to another group, which would relocate the event. Solomon admitted he has had calls from interested parties, but no serious discussions have been held about selling the tournament.
"We've been approached regularly every year," he said. "It's as much an ATP issue as much as anything. There are limited opportunities.
"But we're pretty happy with what we have. We're thrilled with Las Vegas. We're thrilled with Darling. We're thrilled with our player field. Our relationship with the city of Las Vegas is excellent."
The Tennis Channel can't be thrilled with the lack of ticket sales. Despite a strong opening day, when attendance was up 56 percent over last year, the weekend didn't produce big crowds. Whether it was a lack of star power or the price of tickets (the cheapest Sunday went for $70), a lot of seats were empty for Querrey's victory over Anderson. The Stadium Court was just half full for Sunday's final and anywhere from one-third to half full for the Saturday semifinals.
Some fans believe they've seen the last of the Tennis Channel Open in Las Vegas.
"We've supported it, but not great," said Gary Wolf, a 39-year resident of Las Vegas who is active in the local tennis community. "The turnout was terrible Saturday, and I'm worried about the sponsorships. The sponsorships are the key, and I don't think there's enough of it.
"It's a money thing, and I wouldn't be surprised if it left."
Rob Kirkendall hopes the tournament will return next year.
"It's a good event," said Kirkendall, who is the tennis pro at Canyon Gate Country Club. "We want tennis to grow. But when you look in the stands and nobody's there, you have to wonder if they'll be back."
Contact reporter Steve Carp at scarp@ reviewjournal.com or (702) 387-2913.