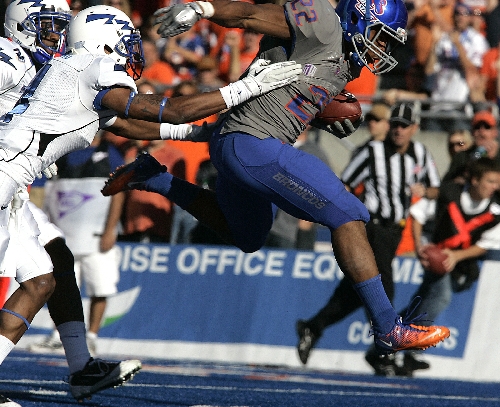 BOISE, Idaho — Kellen Moore and the Boise State offense didn't have a lot of time to manufacture points as Air Force played keep-away.
The Broncos managed to do enough when they did have the ball to hold off the pesky Falcons.
Moore threw for 265 yards and three touchdowns, and Doug Martin added two scores in a game the Broncos' offense spent a lot more time watching from the sidelines than on the field.
Thanks to a touchdown from special teams and a few plays by a weary defense, No. 5 Boise State beat Air Force 37-26 Saturday in the first meeting between the new Mountain West Conference rivals.
"I think the game went the way we hoped that it wouldn't … where they control the ball and aren't giving you many possessions," said Broncos coach Chris Petersen, whose offense had less than 24 minutes to operate. "You better be efficient. You better not stub your toe, because their offense is going to come right back and make you pay."
Moore was indeed efficient, finishing 23 of 29, and the victory was the 45th of his career as a starter, tying with former Texas quarterback Colt McCoy for the most wins all time by a college quarterback. Moore has a chance to break the record Nov. 5 when the Broncos (7-0, 2-0) face UNLV at Sam Boyd Stadium.
His second TD pass of the day, a 19-yarder to Matt Miller, gave him 122 for his career and pushed him past former Brigham Young quarterback Ty Detmer for fourth best all time.
"It's a neat honor, but I'm in a fortunate situation," Moore said of tying the victory record. "I've been fortunate to play for four years with a lot of great guys, and there's a lot of us and a bunch of people that got this record."
But unlike so many of Moore's wins, this one didn't come easy.
Air Force (3-4, 0-3) came into the game with the nation's 10th-best rushing attack, and it proved why. The Falcons' triple option caused confusion and created big holes, especially for fullback Mike DeWitt, who led the attack with 108 yards on 18 carries.
The Falcons rushed for 254 yards on 65 carries. Their ability to run the ball helped keep Moore & Co. off the field as Air Force dominated the time of possession battle 36:18 to 23:42.
Twice the Falcons pulled within a touchdown in the second half, giving a scare to the orange-clad Bronco faithful who aren't accustomed to seeing games so close in the second half.
But the Air Force defense, despite forcing two red-zone turnovers, couldn't stop Boise State's high-scoring offense when it needed to.
■ Texas Christian 69, New Mexico 0 — At Fort Worth, Texas, the Horned Frogs compiled 264 rushing yards, and Casey Pachall threw for two touchdowns in a shutout of the Lobos.
TCU (5-2, 3-0) broke the school record for most points in a game, topping the previous high of 68 scored against Austin College in 1932.
New Mexico (0-7, 0-2) fumbled away the ball on its first two possessions, which led to short-yardage rushing touchdowns by Matt Brown and Luke Shivers. Following a New Mexico punt, Pachall hit Logan Brock from 6 yards to make it 20-0 at the end of the first quarter.
TCU scored touchdowns on three of its four possessions in the second quarter to lead 41-0 at halftime.
■ Texas-El Paso 31, Colorado State 17 — At El Paso, Texas, Vernon Frazier ran for two touchdowns and a career-high 167 yards as the Miners beat the Rams.
The Miners (4-3) never trailed. They pulled out to a 14-0 lead in the first quarter after Nick Lamaison found Nathan Jeffery with a 36-yard scoring pass and Frazier ran 48 yards for a touchdown.
In the second quarter, Chad VanderMolen kicked a field goal and Momo Thomas scored on an interception return to help the Rams (3-4) pull within 14-10, but they got no closer.