Eldorado charges into final
February 15, 2008 - 10:00 pm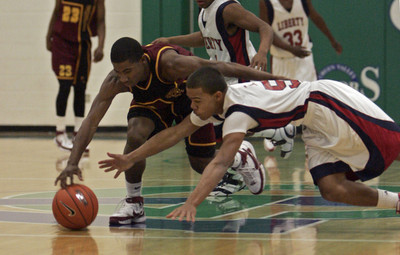 Charles White's play with 1:57 left Thursday won't show up on any statistics sheet.
But it might be the highlight of Eldorado's game film.
With the Sundevils leading Liberty 54-51 in a Sunrise Region boys basketball semifinal, White drew a charging foul against the Patriots' Kenneth Peters, wiping out a basket by Peters.
The play keyed a 9-1 game-clinching run as Eldorado (23-8) downed Liberty 66-62 at Green Valley. The Sundevils will meet Foothill (22-8) for the regional title at 7 p.m. today.
"That turned us around," Eldorado coach Michael Uzan said of the charging foul. "That's something that we practice, just being smarter basketball players."
Peters made the basket, but the charging foul came first, wiping it off the board. Had White been a split-second late, it might have allowed Peters to tie the game with a free throw.
Instead, Eldorado scored on its next two possessions, stretching the lead to 58-51 on two free throws by Michael Elliott with 1:41 to play.
"We got behind and had to go into foul mode, and they did a great job of knocking down free throws," Liberty coach Pat Welby said.
Elliott, who finished with 19 points, scored 13 in the fourth quarter, including a 9-for-10 effort from the free-throw line.
"I put a lot of pressure on him in practice," Uzan said. "He just knows where to be."
Eldorado's lead was 64-56 before 3-pointers by Julian Varela and Davion Pearson brought Liberty (21-9) within 64-62 with 33 seconds left.
Mitrell Clark split two free throws with 27 seconds left, and the Patriots had two chances to tie the game with a 3-pointer but missed both.
A free throw by Curtis Malone sealed the outcome.
Clark led Eldorado with 21 points, and White scored 15.
Justin King had 22 points and 17 rebounds for Liberty, which was without starting post Milos Knezevic, who did not dress for the game after being ejected in the team's last game. Peters scored 16.
• Foothill 69, Canyon Springs 61 — Earl Jones stole the show again for the Falcons, scoring 11 points in the final 4:23 to rally Foothill past Canyon Springs (22-7).
Jones drained a deep 3-pointer with 4:23 left to give Foothill a 56-54 lead and start an 11-0 run, in which Jones scored nine points.
"He's the best point guard in Southern Nevada, if not the state," Foothill coach Kevin Soares said. "He can flat out play."
Jones' two free throws with 51 seconds left ended the run and any chance the Pioneers had of winning.
Foothill's post players — specifically Ben Green, Gage Huff and Cody Gomez — also did a fine job of keeping up with Canyon Springs' running game.
"That's our style," Soares said. "We're the best-conditioned team in the state."
The trio combined for 26 points and 19 rebounds, with Green scoring 13.
Foothill led 28-19 late in the first half before the first of four dunks in the game by Raveon Samuel seemed to spark the Pioneers. But Canyon Springs had trouble maintaining any momentum.
"We were getting to the basket, but shots weren't falling," Canyon Springs coach Daryl Branham said.
Samuel finished with 18 points, Deremy Geiger 17 and Antonio Snow 11 for the Pioneers.