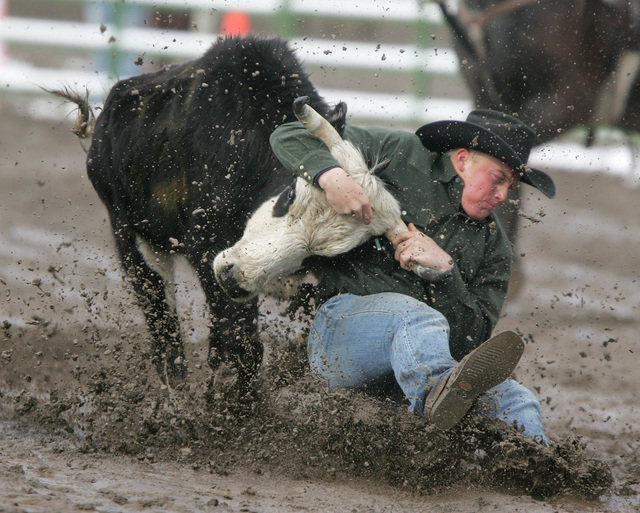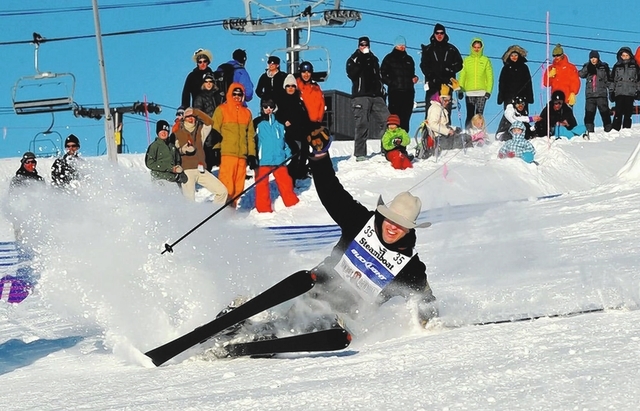 Walking onto the floor at the Thomas &Mack Center last year in front of a sellout crowd of more than 18,000 at the National Finals Rodeo, Elko native Dakota Eldridge vowed not to return to the NFR unless he was competing in it.
"The atmosphere down there, that feeling of thousands of people looking down on you, how exciting it is down there and how much money you can win," Eldridge, 22, said. "Once I felt that last year, I told myself I wasn't going to go back until I had a reason to go back."
Eldridge actually had two pretty good reasons to be at last year's NFR, where he was presented awards for being the 2012 all-around and steer wrestling Professional Rodeo Cowboys Association Rookie of the Year.
On Thursday, however, Eldridge will return to the Super Bowl of rodeo because he has qualified for it, earning the 15th and final spot in the steer wrestling field.
"Shoot, it's kind of a dream really," the 2009 Elko High School graduate said. "Since I've been a little kid, I've always dreamed about it."
For much of this season, making the NFR appeared to be just out of reach for Eldridge, who was consistently in the top 20 but couldn't crack the top 15.
That changed down the stretch, when a late hot streak propelled him into 15th place. Taking second place — and, along with it, $7,000 in prize money — at the Pendleton (Ore.) Roundup in mid-September helped seal Eldridge's coveted spot in the NFR.
"The whole year, I was right there, but I was never in until the last couple of weeks. Crunch time," he said. "A guy rodeos all year, drives all night and risks his whole year to make (the NFR). I gave it all I had this year."
Eldridge earned $50,806 this year in steer roping and is in 14th place in the all-around standings, with $55,667.
Last year, as a rookie out of Blue Mountain Community College in Pendleton, Ore., where he earned his associate's degree, Eldridge finished 20th all-around ($37,406) and 35th in steer wrestling.
"My goals weren't set on making the Finals last year," he said. "My main goal was to qualify for rodeos, win the rookies (of the year awards) and pick up some good sponsors.
"I keep setting my goals higher every year. I'll set it for world champion one of these years."
Eldridge has been training for his first NFR with reigning and four-time steer wrestling world champion Luke Branquinho and is close friends with reigning team roping (heeling) world champion Jade Corkill — a Fallon native who encouraged him throughout this season.
"Jade's always helped me. When I made it to 15th, he texted me 'Keep your head up. You're right there. You can make it,' " Eldridge said. "For a world champion to text me that, that's pretty cool. I know Jade was excited when I made it."
Eldridge, who roped with Corkill's younger sister, Bailey — a former UNLV rodeo team member — when they were in high school, also has practiced plenty of times with Corkill and learned a lot from him.
"I've seen him do some amazing things. Jade is the best heeler there is. I think he's the best there ever will be," Eldridge said. "It's neat being around a winner like him and learning how to win being around him."
Born into a family of rodeo athletes, Eldridge will compete on the same horse — 14-year-old Rusty, raised by his grandfather — that he rode in the Nevada High School Rodeo Association, where he won three all-around state titles, two steer wrestling crowns and a tie-down roping title.
When the snow piled up too high in Elko for Eldridge to practice roping and riding, the versatile athlete took to the nearby slopes, where he became adept at skiing, snowboarding and snowmobiling.
Last year, Eldridge showed off his skiing skills in winning the slalom race at the Cowboy Downhill, a competition comprised of PRCA cowboys in Steamboat Springs, Colo.
"I've snowboarded more than I've skied, but in that race it was better to ski," he said. "It was a fun deal for us."
Wearing a cowboy hat and chaps, Eldridge completed the course — which required racers to fly over a 5-foot jump, lasso a girl and saddle a horse — in 24.76 seconds, more than a second faster than any other cowboy.
After winning that event, wrestling a steer shouldn't be a problem.
■ NOTE — Clay O'Brien Cooper is the third NFR qualifier from Nevada. The seven-time world champion heeler moved to Gardnerville three years ago after spending much of his career in Morgan Mill, Texas.
Contact reporter Todd Dewey at tdewey@reviewjournal.com or 702-383-0354. Follow him on Twitter: @tdewey33.