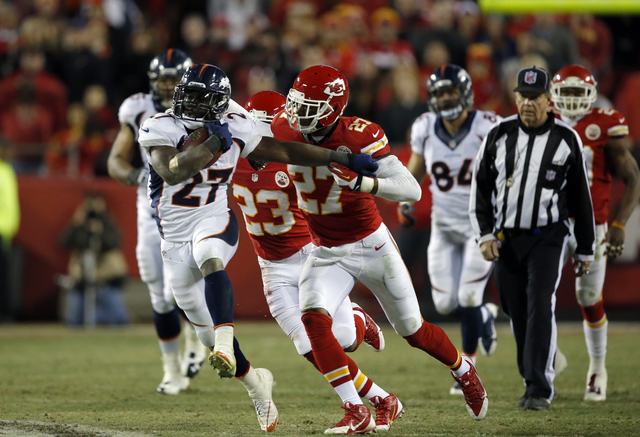 Tears streamed down Knowshon Moreno's face as the National Anthem played before the Denver Broncos played the Kansas City Chiefs Sunday at Arrowhead Stadium.
Big tears. Enormous even. A report on latimes.com calls the moment "a sight to behold."
It became a national story and a viral video when a CBS cameraman lingered on a tight shot as Moreno's tears flowed. Announcers Jim Nantz and Phil Simms tried to explain the emotional moment. But it turns out it had nothing to do with the anthem.
"The emotion always gets to me," Moreno told Yahoo Sports. "I am just thinking about everything in general through your whole life, just balled up into one. Yeah, it helps me. Sometimes I don't even notice it, it just comes."
And it inspires his teammates, too. His backup, Montee Ball, said it's not unusual to see tears from Moreno.
"The [tears] are actually toughness," Ball said. "I see it all the time. He does it in practice and he does it in games. It is all heart, it is his passion for the game. It is massive. We all feed off that energy. A lot of stuff sets him off. He just brings that energy when we need it."
That energy was apparent as the Broncos mounted a come-from-behind win, 35-28, to take the AFC West division lead at 10-2. The Chiefs dropped a game behind at 9-3, but it was their third loss in as many weeks, and their third to a division opponent — two to the Broncos in three weeks.
The Chiefs held Moreno in check on the ground, but he broke loose with four catches for 72 yards and a touchdown.
And Ball turned in an inspired performance: a career-high 117 yards on 13 carries.