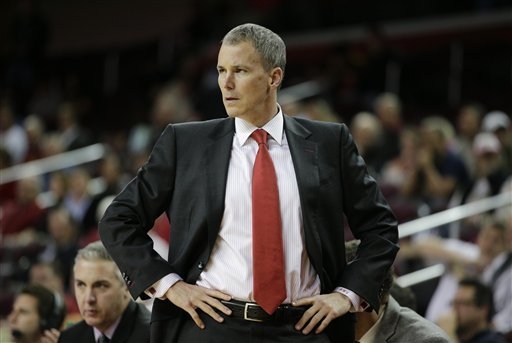 Like Rome, "Dunk City" wasn't built in a day.
It didn't take much longer than that, though.
Andy Enfield took over a Florida Gulf Coast team in 2011 that was eligible for Division I postseason play for the first time and just a season later had that same program in the Sweet 16.
But it's not always that easy.
Enfield was pegged by Southern California to replicate that success immediately after guiding Florida Gulf Coast on that celebrated tournament run last year. Much of the hype and fanfare that surrounded the hire has been washed away by a disappointing 11-20 season that could come to an end today when the 12th-seeded Trojans play fifth-seeded Colorado (21-10) at approximately 2:30 p.m. in the first round of the Pac-12 basketball tournament at MGM Grand.
Things looked good early for USC after a 9-4 start that included a win at Dayton and a neutral-court victory over Xavier. But the stark reality of life as a rebuilding program in a good conference set in during league play as the Trojans managed just two wins in 18 Pac-12 games, though one of those victories came last week at Washington State to give USC at least a bit of a positive vibe entering the postseason.
"If you would have asked us before the season, we would have expected to win more games. But, at the same time, we have played some good basketball teams," Enfield said last month. "We're trying to stay positive with this group. It has been frustrating. For the most part, we have been very competitive the last month and a half."
The year is not entirely unlike Enfield's first season at Florida Gulf Coast.
The Eagles went 15-17 in Enfield's first year, but won two games in the conference tournament before losing to Belmont in the Atlantic Sun championship game. Florida Gulf Coast used that postseason run as a springboard to all the success of Enfield's second season.
A conference tournament run doesn't seem likely for the Trojans, but there is reason for optimism that Enfield's program again will make a big leap in his second year.
Enfield landed three high-profile recruits who will be freshmen next season. Plus, he has two transfers sitting out who started for Division I programs last year and will be eligible as sophomores next season.
Katin Reinhardt started 34 games at UNLV, averaging 10.1 points. Darion Clark averaged 6.2 points and 4.6 rebounds at Charlotte.
There are also bright spots on this year's team.
Junior Byron Wesley is averaging 17.6 points, and two freshmen have excelled.
Nikola Jovanovic is averaging 8.2 points and 4.4 rebounds while making 51.6 percent of his shots. Then there's Julian Jacobs, a Desert Pines High School alumnus who is averaging 6.6 points and 3.6 assists while making 19 starts.
"With some of the guys we have getting a year under our belts and more time with Coach Enfield and the staff, I can say we are kind of looking forward to next year, but by no means are we overlooking the work we still have left to do in this tournament," said Jacobs, who expressed excitement at returning home to play this week.
Jacobs said USC is excited to get a fresh start on the season.
"I think we're going in looking at it as a clean slate," he said. "Everybody is 0-0. You win, you progress. You lose, you go home. It's survival of the fittest at this point. Not winning many games all year does make it more challenging, but that being said, it will make for a better story if we do play well in this tournament."
USC's first-round opponent also went through some tough times. When the Buffaloes lost top player Spencer Dinwiddie to a torn anterior cruciate ligament in January, they were 14-2, ranked and 3-0 in Pac-12 play.
Colorado finished 10-8 in the league, but dropped three of four to end the regular season and doesn't seem like a major threat to win the tournament.
The game will be the second of the early session today. A matchup between eighth-seeded Utah (20-10) and ninth-seeded Washington (17-14) opens the tournament at noon.
The night session begins with a rivalry game, as seventh-seeded Oregon (22-8) plays 10th-seeded Oregon State (16-14) at 6 p.m.
The Ducks have won seven straight, including a win over No. 4 Arizona in the regular-season finale on Saturday.
The final game pits sixth-seeded Stanford (19-11) against 11th-seeded Washington State (10-20) at about 8:30.
The top four seeds have byes into Thursday's quarterfinal round. Arizona is the overwhelming favorite — sports books have made the field an underdog against the Wildcats — but there are few sure things in March.
Contact reporter Adam Hill at ahill@reviewjournal.com or 702-224-5509. Follow him on Twitter: @adamhilllvrj.