ESPN's College GameDay apologizes for promoting offensive signs
September 23, 2015 - 7:56 am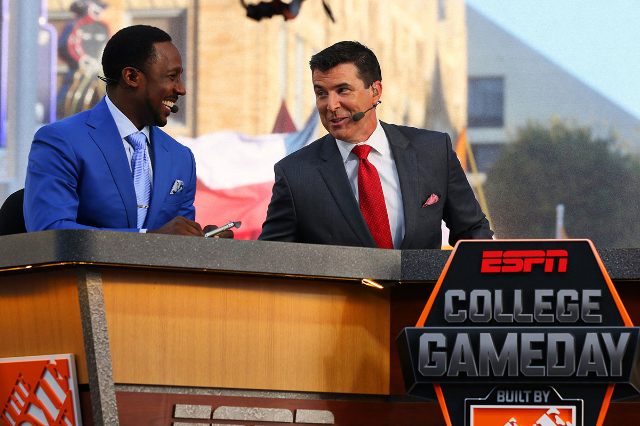 Urban Meyer's family is upset with ESPN's College GameDay show for promoting a sign on its Twitter page that mocked the Ohio State football coach's 2009 health scare.
The tweet featured a sign with a picture of Auburn coach Gus Malzahn and the words, "If this crap keeps up … I'm gonna fake a heart attack and go join the Big 10." The caption read, "Here is your winner of the Most "RT'd" (and Appropriate) GameDay Sign of the Day from Tuscaloosa."
The sign refers to Meyer reportedly experiencing chest pains when he was Florida's coach. He resigned after the next season and joined ESPN for a year before taking the Buckeyes job.
Meyer's wife Shelley and daughters Gigi and Nicki each took to Twitter to condemn ESPN, tweeting, in part, "not funny AT ALL. VERY classless"; "Makes me sick"; and "shame on (ESPN) for promoting such trash."
They need to lighten up. Studies have shown sudden emotional stresses can cause heart attacks.
Seriously, though, ESPN also was criticized for promoting an Alabama fan holding a sign directed at Mississippi before their game Saturday that read, "Ole Miss Girls Are Easier Than Their Out-Of-Conference Schedule." The sign, which College GameDay posted on its Twitter account with the caption, "Just no chill," was a reference to the Rebels' first two games, in which they scored 149 points.
Anchor Rece Davis and analyst Kirk Herbstreit rebuked the image when it flashed on the screen during the broadcast.
"I can't condone that type of behavior," Davis said.
"That is unacceptable," Herbstreit said.
According to CNN, ESPN initially defended its use of the photo. In a statement Saturday, spokeswoman Keri Potts said the Twitter account "looks to bring the sights and sounds of the College GameDay experience" to viewers at home by showing how fans at the games "express themselves."
On Monday, following intense backlash, the network deleted both signs from the College GameDay Twitter account and tweeted an apology.
"You never solve anything in the digital conversation by just hitting delete. We apologize. We're going to be better."
Like Sports News on Facebook: