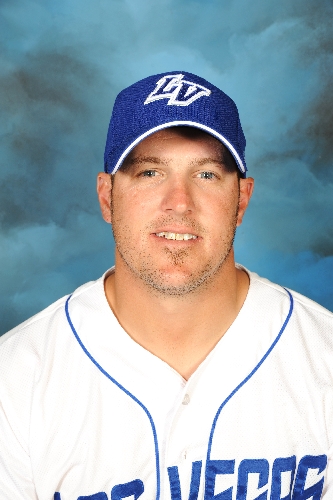 Ryan Budde had a couple of chances to be the hero for the 51s on Sunday night against the Tucson Padres, including being up with the bases loaded in the bottom of the ninth inning.
But Budde was unable to deliver, striking out. He had a chance to redeem himself in the bottom of the 13th with men on second and third with two outs. But Budde struck out again, dashing Las Vegas' hopes in a wild 9-8 loss.
During his 10-year professional career, the 31-year-old catcher has learned that failure is part of the game and that tomorrow is a new day.
"When I was younger, that would've eaten at me," Budde said. "But when I left the clubhouse, I had already put it behind me."
It was a great lesson for the 51s' young players. Budde said he's learned plenty about baseball and its ups and downs. Yet he still has a passion for playing, and even though his major league career consists of a grand total of 33 at-bats in 29 games, he's got no complaints.
"I've had a chance to live my dream," the former Oklahoma State star said. "I've been in love with baseball since I was 10 years old. To me, being outside, playing, there's nothing better."
He must love it. Budde was behind the plate for 13 hot and humid innings Sunday, and he was back catching Monday as the 51s beat the Padres 9-8 at Cashman Field to end their brief four-game homestand.
"He always comes to play," 51s manager Marty Brown said of Budde, who went 1-for-4 with an RBI Monday and is batting .230. "Ryan understands his role. He's in great condition. You always feel good when Ryan's out there."
Though he's not on the Toronto Blue Jays' 40-man roster, Budde could find himself back in the majors before the season's over. Should one of the Jays' catchers get hurt, Budde would be the person replacing that player.
"That's why you stay positive and stay ready," Budde said. "You never know when you're going to get that call."
Budde remembers the first time he got the call. It was in 2007, when he was with Triple-A Salt Lake and the Los Angeles Angels needed a catcher.
"I remember arriving at the field; I took a cab from the airport to the ballpark, and the attendant knew my name," Budde said. "That long walk to the clubhouse was so surreal."
He got his first hit against Boston's Josh Beckett. Later that season, his ninth-inning double off Yankees reliever Sean Henn gave the Angels a win and Budde his first big-league RBI. Budde and Henn are now teammates in Las Vegas.
"I kidded him a little about it, but not too much," Budde said with a wry smile.
It's part of his respect for the game. Baseball's too humbling to rub it in someone's face, even when it's a milestone accomplishment.
"I learned that at a young age," Budde said. "You have to respect the game."
If that sounds like a line from the script of "Bull Durham," it might as well be. Budde is a real-life Crash Davis, the fictional catcher for the Durham Bulls in the 1988 classic baseball movie. He's had his cup of coffee in "The Show." He dispenses advice to the younger players, particularly pitchers. He doesn't plan to manage in Visalia one day. And unlike Crash, Budde is happily married to his college sweetheart, Darcy, and is a father to their 6-month-old daughter Parker.
"I don't mind the comparison, not at all," Budde said. "I like the movie."
Contact reporter Steve Carp at scarp@reviewjournal.com or 702-387-2913. Follow him on Twitter @stevecarprj.
LAS VEGAS — 9 TUCSON — 8
KEY: Manny Mayorson's infield single with the bases loaded in the bottom of the ninth inning scored Adam Loewen with the winning run for the 51s.
NEXT: 51s (RHP Robert Ray) at Reno (LHP Zach Kroenke), 7:05 p.m. today, KBAD-AM (920).