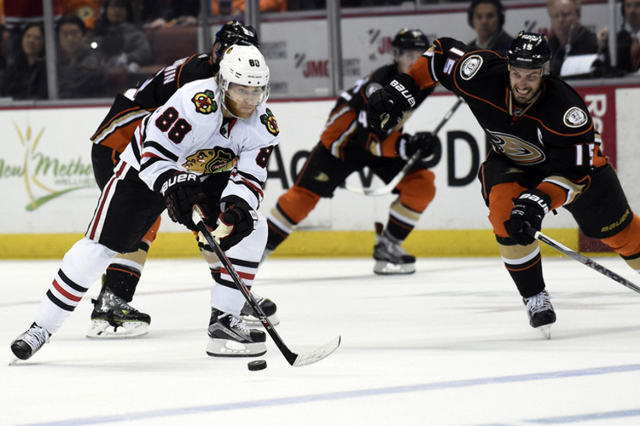 The lawyer for a woman who has accused forward Patrick Kane of the Chicago Blackhawks of sexual assault claimed Wednesday that an empty evidence bag was left in the doorway of the woman's mother's home in Buffalo, N.Y.
Criminal defense attorney Thomas Eoannou said at a news conference in Buffalo that the bag no longer contained the rape kit used when the woman reported that she had been assaulted.
"Something seriously has gone amiss," Eoannou said. "It could have been there a day and a half.
"I have never seen an evidence bag outside of a police lab, a prosecutor's office or a court room, let alone find one in a doorway of a rape victim's mother's home."
Eoannou said the mother, who left home by the back door earlier in the day, made the bizarre discovery when she came home from work for lunch on Tuesday.
The woman found the bag between a storm door and her front door, he said.
"We're hoping to find out how this happened and who had the incentive to modify or tamper with the evidence," Eoannou said.
Eoannou said the bag is authentic, labeled with personal identifying information for the woman, details on where the rape kit was used and the initials of the nurses who administered the kit.
Erie County District Attorney Frank Sedita did not immediately return a message seeking comment, the Associated Press said.
Eoannou said he wants the FBI or state police to probe how the bag left the custody of investigators.
Kane, 26, has not been charged in the incident, which allegedly took place on Aug. 2. The Erie County district attorney's office recently delayed grand jury proceedings.
Kane has helped lead the Blackhawks three Stanley Cup championships in the past six seasons and has scored 205 goals in eight NHL seasons. He signed an eight-year, $84 million contract extension in 2014.