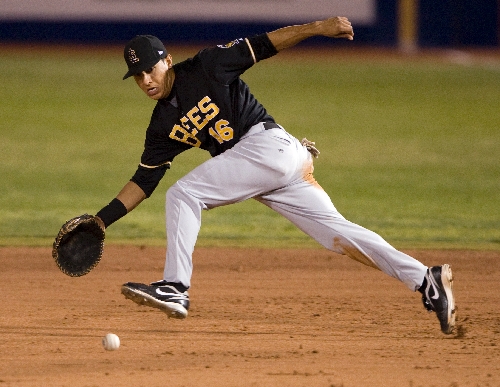 Primarily a pitcher early in his career at UNLV, Efren Navarro has emerged as a slick-fielding first baseman in the Angels' farm system.
The former All-Mountain West Conference pitcher played flawlessly in the field and went 4-for-5 with an RBI in Salt Lake's 12-9 win over the 51s (9-6) on Thursday at Cashman Field.
"He has possible Gold Glove-type skills over there," Bees manager Keith Johnson said. "He plays first base like a shortstop.
"Regardless of how tough the play is, it's almost astonishing when he doesn't make it."
A left-hander from Lynwood, Calif., who grew up idolizing Fernando Valenzuela, Navarro mostly pitched and also played first in his first two seasons at UNLV in 2005 and 2006.
But after breaking his left elbow in the fall of 2006, he played solely at first for the Rebels in 2007 and responded with his best season, batting .325.
"I actually tried coming back to pitch, but I had a lot of inflammation on my elbow, so it caused me to stay with first base," he said. "I started hitting the ball well, and I got drafted."
Selected by the Angels in the 50th round (1,450th overall), Navarro decided to turn pro rather than return for his senior season at UNLV.
"My dad said, 'This could be the only opportunity you have. You never know what can happen, so go ahead and give it a shot,'" Navarro said. "I took my parents' advice and took a shot."
Navarro's long shot has paid off for Los Angeles, which named him the organization's defensive player of the year in 2008, when he split time in Single A between Cedar Rapids and Rancho Cucamonga.
Navarro, 24, spent last season at Double-A Arkansas, where he hit .267 with 50 RBIs and made only six errors in 1,109 chances for a .995 fielding percentage.
He has handled 158 chances without an error this season.
"I love making plays and helping my infield when they make great plays and need someone to pick them up at first," Navarro said. "I really take pride in doing that for them."
The Angels are loaded at first base with Kendry Morales and Mark Trumbo, who hit 36 homers for Salt Lake last season, and the organization also features prospect Gabe Jacobo, who had 107 RBIs last year at Rancho Cucamonga.
But the sure-handed Navarro has put himself in the mix.
"This guy can easily be Gold Glove caliber," Angels manager Mike Scioscia told the Los Angeles Times in March. "This is as good a defender as you're going to see at first base."
Navarro is no slouch at the plate, either.
A .278 hitter in parts of five years in the minors, he had two doubles and two singles Thursday to lift his average to .333 (17-for-51) with eight RBIs for the Bees (9-5) in his first Triple-A season.
"He has the potential to be a run producer, not necessarily a guy who needs to hit a whole bunch of home runs to produce runs," Johnson said. "It's refreshing to see him do well. At some point, hopefully I'll be able to give him that information that he's going to Anaheim."
Navarro said getting drafted in the 50th round has inspired him.
"It made me work harder," he said. "It's just a drive that I have to go out there every day and prove to myself I can play."
■ NOTES — Toronto optioned left-hander Brett Cecil to Las Vegas and called up 51s infielder Chris Woodward. Also, Las Vegas sent left-hander Mike Hinckley to Double-A New Hampshire.
Contact reporter Todd Dewey at tdewey@reviewjournal.com or 702-383-0354.
SALT LAKE — 12
LAS VEGAS — 9
KEY: Former UNLV standout Efren Navarro doubled twice and had four of the Bees' 20 hits.
NEXT: Bees (LHP Ryan Ketchner) at 51s (RHP Jesse Litsch), 7:05 p.m. today, KBAD-AM (920)